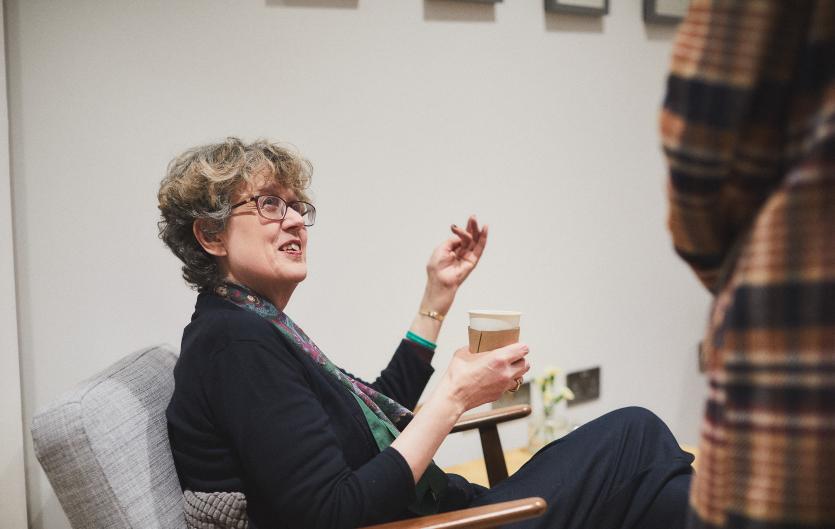 Our guide to the different types of stammering therapy and choosing one to suit you.
Long gone are the days when putting stones in the mouth was considered helpful if you stammer. Nowadays, there are a wide range of approaches available.
Therapy for adults & teenagers
How can therapy help?
Stammering therapy for adults and teenagers can help in a variety of ways, including:
Helping you understand more about stammering and how it works.
Identifying areas of your life where your stammer, or how you feel about it, is having an impact.
Explaining and exploring the therapy options.
Helping you address negative thoughts and feelings you may have around stammering.
Activities, tools and support to reduce the impact of stammering on your life.
Helping you prepare for an upcoming event you might be worried about, such as a presentation or a speech.
Support and information for your employers, colleagues, friends and family, if helpful.
It's important to note that therapy and courses cannot 'cure' stammering. But they can help to reduce the impact it might have on your life. See our Stammering causes & cures page for more. 
Types of therapy
Below are the main types of approaches used by therapists or course providers. 
Speech & language therapists will tailor therapy to meet your goals. These may be related to specific situations where you find stammering particularly challenging. Or they can be related to broader life goals. Elements from these different approaches may be used as part of the therapy. Some courses focus on one approach, while others combine different ways of working. Speak to a therapist about what they can offer.
There is no 'one' solution which fits everyone, so we've tried to set out the main sources of help available. For many it's a journey, which often includes trying different approaches along the way.
Fluency shaping or 'speak more fluently' approaches
Fluency shaping introduces you to a 'new way' of speaking. This new way aims to reduce moments of stammering and help speak more fluently.
You start by speaking in a very prolonged, slow, exaggerated way. This exaggeration is gradually reduced and the speed increased. It then finds the point at which you can speak with little stammering, and which sounds natural. 
Stammering/block modification or 'stammer more fluently' approaches
Stammering modification, or block modification, doesn't aim to help you speak more fluently. It aims to help reduce the tension involved in speaking, so that you struggle less and have more control.
You'll firstly identify the different aspects involved in stammering. These include physical behaviours as well as how you feel about your stammer. This will help you understand what's going on. You'll then learn techniques to change or modify excess tension when stammering. 
You'll also work on desensitising yourself to stammering so you feel better about it. This can help reduce unhelpful negative feelings or panic you may feel when you stammer. 
The City Lit offers this type of approach for adults aged 18+.
Costal breathing
Costal breathing teaches you a new way of breathing. This new way aims to help you speak more fluently and with less physical tension. 
You'll learn to use your intercostal muscles rather than your diaphragm when talking. You'll also work on desensitising yourself to stammering. This will help to reduce any negative feelings you might have about your stammer. 
It's usually taught on short intensive courses, by people who have done the course before. It is mainly offered by The McGuire Programme (ages 18+) and The Starfish Project (ages 11+).
Psychological approaches
These approaches can help you address the thoughts and feelings linked with stammering. They include: 
cognitive behaviour therapy (CBT) 
mindfulness
acceptance and commitment therapy (ACT). 
Some speech & language therapists offer these, as well as Solution-Focused Brief Therapy.
The NHS also provides psychological therapies for people experiencing stress, anxiety or depression. Please note this is separate from specific stammering therapy services. If you're registered with a GP in England, this Find an NHS psychological therapies page can help you find out about services local to you. If you're not in England you may need to do a wider internet search to find local psychological services. 
Looking at stammering in a wider context
Part of the challenge of living with a stammer is what we do to try to avoid or minimise stammering. We might fear negative reactions or being disadvantaged at work or when socialising. 
Some newer approaches by therapists directly address this. They might question society's attitudes to stammering and how they affect you. Possibilities then open up for considering ways to challenge these attitudes. You'll look at stammering from a new perspective and how to live better with your stammer. 
Where can I find a list of options?
Go back to our Therapy & Courses section for a full list of the therapies and courses for each age group.
If you have tried a particular approach and it's not working for you, see our Therapy not working? page.
Therapy for pre-school children
How can therapy help?
There are many ways a speech & language therapist can support you and your child. These include the following:
Helping you understand more about stammering so that it feels less worrying.
Explaining the therapy options. These include approaches that are specifically designed for pre-school children who stammer.
Helping you and your child deal with difficult thoughts and feelings around stammering.
Working with other family members, nursery staff or childminders.
Working with you to develop your child's language and communication skills. Looking at ways to keep them chatting whether they are stammering or not. 
Finding out what affects your child's stammering.
Working on speech patterns that can help your child say what they want to say more easily.
Every child and every family is different. Your therapist will work closely with you to agree the goals of any therapy. They'll then tailor the support they offer to you and your child.
Where can I find a list of options?
See our Options for Children (aged 2-12) page. There you'll find out how you can access speech and language therapy and other courses.
Our For Parents page gives you all the information you need to support your child at home. Also, read our article Taking your child to a therapist: what to expect.
Therapy for school-age children
How can therapy help?
For older children, what they want from therapy is likely to vary. This might depend on their particular needs and the way stammering is (or isn't) affecting them. 
For some school-age children, their stammer may disappear over time. Other children will continue to stammer. But therapy can help them feel confident to speak, and help you feel confident in supporting them. In general, therapy aims to help children to:
feel good about talking, stammering and themselves
become a confident and effective communicator.
What to expect from therapy
A therapist will work with you directly, either one-to-one or in a group. They'll plan therapy to suit the needs of you and your child. It may include some of the following elements:
Liaising with your child's school. Creating a positive classroom and playground environment which accepts your child's speech.
Supporting parents. Helping you to feel confident in supporting your child at home, at school and socially.
Understanding speaking and stammering. Your child can learn how speech is produced and what happens when they stammer.
Reducing avoidance. Encouraging your child to try some of the words or situations they may have avoided due to a fear of stammering.
General communication skills. Teaching your child that good communication depends on more than fluency. It includes skills like listening, making eye-contact, taking turns and starting/ending conversations.
Addressing the emotional side to stammering. Teaching you and your child ways to work with unhelpful thoughts and feelings. Discussing strategies to cope with any bullying or teasing. 
Making speech changes. If appropriate, the therapist may help your child explore different ways of speaking. Or your child might learn how to ease through tense stammers more easily.
Being involved in your child's therapy
Therapy is likely to also include some work with parents or the family as a whole. It may also  involve 'homework' which might have to help your child with. But this will usually be in the form of games or interesting investigations to make it fun for your child.
The therapist may also contact your child's school and give teachers advice to help support them. They might even support teachers to talk to the rest of the class about stammering. This could be particularly useful if your child is being teased or has had unhelpful responses.
See our Options for Children (aged 2-12) page to find out how you can access speech & language therapy and other courses.
Our For Parents page gives you all the information you need to support your child at home. Also, read our article Taking your child to a therapist: what to expect.​​​