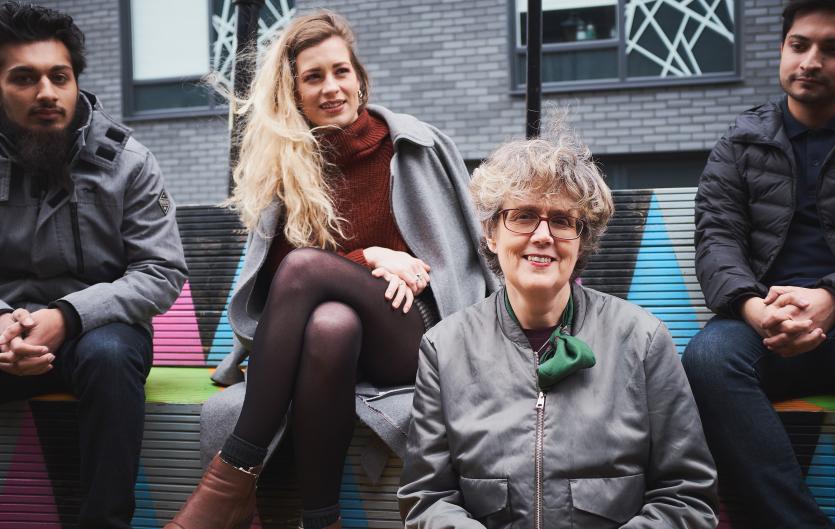 Founded in 1978, STAMMA, the British Stammering Association, is a registered charity (nos: 1089967/SCO38866). Our mission is to support anyone who stammers in the UK and tackle the stigma, ignorance and discrimination that people who stammer often face so that they can live their life in full and with dignity.
We are people who stammer and people who don't: parents of children who stammer, speech &Language therapists, GPs, teachers, employers, HR professionals and creatives.
What do we do?
We provide information, resources and support to those who stammer as well as those close to them such as family, friends, educators, employers and colleagues. STAMMA is our latest and, to date, our largest awareness campaign. 
We operate a free, confidential and anonymous helpline, 0808 802 0002, and webchat (open weekdays 10am-12 noon & 6pm-8pm). Open to anyone in the UK, they are is staffed by people who understand what it is to stammer. We are here to listen, help you find the information you need, talk through options, practise speaking on the phone, or to just chat.
We run a bi-annual conference, we organise open days and family days, and on this site you'll find information for parents, employers, teachers, speech & language Therapists, lecturers & tutors and, of course, for people who stammer.
What do we believe?
STAMMA is a broad church and we're here to support anyone who stammers in the UK. We don't believe there is any one path that everyone who stammers should take. Our membership includes firm followers of the McGuire Programme and the Starfish Project; fans of City Lit and those who swear by meditation.
We support those who passionately believe there should be no need to hide or control their stammer as well as those who seek more fluent or smoother speech. We can help people find out more about the therapies and techniques available to help them to become more confident in their speech. We are also here to raise awareness about stammering in the general public so that the hurdles faced by people who stammer are more widely understood. 
We believe that people shouldn't feel under pressure to hide their stammer, or be held back by it. This site has information on your rights in school and at work. If you want to meet other people who stammer then this site will help guide you to local groups, professional networks and online communities. 
Awards
Awards since becoming STAMMA in 2018:
Purpose Awards 2020
Best Public Awareness Cause (Highly Commended)
Third Sector Excellence Awards 2020
Volunteer of the Year: John Russell (Winner)
Chair of the Year: Tim Fell (Winner)
Brand Development: Zag Agency (Winner)
Creative Circle Awards 2021
Best Digital Campaign, Best Low-Budget Idea: Find the Right Words, VMLY&R Agency (Silver)
Third Sector Excellence Awards 2021
Volunteer Team of the Year: STAMMA Helpline (Shortlisted)
CEO (under £5M) of the Year: Jane Powell (Shortlisted)
Communications Campaign: Find the Right Words (Shortlisted)
Join us
If you're 16+ and live in the UK, do become a member (it's free). STAMMA is a membership organisation with our members playing a key role in how the charity is governed and run. We are governed by a Board of Trustees, made up primarily by people who stammer, according to our Articles of Association. Trustees are either elected by members or appointed by fellow Board members.
If you're under 16 or not UK-based you can sign up to our mailing list in the footer and we'll keep you updated with our news, accomplishments and events. 
Join us in creating a better world for people who stammer. Click here to become a member.