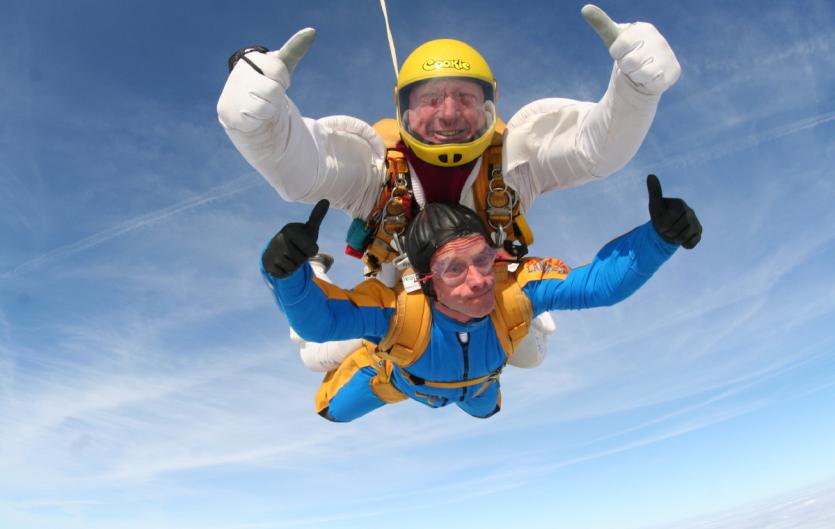 Run, walk, cycle, swim, bake a cake... Fundraise for STAMMA and help us make sure everyone in the UK who stammers can get help and support. 
We regularly organise places for 5 and 10k runs, full and half-marathons and other sporty fundraisers. We'll post them here.
If you find an event you'd like to enter on behalf of STAMMA, get in touch and tell us about it. We'll supply a running vest. 
If you'd like to organise an event yourself, anything from a sponsored silence or bake sale to a skydive, drop us a line. Email us at fundraising@stamma.org
Raising funds and awareness of stammering has an impact on so many people's lives. It's also an ongoing form of therapy for me.
Read about John, one of our star fundraisers
(Photo: STAMMA member John Russell doing a sponsored skydive.)
More ways to fundraise
Not up for a 5K, 10K or perfecting your lemon drizzle for a bake sale? There are plenty of ways you can raise money for STAMMA, the British Stammering Association, by shopping online, doing a birthday fundraiser on social media or even gaming. We are a charity that depends on donations to continue to create a better world for those who stammer. Take a look at the options below. 
Shopping
If you shop with Amazon, please make us your chosen charity through Amazon Smile. Go to smile.amazon.co.uk and select 'YourAmazonSmile' under the 'Your account' tab. You can search for and add 'the British Stammering Association' as your chosen charity and we'll receive a small amount whenever you shop through the smile.amazon pages. 
You can also raise money through Easy Fundraising. See this guide on how it works. After signing up and selecting 'STAMMA/The British Stammering Association' as your chosen charity, you can shop with a variety of online retailers including Ebay, Expedia, John Lewis, M&S and through the Easy Fundraising site. A proportion of the money you spend will go to us. 
A similar alternative service called Give As You Live does much the same thing: you register, search for 'STAMMA/The British Stammering Association' as your chosen charity and then search for your favourite shops and raise some money for us in the process. Find out more.
Social media
We are a registered charity and recognised by Facebook and Instagram. Perhaps you could make us your chosen charity when you set up a birthday fundraiser? See Facebook's Fundraisers page for instructions.
Streaming 
Stream? Game? Game Stream? If you do, you can use Tiltify to raise money for STAMMA while you're Pwng noobs or trying to get your Sims to WooHoo or whatever. Be sure to let us know you're doing it so we can give you a bit of love and promotion over our social channels (email fundraising@stamma.org or mention us on twitter @stammer)
Jewellery, banknotes and stamps
You can send your old jewellery as well as old and foreign banknotes off to be recycled and make money for STAMMA. Items that can be recycled to raise money are:
Any jewellery

—

 gold, silver, costume jewellery, watches, broken and damaged items (like odd earrings, snapped chains or items with missing stones).

Any unwanted banknotes

—

 old and new, UK and foreign banknotes, including all the pre-Euro notes.
Use your own envelope or jiffy bag, no bigger than A5 in size, and post free of charge by printing out the freepost label and attaching it to your envelope.
You can donate old stamps too. All kinds of stamps are welcome, on or off paper. Simply cut or carefully rip the postage stamp from the envelope, being careful that you don't damage the stamp. Once you have a collection, pop them in an envelope, making sure you have the correct postage, and send them to:
STAMMA/THE BRITISH STAMMERING ASSOCIATION
PO Box 16992
Sutton Coldfield
B73 9YA
Giving Through Work
Many employers allow individuals to give a proportion of their wage to their chosen charity (some even match it). Talk to your manager or HR team about how you can give to STAMMA. 
Let us know what you fancy doing. Use the form below to register your event with us, go old school on your 10k run and we'll do our best to support you. Email fundraising@stamma.org
STAMMA, the British Stammering Association, is registered with Fundraising Regulator.