Image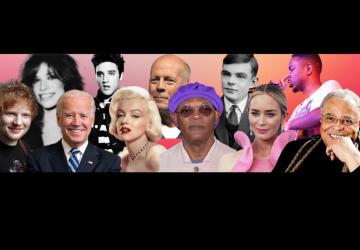 Influential People who Stammer
Wednesday 21st June 2023
A list of famous and notable people who stammer or stammered.
From ancient Greek orators to acclaimed writers, chart-topping songwriters, award-winning actors and filmmakers, and even Presidents, stammering, or stuttering as it's known in other parts of the world, has had an undeniable influence on our cultural landscape.
Here is a list of notable people who have shown that stammering doesn't have to stop you from achieving your dreams. People who have used their stammer in creative ways. People who are changing perceptions through art, social media influencing, activism and high profile media work. It's an ever-growing list so we'll be adding to it all the time.
On this page:
Singers & musicians
Actors
Politicians
Historical figures
Writers, poets & philosophers
TV
Industry
Filmmakers
Comedians
Sportspeople
Social Media Influencers
Activists
Singers & musicians
Ann Wilson (Heart)
The lead singer of the rock group Heart, whose hits include 'Barracuda' and 'Alone' talks about her stammer in a YouTube clip:
"Stuttering, when you're 6 through 16, is incredibly hard because all you want to do is just fit in… it made life really kind of fight or flight all the time. Just going to school was like 'Oh, what's going to happen today?!'"
Bill Withers
Singer-songwriter of classic songs like 'Lean On Me', 'Lovely Day' and 'Ain't No Sunshine', talks about his stammer in a recorded interview for say.org:
"I don't remember feeling ashamed of my stutter. I remember feeling sorry for people who thought there was something wrong with me."
Carly Simon
The singer of 'You're So Vain' and 'Nobody Does It Better' opens up about her stammer in her book 'Boys in the Trees: A Memoir':
"Nick Delbanco, a confident, worldly, literate Harvard boy, had loved away my stutter's stigma. Just like that, I was exotic, different, and in a positive way, too…"... "These days I stammer when I'm tired..." ...nothing humiliates stutterers more than to have their words or sentences finished for them."
Chris Difford (Squeeze)
Founding member of the band Squeeze, whose hits include 'Cool for Cats', Chris talks in his autobiography about how hard he found it at school when he stammered.
Chris Martin (Coldplay) (?)
There are lots of reports about the Coldplay frontman's stammer online, but we can't find any sources to back it up, so we've put a question mark by Chris for now.
Ed Sheeran
The insanely successful singer-songwriter read a Bedtime Story for CBeebies in which he mentioned his own childhood stammer:
"…it made me feel different… I used to worry that I'd never be able to speak without stuttering but now I sing and I talk to people all the time, sometimes to lots of people."
Elvis Presley
Apparently, the King of Pop himself stammered. The Stuttering Foundation of America (SF) found an interview he did for the book 'Elvis: Word by Word' by Jerry Osborne, in which he talks about his stammer:
"Whenever I get excited, I stutter a little bit. I have a hard time saying 'when' or 'where' or any words that start with 'W' or 'I'." 
The SF also found a great clip of Elvis stammering when introducing a song in 1955. 
Gareth Gates
Gareth brought stammering to the attention of the nation when he appeared on ITV's Pop Idol in 2002. Gareth subsequently became a stammering coach. He also won Celebrity SAS: Who Dares Wins in 2023, where he opened up about his stammer and how it helped him become resilient.
Graeme Duffin (Wet Wet Wet)
The guitarist for Wet Wet Wet, whose cover of Love is All Around was an absolute smash in 1994, made an appearance at our 2014 Glasgow conference. Watch Graeme talking about his experiences to the Scottish Stammering Network.
JJJJJerome Ellis 
JJJJJerome is an experimental American composer, producer, musician and writer, who embraces stammering into his art. 
"For me, the stutter is a wild animal, and it is my ongoing practice to follow it where it wants to go," he told Pitchfork in a review of his album The Clearing. 
JJJJJerome speaks about the intersectionality of having a stammer in the Guardian. Watch his interview for the fantastic 2021 event Celebration of Stammering & The Arts.
John Lee Hooker
In his song 'Stuttering Blues', the influential delta bluesman expressed the extent to which negative reactions to stammering made him feel.
Kele Okereke (Bloc Party)
The Bloc Party frontman's stammer is mentioned in an interview he did for The Guardian.
Kendrick Lamar
The Grammy award winning rapper and songwriter told Spin Magazine how stammering got him into music: 
"As a kid, I used to stutter. I think that's why I put my energy into making music. That's how I get my thoughts out, instead of being crazy all the time."
Kylie Minogue (?)
You'll find lots of articles online claiming the soapstar turned singer had a stammer when she was younger. We've put a question mark by Kylie's name for now as we can't find any actual sources to back it up.
Mel B (Spice Girls)
Aka Melanie Brown, the former Spice Girl has opened up about stammering. She told MailOnline:
"Having a stutter can be really debilitating. It can really knock your confidence and I had mine for quite a while and I do get it every now and again when I get quite excited."
Noel Gallagher (Oasis) (?)
Another question mark for the Oasis & High Flying Birds songwriter. Reports online say that Noel and his brother Paul stammered because of the way they were treated by their father. We can't find any citations for this other than an assertion in a biography by Lucian Randall. What we do know is that parents don't cause stammering, as our What Is Stammering? page explains.
Rory Storm
The frontman for 60s band Rory Storm & The Hurricanes — famous for being the group Ringo Starr left to join The Beatles — stammered.
Scatman John
Scatman John, aka John Paul Larkin, wrote arguably the most famous song about stammering. The late singer's stammer was an asset for his 'scat' style of singing, and his song 'Scatman (Ski-ba-bop-ba-dop-bop)' was a worldwide smash in the 90s. As the lyrics go:
"As a matter of fact, don't let nothin' hold you back 
If the Scatman can do it, brother, so can you."
Actors
Bruce Willis
The Die Hard and Sixth Sense actor talks about his stammer when he was honoured at an American Institute for Stuttering gala, where he said to the audience:
"My advice to the people in this room is to never let anyone make you feel like an outcast, because you will never be an outcast."
Emily Blunt
The Hollywood star Emily Blunt is open about her stammer. In an interview for People magazine she talks about her experiences, including how it was difficult for her as a child and the teacher who encouraged her. In a recorded chat she did for the American Institute for Stuttering she touches on the misinformation that's often reported about her stammer being 'cured' by acting (at 0:59):
"I'm like, 'Mmm, no, not quite, I know it sounds good in a soundbite, you know. But it's not true. I will always be one (someone who stutters), and be one proudly."
Harvey Keitel
The 'Pulp Fiction', 'Reservoir Dogs' and 'Mean Streets' actor mentioned his stammer in an interview with Esquire magazine:
"When I was a little boy, I had a stutter. I still stutter, but much less. Back then it was a real champion stutter. In time it faded away, for the most part. Now it seems to be returning a little bit."
James Earl Jones
The man with one of the most recognisable voices in Hollywood (Darth Vader in 'Star Wars' and Mufasa in 'The Lion King'), stammers. We've got lots of quotes from the star of stage and screen on our page James Earl Jones on Stammering.
James Stewart
The Stuttering Foundation of America have a page about the Oscar-winning star of 'It's A Wonderful Life' and his stammer, after 'Vertigo' was voted the best movie of all time in 2012.
Marilyn Monroe
Many say that Marilyn's uniquely breathy delivery of speaking was because of her stammer. In a rare interview on YouTube, she says:
"Sometimes if I'm very nervous or excited or something I stutter"... "In fact, one time they were doing a… I had a small part in a movie… when I got into the scene, instead of my lines I said 'W-w-w', and the director came up, he was furious, he said, 'You don't stutter!'. I said, 'That's what you think!'"
Nicole Kidman
In a round table chat with other top actors about stammering, Nicole talks about her experience as a young child:
"But I do remember being told to calm down when I would go to speak and I remember when I was little, just being so excited to get it out and I couldn't get it out."
Rowan Atkinson
The comic way the Johnny English and Mr Bean star pronounces 'Bob' in the Blackadder series is often attributed to the actor's stammer. Rowan doesn't talk about it much, but in an interview with Time Magazine, he said:
"I find that when I play a character other than myself, the stammering disappears. That may have been some of my inspiration for pursuing the career that I did."
Sam Neill
The New Zealand actor best known for his parts in Jurassic Park, Dead Calm and more recently Peaky Blinders, spoke about his stammer to us back in the 1990s:
"The upside of (having a stammer) was I probably learned to listen better than most of my contemporaries."
Samuel L. Jackson
Star of 'Pulp Fiction', 'Avengers', and countless other films has spoken about how he stammered as a child. Although it's not as prominent now, he said in a speech for the American Institute of Stuttering (warning, it contains swears) about the sounds that he still stammers on:
"I have my days. I have 'G' days, I have 'B' days, I have 'T' days, I have 'P' days. I have 'S' days, and I'm still a stutterer." 
Scroobius Pip
Actor, spoken word poet, hip hop artist and STAMMA patron Scroobius Pip is passionate about raising stammering awareness. On his podcast Distraction Pieces, where he chats to A-List stars, he's open about his own stammer and how he believes there should be space for people who are neurodiverse. Listen to the podcast he did with us, where he talks in depth about his stammer, his creativity and representation in the media.
Politicians
Aneurin 'Nye' Bevan
The Deputy Leader of the Labour Party in the 1960s had, as Ed Balls said in a tribute on nyebevan.org, "established a reputation as a brilliant speaker with that rare gift to inspire and lift an audience". He adds:
"As John Campbell writes in his biography of Bevan, this stammer 'did not make him hate himself, or in the least degree diminish his self-confidence. Instead it drove him'."
Ed Balls
The former Labour cabinet member realised he stammered later in life. Since then he became a STAMMA patron and raises public awareness as regular host of Good Morning Britain. In one interview he talks about being public about his stammer for the first time:
"It was actually like a weight being lifted and from then on I've always talked about it because it helps me… People keep it bottled up, but that's what makes it harder. If you actually open up then you can end up making speeches."
Joe Biden
Proving to everyone, everywhere that you can reach the top with a stammer, President Joe Biden is open about the role stammering has played in his life. Watch him address an American Institute of Stuttering gala audience. In it, he says to people who stammer:
"You have nothing, nothing, nothing to be ashamed of and every reason to be proud… you will find it will not be the impediment that keeps you from realising your dreams."
Winston Churchill (?)
We've put another question mark beside this entry as there's speculation over whether the former Prime Minister and one of history's most eloquent orators actually stammered or not. Read the Stuttering Foundation's argument for him having a stammer, and an argument against from the International Winston Churchill Society.
Historical figures
Alan Turing
Turing cracked the Nazi's Enigma Code, which is credited as shortening World War II and saving countless lives. He also had a pioneering role in early computers and artificial intelligence. His sister Sara Turing says in her biography: 
"One of his friends remarked 'Alan has the most uninhibited stammer I have ever heard'. He turned a deaf ear to the suggestion that to improve his delivery when lecturing he should take lessons in elocution."
Watch actor Benedict Cumberbatch talk about preparing to mimic Alan Turing's voice for his role in the film 'The Imitation Game'.
Charles Darwin
Stammering ran in the family of the naturalist whose theory of evolution transformed the way we understand the natural world. Charles is said to have had a 'slight stammer' and his father Robert, his uncle Charles and his grandfather Erasmus stammered too. His 3-year-old son Willy also started stammering.
Claudius
The fourth Roman Emperor, Tiberius Claudius Caesar Augustus Germanicus Claudius, stammered. This was famously portrayed by Derek Jacobi in the 1970s BBC series 'I Claudius', a largely sympathetic depiction.
Demosthenes
Demosthenes was Greek politician and speech writer from the 4th century BC who was recognised as one of the greatest ancient Greek orators. He was a person who stammered, something he supposedly reduced by going to the beach, putting pebbles in his mouth and shouting above the sound of the waves.
George VI
The multi-Oscar winning 2010 film 'The King's Speech' focuses on George VI's sessions with therapist Lionel Logue, who helps the King become comfortable addressing the nation during World War II. The opening scene re-enacts a speech the real King made at Ibrox stadium, while opening the Empire exhibition in 1938.
Isaac Newton (?)
The ground-breaking physicist, mathematician and politician is supposed to have asked for the windows of Parliament to be closed so the public wouldn't hear his stammering. This has been disputed, so we've put a question mark by his entry.
Moses (?)
In the Bible, the prophet Moses protests when given the mission to liberate the Israelites: "O my Lord, I am not eloquent, neither heretofore, nor since thou hast spoken unto thy servant: but I am slow of speech, and of a slow tongue." (Exodus 4:10) Throughout history, scholars have interpreted this as evidence that Moses stammered, something that's been disputed over the years, hence another question mark by his name.
Notker Balbulus aka 'Notker the Stammerer'
Notker was a medieval monk (c. 840–912) born in modern-day Switzerland. He was also a writer, poet and composed several hymns. Notker stammered and was given the latin name Balbulus, literally meaning 'babbler' which translated as 'stammerer' in English. His biographer Ekkehard IV praised Notker as being "delicate of body but not of mind, stuttering of tongue but not of intellect, pushing boldly forward in things Divine, a vessel of the Holy Spirit without equal in his time". Notker was beatified in 1512, leading many to consider him the patron saint of people who stammer.
Writers, poets & philosophers
Colm Tóibín
The Irish author of works including 'The Master' said in an interview with the New York Times:
"I still have a stammer that I can control by not opening a sentence with a hard consonant, or by concentrating for a moment, breathing softly down," he said. "Growing up, the 'Our Father' was lovely, made for me, the 'Hail Mary' was gorgeous and 'Glory Be to the Father' was an absolute nightmare." 
Dambudzo Marechera
The Zimbabwean novelist, playwright and poet won the Guardian Fiction Prize in 1979 for The House of Hunger. It's a short story collection which plays around with language, as Jonty Claypole describes in his book Words Fail Us: "The plot of The House of Hunger is non-linear: a series of passages inspired by the fragmented speech of his stutter, often ending abruptly mid-sentence and jumping backwards and forwards in time. In this way, the whole book is an attempt to turn his speech disfluency into both creative writing and political activism".
David Mitchell
Not to be confused with the comedian and TV personality with the same name, David Mitchell is an acclaimed novelist and screenwriter whose book 'Cloud Atlas' was made into a Hollywood film. He injected his own experiences of stammering into the semi-autobiographical book 'Black Swan Green', all about a 13-year-old boy who stammers. David is now a STAMMA patron and you can watch him discussing how stammering influences his writing in The language of stammering, with Margaret Drabble, and Stammering & creativity, with Zaffar Kunial. 
Hannah Tovey
Turning to writing after thinking her stammer would stop her from becoming an actress, Hannah's debut novel 'The Education of Ivy Edwards' was a bestseller. She spoke about how stammering adds beauty to her work in a panel discussion at our STAMMAFest Global 2022 conference and is now a STAMMA patron.
John Updike
One of America's finest writers and poets, the late John Updike was most famous of his 'Rabbit' of novels. He wrote an essay about stammering, 'Getting the Words Out', which you can read online. In it, he says:
"...those who stutter win, in the painful pauses of their demonstration that speech isn't entirely natural, a respectful attention, a tender alertness. Words are, we are reassured, precious."
Jonty Claypole
A former BBC Director of Arts, Jonty explored how stammering has influenced and enriched popular culture in his book 'Words Fail Us: In Defence of Disfluency' (read our review and watch our interview with Jonty about it). Formerly a STAMMA patron too, Jonty chatted about stammering and creativity with author and poet Owen Sheers.
Lewis Carroll
The author of one the most incredibly imaginative books ever, Alice's Adventures in Wonderland, stammered along with most of his 11 siblings, and called it his 'hesitation'. Although it's well documented, some accounts are speculation, such as the story that the dodo in 'Alice' was supposedly added to caricature the way Carroll, whose real name was Charles Dodgson, stammered on his surname.
Ludwig Wittgenstein
The philosopher's Picture Theory challenged the very way we understand language. Jurjen de Jong from Stamily says of Wittgenstein:
"…he was arguably the most important philosopher of the 20th century. He made an impact on our society and way of thinking. And I believe that for people who stutter he could be an inspiration in the way he was so dedicated to explaining to the world the power of words." 
Maggie O'Farrell
The novelist, whose bestselling 'Hamnet' won the Women's Prize for Fiction in 2020, spoke about how stammering impacted her life on Desert Island Discs (from 13:40), and influenced her career:
"What it does give you is a very, very finely-tuned hypersensitivity to words and also to grammar. Even as a really young child, a stammerer will be able to think of five different ways to say the same thing so that you can avoid your potential minefield letters or sounds or words. As a young child, you learn to become your own editor...and you're doing it on the spot, in your head, all the time."
Margaret Drabble
The celebrated novelist of works such as 'The Millstone' and 'A Summer Bird-cage' is a STAMMA patron. You can Margaret her discuss the extent to which stammering influenced her writing and her need to write, with fellow author David Mitchell at our 2020 event.
Owen Sheers
The award-winning poet, novelist and playwright's poem 'Cynefin' was performed by the actor Michael Sheen. Upon becoming a STAMMA Trustee, Owen said:
"I'm sure my stammer has provided me with a more nuanced relationship with language, cultivating a more attuned awareness of the weight, meaning and resonance that all words carry."
You can watch Owen discussing stammering's influence on his work in a chat with author Jonty Claypole.
Somerset Maugham
The author and playwright was quoted as saying: "What has influenced my life more than any other single thing has been my stammer. Had I not stammered I would probably... have gone to Cambridge as my brothers did, perhaps have become a don and every now and then published a dreary book about French literature." Instead, Maugham became reputedly the highest paid author in the 1930s, with novels such as 'Of Human Bondage' earning him international acclaim.
Zaffar Kunial
One time poet-in-residence at the Wordsworth Trust, Zaffar talks about how stammering has influenced his work in an online chat with fellow poet Owen Sheers. In it, he says:
"Nearly every stammerer has a very unique relationship to time...when you're in that moment of a stammer, your language is existing in two places. The word is already alive in your head, but for everyone else in the room, it isn't, and you're bringing it into the future."
TV
Felicity Baker
TV producer and reporter Felicity fronted and produced the BBC documentary 'I Can't Say My Name' in 2021, in which she spoke honestly about experience of stammering to a primetime audience. Watch our chat with Felicity and co-presenter Sophie Raworth.
Hayley Hassall
Investigative journalist, producer and BBC radio/TV presenter made a video to tell people about how stammering affected her at school. She says:
"It could have made me shy away from talking... But just before I headed off to high school, I decided to speak out… We had this public speaking competition… I stood up in front of the whole school and spoke for 10 minutes about my stammer and I won the competition."
Hayley also hosted a recorded chat with top sportspeople who stammer from the BBC Stammering Support Network.
Jonathan Miller
Sir Jonathan Miller was an actor, TV presenter, director, humourist and medical doctor who rose to fame as part of the Beyond the Fringe comedy revue with Alan Bennett and Peter Cook. He also stammered from a young age and demonstrated his support for people who stammer by becoming a patron of our charity. Read our tribute to Jonathan.
"I remember once having a very bad time with initial 'M's… and, very foolishly under the circumstances, travelling to Marble Arch. I could see the conductor coming down the corridor towards me and I knew that I would have to say 'M-M-M-', and, finally, as often happens with stammerers, a fantastic act of creation took place. I said 'One to the arch that is made of marble, please.'"
Musharaf Asghar
'Mushy' was the standout star of Channel 4's 'Educating Yorkshire' documentary series. In it, the nation watched how he, with the help of his supportive teacher, grew in confidence with his stammer. Mushy is now a motivational speaker and most recently appeared on BBC Breakfast to talk about how the pandemic affected his stammer. 
Nicholas Parsons
The much-loved actor, presenter and national treasure was a STAMMA patron for 26 years, supporting our work with numerous appearances at campaign and resource launches. He wrote about his stammer in his autobiography 'With just a touch of hesitation, repetition and deviation':
"When I was younger, my stutter was more pronounced. In later years, I developed breathing techniques that have helped me manage it… I would stutter at home, in class and at work, but the moment I walked on stage in front of an audience my stutter disappeared… This confirmed to me what I wanted to do for the rest of my life."
Patrick Campbell
The TV personality, journalist and humourist openly stammered as a captain on the panel show 'Call My Bluff' in the 1970s. On YouTube you can watch a clip of him introducing his teammates.
Industry
Arwel Richards
Arwel is a businessman and broadcaster who has featured a lot on Welsh TV. He deals in classic cars, he was a director of the Swansea Bay Film Festival and is a STAMMA patron. Watch his short video 'Stammering doesn't have to hold you back'.
Bruce Oldfield
Fashion designer to the stars, most famously the late Princess Diana, who became a friend and confidant, Oldfield apparently stammered, according to the Daily Telegraph.
Craig Beaumont
STAMMA Member Craig worked at 10 Downing Street, helping Tony Blair with Prime Minister's Questions, and is now chief lobbyist and media spokesperson for the Federation of Small Businesses. Read his Your Voice article 'Stammering in a career that's all about talking'.
Dylan Jones
The world of music helped Dylan get through life with a stammer in his youth. So much so that he forged a career in music journalism which led to him becoming editor of the men's lifestyle magazine GQ, as well as i-D and Arena, and writing multiple books including one about David Bowie.
Iain Wilkie
Iain, a former partner at the global professional services firm EY (formerly Ernst & Young), wants to help others who stammer reach the level he did. That's why he founded 50 Million Voices, an international network which aims to transform the world of work for people who stammer.
Jon Smith
Jon is an agent with a high profile in the sports and entertainment arenas, and in his biography 'The Deal', he talks about his stammer and how he developed public speaking skills for media work. He's also a STAMMA patron. Watch Jon discuss his experiences alongside top sportspeople in a video from the BBC Stammering Support Network.
Martin Radvan 
Former CEO and global president of Mars Wrigley, Martin told us his story and how he deals with stammering in his article 'My stammer and me':
"When I did make my first public speech I discovered that humour, making an audience laugh, was another technique that helped."
Filmmakers
Ari Aster 
The writer/director of 'Hereditory' and 'Midsommar' self-advertised his stammer to Variety while promoting his 2023 film 'Beau is Afraid': "I have a stutter so this is like my worst nightmare". 
Gina Rose
Gina wanted to make movies since she was 14 and her debut film 'I Can't Sleep' won Best Script at the Boston Science Fiction Film Festival in 2021. Watch her take part the online Celebration of Stammering & The Arts event in 2021 (from 12:00), in which she says:
"I always felt that what I wanted to do as a filmmaker…is to have people be who they are on-screen. So if there's a character who stutters, for example, don't even make that the focus point or the character's arc, don't make that their defining characteristic, even. Because most of the movies that I've seen about stuttering have been about the arc or 'overcoming', or stuttering as their big burden to bear."
Comedians
Aidan Greene
The Irish stand-up comedian regularly builds his stand-up comedy shows around his experiences of stammering, such as the Edinburgh Festival shows '500 Days of Stammer' and 'I Know What You Did Last Stammer'. Read all about them in the Your Voice article Aidan wrote for us. Aidan also co-hosted our awards ceremony for stammering in film & TV, The Stammies, with fellow comedian Nina G, listed below.
Daniel Kitson
The British stand-up is a cult favourite and had a role as the barman in Peter Kay's sitcom 'Phoenix Nights'.
Drew Lynch
Drew shot to fame in 2015 when he wowed the judges on America's Got Talent with his stand-up comedy routines. Working his experiences of stammering into his act, he got all the way to final where he came second. Watch all of Drew's performances on America's Got Talent.
Nina G
Nina is a staple on the US stand-up circuit where she advocates for comedians with disabilities and she co-hosted our event The Stammies Awards with Aidan Greene, above. Nina's book Stutterer Interrupted tells her story.
Sportspeople
James Davies
After an injury stopped his athletic career, James became a top osteopath and his celebrity clients include David Beckham, Phoebe Waller-Bridge and Kylie Minogue. He's also a STAMMA patron. In an article he wrote for us, James said:
"I am living proof that anything is possible. I managed to follow my passion and not let my stammer become a stumbling block in my career."
Watch James's interview with STAMMA.
James Rodriguez
The Colombian footballer lit up the 2014 FIFA World Cup in Brazil, earning himself the Golden Boot. As The Sportsman reports, 'He was extremely shy, conscious and hesitant due to his stutter but still wowed with his skills, and he did his talking on the football field'.
Joao Gomes
The Wolverhampton Wanderers footballer has been open his stammer. When asked by The Athletic if he had any words of advice for any young supporters who stammer, the Brazilian said, "I would tell them to have courage. I would tell the parents to give them the time they need to express themself in the best way possible. That's what I had in my home: a mum who listened, a grandad who listened, a dad and a brother who listened. That makes all the difference".
Katie Walsh
Katie is a former leading National Hunt Jockey who has spoken a lot about her stammer. She told one newspaper:
"Looking back, I suppose I turned to horses because I didn't have to worry about my stammer when I was riding out in the fields."
Watch Katie discuss her experiences alongside other top sportspeople in a video from the BBC Stammering Support Network.
Kelly Brown
Kelly is a former captain of the Scotland rugby union team with 64 caps to his name. He's now a senior coach with Glasgow Warriors and a STAMMA patron. Watch Kelly talking about stammering and rugby alongside other top sportspeople in a video from the BBC Stammering Support Network.
Ken Sema
The Watford FC midfielder went viral in February 2023 when a post-match interview where he openly stammered, prompted a positive online response. Watch our chat with Ken; when we asked what advice he'd give his 13-year-old self, he said: 
"Honestly, I would say, like, it will be alright. I know you feel it is hard now, because I've been in school, I had, you know, to go up in front of the class, to read a book, some are making... not jokes but they're laughing, but, like, it's alright."
Luke Ayling
The Leeds United defender hit the headlines in 2022 when he spoke about his stammer on MOTDx. Watch Luke discuss his experiences alongside other top sportspeople in a video from the BBC Stammering Support Network.
Shaquille 'Shaq' O'Neal
The basketball legend was NBA's rookie of the year when he joined Orlando Magic, achieved many titles as well as an Olympic gold medal, and is now a TV pundit. Watch an interview with US speech pathologist Courtney Byrd about his stammer. In it, Shaq talks about how his confidence was affected at school, but says:
"I just want children to know that it's OK. Some of the most affluent, richest, raddest, talented people in the world stutter… It never goes away and I still stutter to this day… but once I said to myself that it's OK, well…"
Tiger Woods
With 82 PGA Tour wins under his belt, Tiger is one of the most successful and famous golfers of all time. In 2015 he wrote a letter to a boy he heard was being bullied for his stammer, which said:
"I know what it's like to be different and to sometimes not fit in. I also stuttered as a child and I would talk to my dog and he would sit there and listen until he fell asleep."
Social Media Influencers
Georgia Scott (@ge0rgiatalks)
Georgia's TikTok description says '*trying* to thrive as a person who stammers in a fluent world'. She went viral when she started filming herself in difficult speaking situations, like ordering in restaurants.
Jessie (@mimidarlingbeauty)
With a whopping 3.6m TikTok followers, Jessie makes content about her journey living with a stammer and self-advertising it.
Marc Winski (@marcwinski)
The US actor, singer and content creator Marc Winski has gained a huge following making hilarious videos to raise awareness of stammering on TikTok and Instagram. 
Activists
Conor Foran
Conor, a creative who founded Dysfluent, an independent magazine about people who are proud of their stammers, said in our article about it:
"I think we as people who stammer should all be as honest and approachable as we can, because in the end it makes our everyday interactions easier... I hope Dysfluent dispels the perception that a person who stammers is weak, stupid or incompetent."
Maya Chupkov
San Francisco-based Maya is working to shift societal norms around stammering and the disability community. Her activism and podcast 'Proud Stutter' is about changing how we understand and talk about stuttering.
Patrick Campbell
Co-editor of the book 'Stammering Pride & Prejudice: Difference not Defect', Patrick advocates for stammered voices in many ways. Another is through being part of a collective that has created the Making Waves Stuttering Pride flag.
We'll be adding to this page as we go.
Images courtesy of Wikicommons.