3rd April 2023
Looking to challenge yourself and raise money for people who stammer? Sign up for a run and join Team STAMMA.
We've secured places in the runs below. Click on the links to find out more and to sign up:
10Ks
AJ Bell Great Birmingham Run, 7th May 2023
AJ Bell Great Manchester Run, 21st May 2023
10 miles
AJ Bell Great South Run, 15th October 2023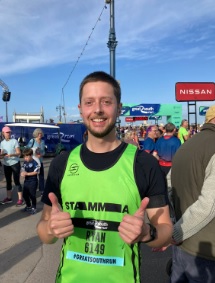 We're asking for £15 for a place and in return you'll get a fantastic fluorescent green running vest. We just ask that you aim to raise at least £200 for STAMMA to help keep our services and campaigns going.
You don't have to be an experienced runner to take part. The events are open to runners of ALL abilities, as our video above shows.
Update: 27th April
If walking's more your thing, we've also booked places at four trekking events. See our Fundraise page to see what you can sign up for.
Other opportunities
If you don't fancy any of the above but still want to fundraise for STAMMA in some way, email hello@stamma.org and we'll let you know about other things you can do.