Image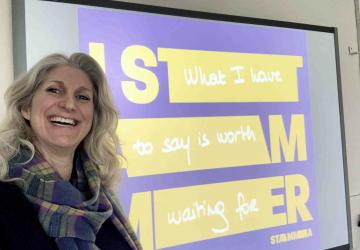 Let's Get Talking About Stammering Campaign
Thursday 23rd February 2023 - 12:37
23rd February 2023
A new campaign from STAMMA Educators to raise stammering awareness in schools.
Stammering is rarely spoken about within schools, yet over 8% of children have a stammer and at least 2% go on to stammer as adults. 
STAMMA Educators, the network for teachers who stammer, are launching a new campaign to encourage people to go into their local primary or secondary school and speak to young people about stammering.
The campaign was inspired by art teacher and network member Roberta Volpe (pictured above). Wanting to raise stammering awareness in her school but not being able to get it into assemblies, Roberta was given permission to go into every class to talk to children about her experiences. She has been doing this over the last few months and in her article below she tells us all about it (scroll down to read it).
Hold your own talk
STAMMA Educators says, "Please help to get schools talking about stammering by taking part in our campaign or spread the word to encourage others! We have created some resources you can use to make this as simple as possible for you". Follow the steps below.
Step 1: Contact your local school about holding a talk. Download the template email below as a guide.
Step 2: Download the Stammering Talk template pdf below to get an idea of what to include in your talk. If you would like it on PowerPoint, email stammaeducators@gmail.com and they'll send it to you.
Step 3: Take a photo and let STAMMA Educators know how it went. Email them at stammaeducators@gmail.com. Or you can tag them in on socials! Find them on Facebook, Instagram and Twitter using @stammaeducators.
Downloads