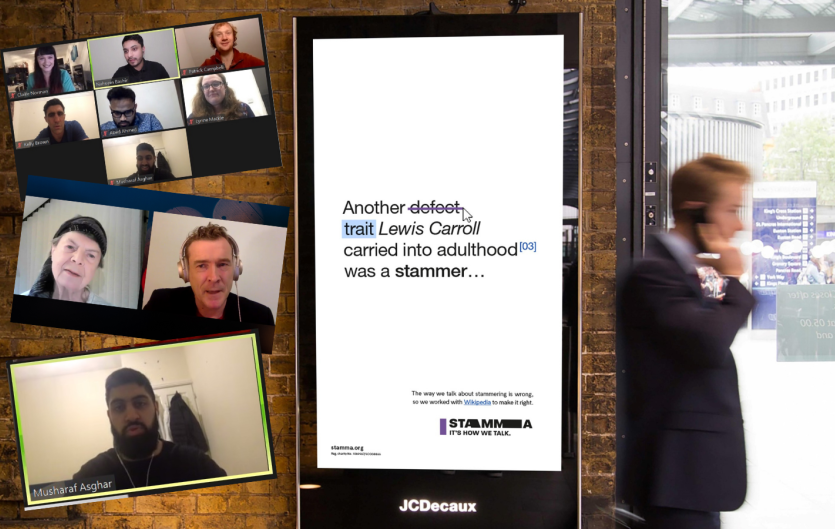 5th November 2020
CEO Jane Powell reflects on an eventful few weeks surrounding International Stammering Awareness Day (ISAD) on the 22nd October.
This year's ISAD was an absolute blast. For those of you who managed to miss it (how in the world could that happen?), here is a summary.  
The preparation
Over the last weeks and months, our Web Editor Steven Halliday, along with volunteers Helen, Jon and Hannah, and staff at the creative agency VMLY&R, trawled through the entries of famous and notable people who stammer on Wikipedia, looking at the way their stammering was described. 
They then set about changing all the negative descriptions they found to neutral ones.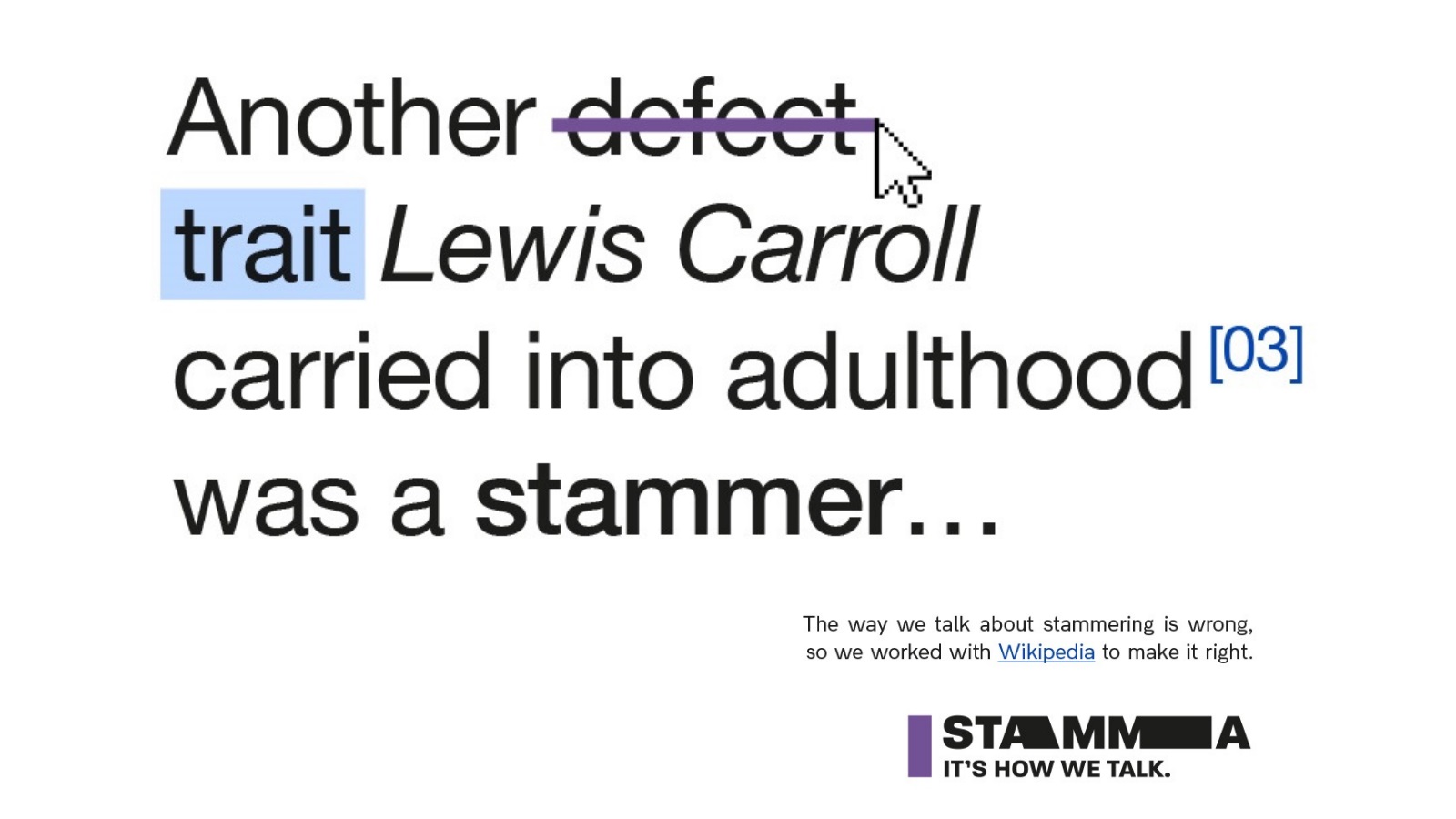 In total, 183 entries were edited including those of Ed Sheeran, Emily Blunt, Lewis Carroll, Samuel L. Jackson and Charles Darwin. Read more about the campaign here.
A short video was created to show what we did, with a voiceover from our Patron Scroobius Pip (watch it below). The agency VMLY&R, the brainchild behind the campaign, then designed and created advertisements showing how the words were changed.
We reached out to several associations around the world including the Irish Stammering Association, the Canadian Stuttering Association, the National Stuttering Association in America, and the Australian Speak Easy Association, inviting them to be part of the campaign, and got a good response. As a result, the term 'stammer' was swapped with 'stutter' and our logos were replaced with theirs to create ads they could share in their countries, so that each campaign could remain local.
The launch
And so to the run-up to ISAD. We launched the campaign on the 13th October with our outdoor digital ads going up in shopping centres, bus stops and train stations across the UK and globally, and we pushed our campaign ads and video online up until ISAD on the 22nd.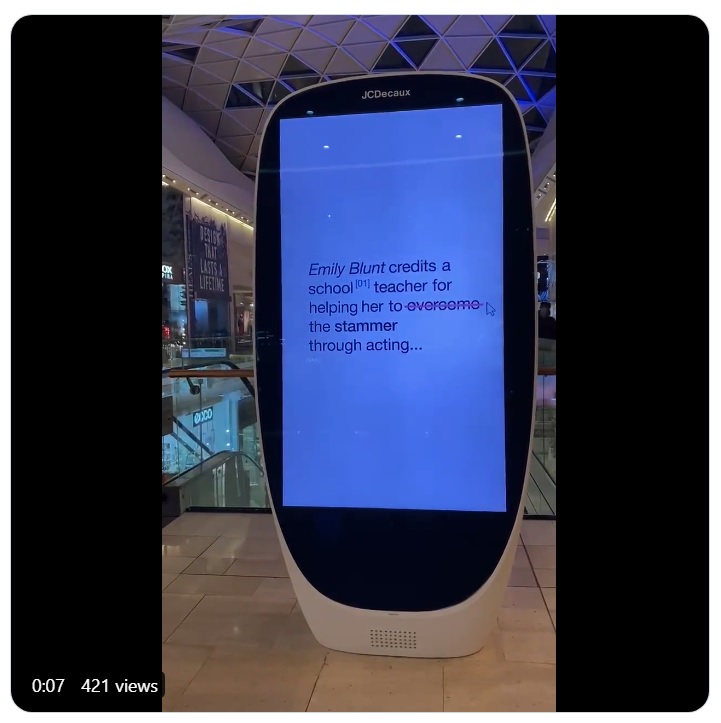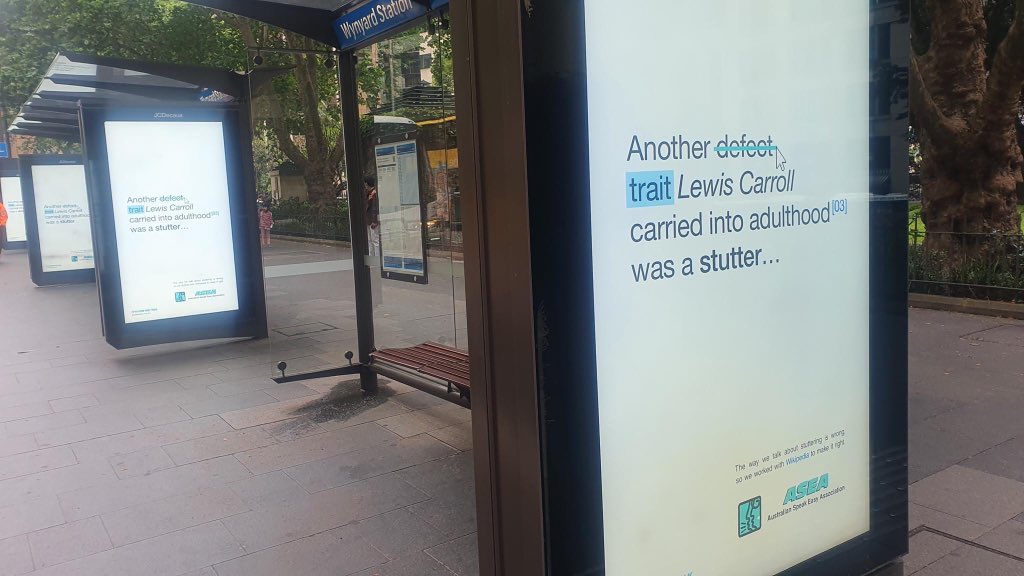 At the same time we sent a press release to all the main news channels with our new Editorial Guidelines attached. These guidelines, endorsed by the Royal College of Speech & Language Therapists, set out how we want to see the language around stammering change, in the media and for anyone wanting to talk about it. This year we used the strapline 'It's how we talk' to encourage them to simply accept that this is how some people talk.
ISAD events
On the 21st, the day before ISAD, we organised an online event to coincide with the campaign. 'In Conversation with Margaret Drabble and David Mitchell', chaired by Tim Fell (Chair of Stamma), featured the bestselling authors — and Stamma Patrons — discussing the language around stammering and the way it has been depicted and used in our culture. You can watch the whole event below.
This intelligent three-way conversation was a wonderful insight into the current
@stammer campaign, how modern culture has influenced perception of the condition and a heartening boost for anyone impacted, particularly aspiring writers like myself.
Johnathan, Twitter
On ISAD itself we put on a day of Zoom-based workshops and seminars for speech & language therapists, parents, and anyone working with, teaching, or employing people who stammer. You can watch the 'Working with, teaching and employing people who stammer' seminar here.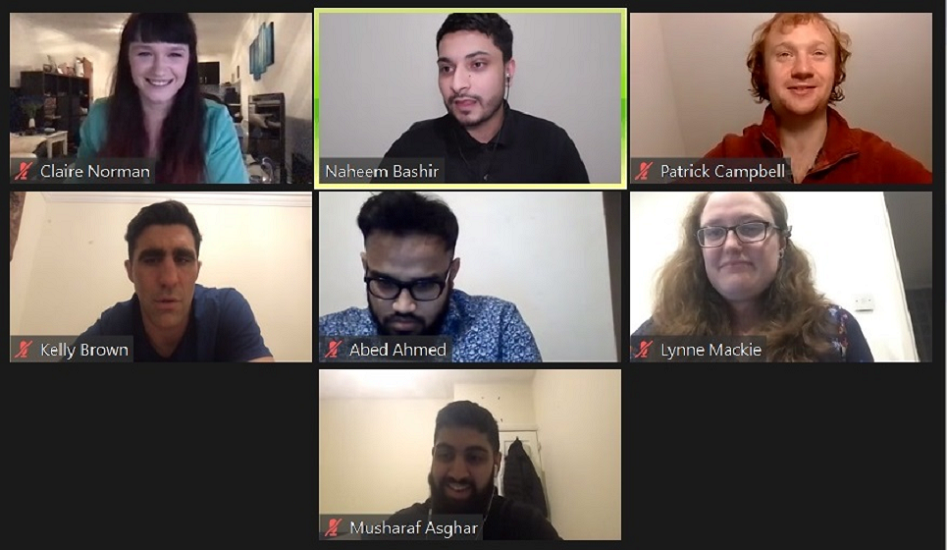 We rounded off a jam-packed day with the barnstorming 'The Big Event' on ISAD evening. The stellar line-up of panellists, including former Scotland rugby captain (and new Stamma Patron) Kelly Brown, Musharaf Asghar from Educating Yorkshire, Claire Norman (Stammerers Through University Consultancy), Patrick Campbell (Stammering Pride & Prejudice) and Lynne Mackie (Stamma Trustee), looked at how to change society's view of stammering. The event was admirably hosted by Naheem Bashir and Abed Ahmed. You can watch 'The Big Event' below.
Amazing virtual event from @stammer this evening. Thank you to all the panellists for sharing your experiences and most importantly your passion.
Vanessa, Twitter
Your articles
For the duration of the campaign, we devoted our Your Voice section to the theme of words and language around stammering. We published some brilliantly thought-provoking articles from you, which you can read here
How did it all go?
Hundreds of people signed up to our events, with as many people still clicking and watching them back.
There was a flurry of media interest from national and local TV and radio, with Stamma Patron Jon Smith waking up early to speak to Sky News' Kaye Burley. 
There was also coverage of the campaign in Canada and Australia, with the video going on ABC news in Australia, and we've even been sent a clipping about the campaign from Ghana.
So, was it worth it? The campaign was hugely popular and gained more traction than any previous ISAD. There were 50,990 views of the video online, and figures spiked all across our social media. Compared to ISAD 2019 we had 130% more retweets and 217% more engagement on Twitter, Facebook reach grew by 39%, and website users went up by 20%.
203 people signed up as new members and supporters throughout October – the highest figure we've seen in any month. Feedback has been lovely, with people responding to the feel-good, positive messaging we adopted.  
"Thank you @stammer for working to get rid of "the unremitting focus upon 'overcoming' reinforces the idea that you shouldn't stammer and you need to learn to talk 'normally'. This is wrong." Kirstie, Twitter
"Overcome? Conquer? Beat? Cure? Nervous? Stupid? The launch of a brilliant campaign from @stammer on the misinformed language that society uses in relation to developmental stammering. This will chime with anyone underevaluated and sidelined for speech difference." Walter, Twitter
"Absolutely bloody love this. Spot on. Thank you @stammer." TSeddon, Twitter 
"Finding the right words here in South London. Congrats @stammer on a great campaign." Conor, Twitter
The campaign also received this endorsement from Wikimedia, the global community of contributors to Wikipedia:
Wikimedia UK is committed to developing an inclusive culture across the Wikimedia projects, and helping to eliminate bias. Wikipedia's wording around stammering was not neutral before, and reinforced negative perceptions about stammering, so what Stamma have done should positively affect how people understand it."    
Lucy Crompton-Reid, CEO, Wikimedia UK  
Thank you 
It's fair to say that ISAD 2020 was a roaring success. So, thank you to everyone who took part, from all those who organised the events and activities, to our volunteers who looked after the helpline and webchat, and helped out with local media interviews. Thank you to our Patrons, especially to new recruit Kelly Brown, David Mitchell, Margaret Drabble, Jon Smith, Baroness Janet Whitaker, and a particularly raucous shout out to Scroobius Pip. Thank you too, Ocean Outdoors and JCDeaux UK, Jimmy Wales and the community at Wikipedia.  
And finally, please join me in a huge, huge round of applause for an outstanding campaign from VMLY&R; especially to Elliot Duck, Daniel Liakh, Ollie Chakraverty, Billi Hatfield, and to Scissors & Glue, for working their collective socks off over the last months on this campaign. You were amazing.