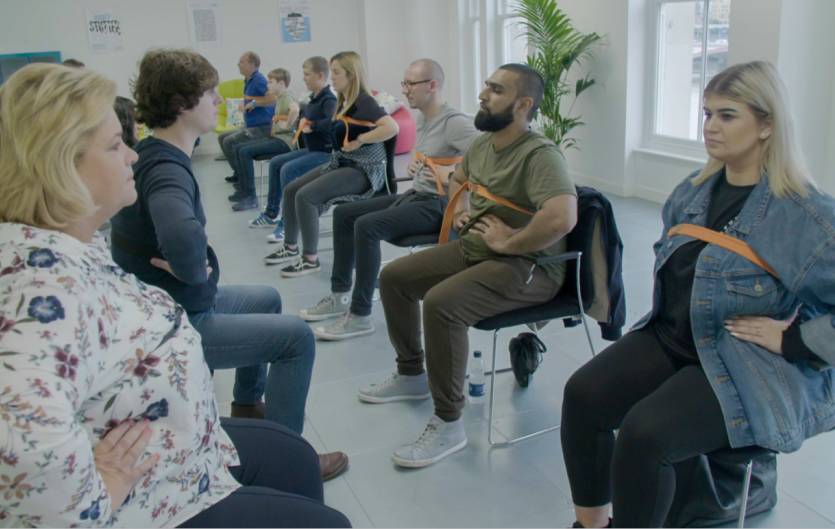 The McGuire Programme runs in-person, online and hybrid courses nationwide, with free lifetime support.
What ages is it for?
Ages 14+
What does it do?
The McGuire Programme combines physical techniques (diaphragmatic breathing aka costal breathing, and relaxation) with mental strategies for dealing with the fear of stammering, and developing an assertive attitude to it. Its goal is eloquence rather than fluency. 
What happens on a course?
Courses last for three or four days and sessions are usually from 8am to around 10pm. Regular breaks are provided.
A typical course has about 10-15 students, with about 30-40 returning graduates attending at any one time to help the new students and work on their own technique. Much of the course is one-to-one tuition.
On the course, participants identify the mechanics and dynamics of speaking. They are then taught the costal breathing technique, which is practised through concentration, self-acceptance, assertiveness and non-avoidance exercises. The final day involves practising what has been learnt in public.
Note: The approach is a long-term process requiring constant coaching and support, which is provided by the programme through its lifetime support network. Ongoing commitment is required and organisers emphasise the importance of practice. Individual coaching is given after the course, and students can attend nationwide self-help groups and refresher days. Yearly evaluations are provided.
Who delivers the course?
All courses are run by returning graduates. They are not qualified Speech and Language Therapists, however they consider their personal experience with stammering and their demonstrated commitment to assist others over the long term as a significant qualification in its own right.
When and where are courses held?
Regular courses are held around the UK and worldwide. They are now doing online and hybrid courses.
How much does it cost?
Lifetime membership costs £995 (due after two days of the course if you decide you want to carry on). 
Hotel costs vary. Future member/returning graduate fees: £30 per day (to a max of £90 for the full course).
Partial scholarships are available.
Where can I find out more?
Visit the McGuire Programme website.
The programme holds regular free open days for anyone wanting to find out more and to meet graduates. See their website for more details.