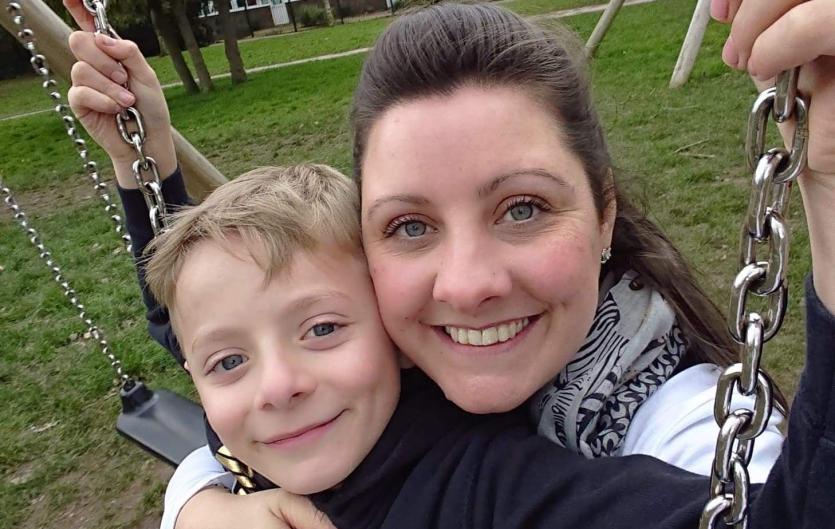 Learning to talk doesn't always go smoothly, just like learning to walk. Find out what stammering is and what you can do if you're concerned when your child starts stammering.
You can also download our information leaflets for pre-school children or school-aged children. Or order free copies from our shop.
What is stammering?
It is normal for a child to repeat words and phrases, and to hesitate with "um"s and "er"s, when they are sorting out what to say next. Around 8% of children - that's one in every 12 children - will experience stammering, particularly between the ages of two and five. 
Stammering, or stuttering, is when your child:
stretches sounds in a word ("I want a ssstory.")

repeats parts of words several times ("mu-mu-mu-mu-mummy.")

gets stuck on the first sound of a word so no sound comes out for a few seconds ("...I got a teddy.")

puts extra effort into saying specific sounds or words. You might notice tension in the face eg around the eyes, lips and jaw

holds their breath or take a big breath before speaking, so their breathing seems uneven

uses other body movements to help get a word out - they might stamp their foot or move their head 

loses eye-contact when getting stuck on a word

starts to try to hide their stammer: they might pretend they've forgotten what they want to say, change a word they have started to say or go unusually quiet.
These types of stammering behaviours will vary from child to child. They can start gradually or very suddenly and may come and go over time. Around 75% of children will go on to speak fluently, either spontaneously or with the help of speech and language therapy.
Like many parents, my first instinct was to panic...I thought "why him? Why us? Will he be bullied? Will he get a good job?
Should you be worried if your child starts stammering?
In the video below, our Programme Lead Kirsten Howells addresses this question.
Watch our other video: Is it my fault that my child stammers?
To watch all our videos for parents, see our Videos page. Read written transcriptions of the videos.
'My Stammering Tap' video
Watch the video 'My stammering tap' below for a fantastic visual description of what it's like to stammer. It was produced by NHS Humber Foundation Trust and Fuzzfeed, as part of its 'Hear in Hull' project to promote stammering awareness.
Supporting your Child
There are lots of things you can do to help. Here are some suggestions which can help to reduce some of the pressure a child may experience when talking.
When talking with your child
How you and others respond is important and will shape your child's perception of themselves. Be measured in your response - try not to show you're worried even if that's how you're feeling. Remain calm and relaxed and try to:
slow down your own rate of speech, but don't tell your child to slow down or take a deep breath
have one-on-one time (just five minutes every day) with your child, where they aren't competing for attention with tasks or other family members 
ask one question at a time and give them plenty of time to answer
use short, simple sentences.
Video: How you can help a child who stammers
The most important lesson I learnt in speech therapy was to slow down my own speech.
When listening to your child
Resist the very strong temptation to show anxiety, impatience or to correct or fill in their speech. Try instead to:
keep natural eye-contact 
listen to what your child is saying, not how they say it
pause before answering questions
make sure everyone in the conversation gets a turn to speak
acknowledge speech difficulties with reassurance and encouragement, if that feels right for you and your child. 

You might say something like, "Learning to talk is quite a hard thing to do - lots of people get stuck on their words and that's OK. You're doing really well."
Changing our language
When talking with your child or with others about stammering, try not to describe it in terms of 'good' and 'bad', eg, "Your speech has been really good today" or "Her stammering's been really bad this week". Language like this can make a child feel that what they're doing is bad, or that they're being bad or are failing in some way when they stammer. This can then chip away at their confidence, perhaps creating anxieties around speaking or making anxieties worse.
Instead, describe changes in stammering in terms of 'more' or 'less'. For example, "She's been stammering much more this week", or "He's been stammering less today". This way of describing stammering removes judgement from the situation, whilst openly acknowledging the changes in stammering over time.
Watch our other videos:
Talking to a child who stammers
Becoming more comfortable with your child's stammering
One-to-one time with your child who stammers
To watch all our videos for parents, see our Videos page. Read written transcriptions of the videos.
Our workshops & groups
We often run online workshops for parents. In early 2023 we have workshops for parents of pre-school children who stammer, and one to support parents on Minding Less About Stammering.
Read our article on Nurturing resilience in children who stammer, which gives practical tips on helping a child to think and feel better about themselves and their stammer.
When to act
If you or your child are worried about stammering, then ask for your child to be assessed by a speech and language therapist who specialises in stammering.
While lots of children will grow out of stammering, it can still be hard for you and your child during this time and therapy can help. The earlier you act the better, as there can be a bit of a wait to be seen.
A speech and language therapist will advise if your child needs therapy, and can help you and your child make sense of what's happening. It's not easy to tell whether your child is going through a temporary stage of stammering or whether it will continue.
Signs that suggest the stammering may continue and your child would benefit from some help include:
Your child is aged between 2 and 3-and-a-half and the stammering has continued for more than a few months and become more noticeable.
A family member stammers or used to stammer.
Your child has some speech sound difficulties.
Your child is aged 3-and-a-half or over, and has just started stammering.
Getting help
If the stammering is causing you or your child distress, you can refer your child directly to a local therapist or ask your doctor or health visitor to do this for you. Speech and language therapy is available free of charge on the NHS, but push to see if you can find a therapist who specialises in stammering.
Finding a therapist
To find out details of your nearest NHS speech & language therapist, give our helpline a ring for free on 0808 802 0002 or start a webchat. Both are open weekdays from 10am-12pm or 6pm-8pm.
Or you can search online using a search engine like Google. For example, if you live in Leeds, search for 'Children NHS speech and language therapy Leeds'.
You may have to wait several weeks before being seen, since most therapy departments have waiting lists.
First appointment
When you go for your first appointment or assessment, it will be relaxed and informal. The therapist will first want to find out as much as possible about your child and assess their speech and language skills through observation and play.
Based on results from this first meeting and discussions with you, the therapist may decide to offer you advice and arrange another appointment in a few months' time or offer some therapy.
Read our article 'Taking your child to a therapist: what to expect', written by a speech & language therapist.
Therapy for pre-school children
There are many ways a speech & language therapist can support you and your child. These include the following:
Helping you understand more about stammering so that it feels less worrying.
Explaining the therapy options, including approaches that are specifically designed for pre-school children who stammer.
Helping you and your child deal with any difficult thoughts and feelings you may have around stammering.
Working with other family members or staff in early years settings, such as nurseries or childminders.
Working with you on ways to keep your child chatting and developing their language and communication skills whether they are stammering or not. 
Finding out what affects your child's stammering.
Working on speech patterns that can help your child say what they want to say more easily.
Every child and every family is different. Your therapist will work closely with you to agree the goals of any therapy, and then tailor the support they offer to you and your child.
Therapy for school-age children
For older children, therapy results will vary. For some children, their stammer will eventually go and they'll become fluent. Other children might continue to stammer but therapy will help them to manage their speech and feel confident to speak. In general therapy aims to help children to:
feel good about talking, stammering and themselves
become a confident and effective communicator.
What to expect from therapy
Working directly with your child either one-to-one or in a group, the therapist will plan therapy to suit your child's needs. It is likely to combine some of the following elements:
Liaising with your child's school: ensuring that there is a positive environment in the classroom and the schoolyard where your child's speech is accepted, whether it is stammered or fluent.
Supporting parents: helping you to feel confident in supporting your child at home, at school and socially.
Understanding speaking and stammering: your child will learn how speech is produced and what happens when they stammer.
Reducing avoidance: the therapist will encourage your child to try some of the words or situations they may have avoided due to a fear of stammering.
General communication skills: your child will learn that good communication depends on more than fluency and includes skills such as listening, making eye-contact, taking turns and how to start and end conversations.
Addressing the emotional side to stammering: you and your child may learn ways to work with unhelpful thoughts and feelings and discuss strategies to cope with any bullying or teasing. 
Making speech changes: if appropriate, the therapist may help your child explore different ways of speaking. Or your child might learn how to ease through tense stammers more easily.
Being involved in your child's therapy
Therapy is likely to also include some work with parents or the family as a whole. Making changes to how the family communicates (for example, working on taking turns to talk and reducing interruptions) may be helpful for the child who stammers. Therapy will involve 'homework', which parents will be expected to help their child with, but this will usually be in the form of games to make it fun for your child. 
The therapist may also contact your child's school and give teachers advice to help support your child in class. They might even support teachers to talk to the rest of the class about stammering, particularly if your child is being teased or has experienced unhelpful responses at school.
The bilingual child
Bilingualism in children is where the child has been spoken to, or speaks, two or more languages. This includes children who have been spoken to in two languages in the home, or where they have a home language that is different to the language spoken at school, in the nursery or creche. 
Millions of children across the world speak more than one language and young children are easily able to learn at least two languages at the same time. 
Being bilingual does not cause stammering, as lots of children learn two or more languages and don't stammer. We know that up to 8% of children stammer at some point - this will include bilingual children. Many young children learning to talk will stammer more when using longer, more complex sentences or learning new or longer words. 
Managing early stammering in a bilingual child is the same as managing stammering in a child who speaks just one language. Also, do continue using two languages at home and let your child mix up the languages, which is natural for bilingual children.   
If your child is showing signs of stammering and you are worried about it, it's best to seek advice from a speech & language therapist. See our Therapy & Courses section for details on how to find one. Or you can call our helpline for free on 0808 802 0002 or start a webchat. Both are open weekdays from 10am-12pm and 6pm-8pm. If your child needs therapy, this should be carried out in the language most suited to your child and family.
Supporting Yourself
Watch this video 'My Stammering Child', which explores the concerns you might have when your child starts stammering. It was created by Humber Teaching NHS Foundation Trust, in partnership with My Pocket Films and Action for Stammering Children.
Read a great article from Jessica, a parent of a 4-year-old boy: 'Supporting myself as the parent of a child who stammers'
Sign up to our Workshops for Parents and join our Parent2Parent online support group for practical help from other parents.
Other sources of support
Support Groups
The STAMMA Stammering Facebook group: moderated by our staff and volunteers, this provides a space for people to share experiences, ask for advice and talk openly about stammering. It's a 'closed' group, so any posts made in the group are only seen by group members. Parents of children who stammer often find it helpful to connect with adults who stammer.
UK Peer to Peer Support Group for Parents of Children who Stammer: a Facebook group specifically for parents of children who stammer to support one another and share their experiences, thoughts and ideas. It's a closed group so only members can post and respond.
Centres
The Michael Palin Centre for Stammering: this specialist service provides assessment and therapy programmes for children, young people and adults who stammer. It has an informative website plus a helpline. A consultation service is also available to families of children who stammer throughout the UK.
Action for Stammering Children: informative website on all matters related to stammering with focus on children and young people.
App
Penguin — Support for Stammering: An app for parents whose child has started stammering. Each day has a short video with a task to help you reflect on your situation and set up strategies to support yourself and your family.
Your Voice
Read articles from parents on our Your Voice section.
Books to read with children
There are several children's books which talk about stammering. We've reviewed several of them on our website including:
If you're a STAMMA member, you can borrow most of these, and more, from our library.