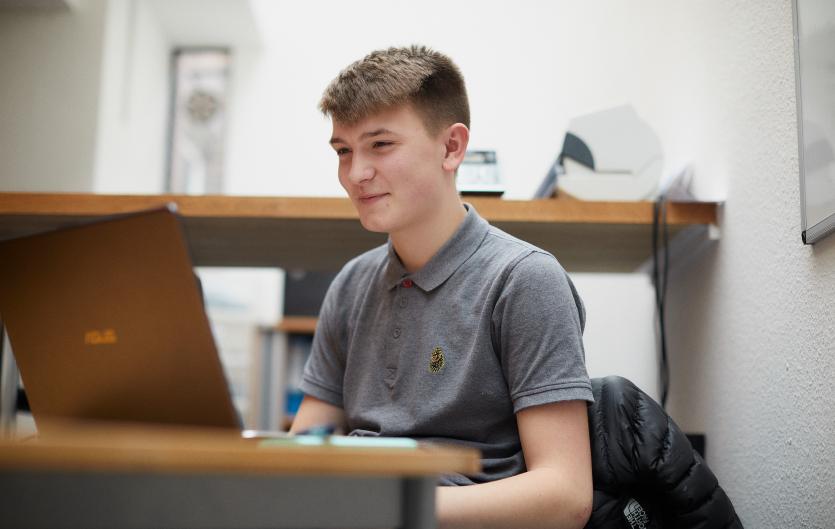 Don't worry about it. You'll grow out of it. Just relax. Be more confident.
Sound familiar? It's easy for others to hand out advice. It's well meant, but not very helpful.
The way you stammer, and how you feel about it, will change over time. So while your stammer might affect you a lot now, it is likely to change a lot in the years ahead. The less you care about it, the less of an issue it will be. See below for things that can help you at school.
Are you a teacher? See our Resources for Teachers for ways you can create a stammering-friendly classroom.
Talking to someone
It may help to talk to a teacher and go through things which could help you in class. Talking about something which is really painful can get it out of your head, and give you perspective and space to breathe. Maybe talk first with your parents about what to say and who to approach. Your parents could come with you if you wish. 
My stammer really affected me at school. My English teacher didn't know why I refused to speak during presentations and I sat at the back to avoid the spotlight.
Let your friends and teachers know what you would like them to do when you stammer. Maybe give a short talk to your class — if you have a speech & language therapist, they could help you with this, or come and do it with you (see our Therapies & Courses section).
Being open about stammering will help your classmates understand more about what it's like for you and what they can do to support you.
Asking for help
Speak with your teacher about how they can help you.
If you find waiting for your turn to read out loud in class puts added pressure on you, ask if you can go first. Or ask if you can put put your hand up or give your teacher a sign to let them know when you want your turn.
Talk with your teachers about how you might respond to the register, answering questions in class and getting extra time for oral tests at GCSE. These types of changes are known as 'reasonable adjustments' — read our Reasonable Adjustments in Education document for more examples of adjustments or changes you can ask for. 
My new sixth form were really eager to be inclusive and asked what adjustments would make things easier for me.
Read how Olivia's teachers helped make a safe space for stammering.
Bullying & teasing
Bullying and teasing at school is not acceptable. All schools have a zero tolerance when it comes to bullying, so find someone you trust at school, and tell them about it so that action can be taken.
Therapy & courses
There's lots of good therapy out there. So, if you want help in managing your speech then go for it. Find your nearest NHS speech & language therapy service at our Therapy & Courses section. You may be able to refer yourself, although in some areas you will need to see your doctor first. If you are under 16 your parents will need to be involved. 
There are also some courses for young people, where you'll meet others your age. See the list below. 

City University, London
Five-day stammering intensive courses for young people who stammer aged 8-18 during school holidays in London.
The Fluency Trust
Residential courses in Devon for children and teenagers who stammer aged 10-19, that combines intensive speech therapy with outdoor pursuits. Tel: 01793 466790.
The Michael Palin Centre for Stammering, London
Weekly group therapy for school-aged children aged 8-12. Two-week group therapy for children aged 10–14 with their parents and for those aged 15-18 during school holidays in London. Tel: 020 3316 8100.
The Talking Out Residential: Five-day residential courses in Yorkshire and the North West for ages 12–16, combining intensive speech therapy with outdoor activities. Tel: 07763 719272.

Depressed or in crisis?
Being a student brings its own pressures, whether you stammer or not. If you're feeling worried, anxious or depressed, you're not alone and there's help available.  
Sometimes things can get so overwhelming that it can all seem black. It needn't be like that. If you reach a point where your feelings boil over, there are people out there who will listen, confidentially and anonymously. Many of the helplines have the facility for webchat or email, so you won't even need to talk.
Start a webchat or phone our helpline — we're open Mondays to Thursdays 10am-2pm & 4pm-8pm. You can talk to someone who knows what it's like to stammer. Or email us at help@stamma.org and we'll get back to you.  
The STAMMA - Space For Stammering Facebook group is open for everyone aged 13+.
Student Minds: Student Minds run peer support groups so that students experiencing mental health difficulties have access to a supportive environment in which they can talk about life, university and what they are doing to keep their lives on track.
The Mix: The Mix is the UK's leading support service for young people. There for any challenge — from mental health to money, from homelessness to finding a job, from break-ups to drugs. Free, confidential, anonymous. Talk to The Mix online or call 0808 808 4994, open 4pm to 11pm every day.  
CALM: The Campaign Against Living Miserably, for men and boys hitting crisis or feeling down. Confidential, anonymous, free. Phone: 0800 58 58 58 (daily, 5pm to midnight) or contact them on webchat.
Samaritans: You can talk to someone, anytime of the day or night and they'll listen, on 116 123 or email jo@samaritans.org 
Other Sources of Support
Visit some American websites for young people who stammer: www.friendswhostutter.org and www.say.org
When you are online, don't give out personal information in chat rooms. See Childnet's website for help, advice and resources for staying safe online.