Image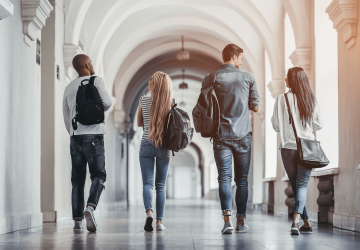 Freshers Week & Stammering
Wednesday 8th September 2021
8th September 2021
Starting university is exciting but nerve-wracking. If you've got Freshers Week coming up, read our tips on making the most of it. 
New people, a new place to live, a brand new start. Freshers Week is all about helping you settle into university life before lectures begin and it can be a social whirl. 
If your uni's starting face to face rather than online, there'll be Freshers fairs to go to, societies to join and tons of social events. You might feel anxious about meeting new people, but you won't be alone in feeling that way. 
When I first started university I was terrified — not knowing anyone, new place, but I also had my stammer to cope with, a whole extra hurdle. I was most worried about meeting new people.
meeting people
Introducing yourself can be hard when you stammer. Think about stepping out of your comfort zone and mentioning it when meeting people. Being open about your stammer can help take the pressure off and empower you. It can let others know what's going on and help them understand why speaking situations might be hard for you.
It doesn't need to be a big thing. Mention it in a matter-of-fact way, for example, "By the way, you might notice I stammer sometimes" and then talk about something else. If the person you're talking to reacts in an unhelpful way, it's a good time to tell them about stammering and what they can do differently. 
Try your hardest to leave the anxiety and apprehension behind you. I've found that just mentioning your stammer casually in conversation with people is an easier way of flagging your potential disfluency... and people respond really well to it.
Alexander, via Facebook
But there's no pressure to do so. If it doesn't feel right, that's fine. Take little steps. Find someone you connect with and gain confidence with them. If someone reacts badly, it's not worth your time talking to them. You'll meet loads of other people.
I made an effort to spend time with those who were understanding and were patient enough to listen to me.
Watch Tash's video about meeting new people at uni:
Some universities set up WhatsApp or Facebook groups where you can chat with and get to know your new flatmates/housemates online before meeting them. Contact the university to ask about these.
Claire Maillet, from the Stammerers Through University Consultancy, says, "Why not put up some posters about stammering in communal areas of your halls of residence? This can help raise awareness and inform people about what to expect".
You could also download or buy one of our 'I Stammer' cards and wallets to let people know you need more time to speak. Claire says, "By carrying this around with you on campus, you can use it if you feel you're about to stammer (or at the start of the conversation)".
When it comes to joining a society or sports team, Claire suggests, "If you're unsure whether or not to join one, why not reach out to a member of their Exec via email first? They may be able to offer support, let you know what to expect, or forewarn you of any situations where you may need extra help".
For tips on things like saying your name, see our Everyday Tips.
Don't avoid completely
It can be tempting to sit out Freshers events if the anxiety gets too much. But try and mix in. In the new episode of our podcast Around The Block, all about Freshers Week, co-host Matty says:
If I could give one tip to anybody, it would be go to the Freshers events. Just go and if they're crap, then leave. You haven't lost anything from doing it and you might gain a whole lot.
Subscribe to Around the Block on Apple Podcasts, Google Podcasts or Spotify.
Student Support Services
You might be thinking ahead about speaking in tutorials once they begin or making presentations. Seek out the Student/Disability Support Service if you're feeling anxious. 
They'll hopefully be used to supporting students who stammer but, if not, point them to this document for student support advisors: the 'Supporting Students Who Stammer in Higher Education' guide (pdf). It gives lots of ways tutorials and assessments can accommodate students who stammer, to help you feel confident to participate and get involved. It's a collaboration between us here at STAMMA, the Stammerers Through University Consultancy (STUC, see below) & London South Bank University.
Don't be afraid of the Student Disability Service. I wish I'd registered with them earlier, as it could have saved me a lot of worrying earlier on.
Read lecturer Grant Meredith's article giving advice to anyone at university on what to discuss with the Student Support Services, called 'Do not ride your uni education, steer it'. 

Other things to do
Join a Local or Online Group
If you're moving to a new town or city, see if there's a local stammering group in the area. Groups are a great way to meet other people who stammer, share experiences, get support or practise something you've learned in speech & language therapy. A couple of universities even have their own student-led stammering support groups. 
See our list of local groups in the UK to see what you can get involved with, or how you can start up your own group.
If there isn't a group near you, you can join an online Zoom group meeting. Check out our Online Events Calendar to see what's happening. Our Facebook Support Group is also a good way to share experiences.
Chat With Us
If you want to talk with someone about how your Freshers Week's going, or if you're worried, want to practise a technique or just fancy a chat, start a Webchat or call our free Helpline on 0808 802 0002. Both are open weekdays 10am-12noon & 6pm-8pm. All our volunteers have a connection to stammering, so they get what's it like.
Stammering Therapy & Courses
If you feel you want it, you can look into getting NHS speech & language therapy for help with your stammer or your thoughts and feelings around it. See our list of Options for Adults for details on how to find a therapist or to see what other courses are available.
Join STUC
The Stammerers Through University Consultancy (STUC) is a network bringing together students and staff who stammer in Higher Education; a place where you can discuss issues and how to resolve them. Its founder, Claire Maillet, says, "I want to provide students with a greater insight into how going to university doesn't have to be a daunting experience. It is vital to emphasise that having a stammer does not have to prevent us from reaching our full potential." Visit the STUC website for more information.
Listen To Our Podcast
Season 2 of our podcast 'Around the Block' has a Freshers Week theme, with hosts Gemma & Matty talking about starting university and what they would've done differently. Listen, download and stream at:
Tips from others
Finally, we asked people in our Facebook Support Group to give advice for anyone about to start uni. Here's what they said:
"Go to your freshers fair and join a group. It's a great way to meet new people and socialise. Choose what appeals to you, it could be anything from a particular sport to any other hobby like amateur dramatics, like me. Good luck with whatever you choose and with your Uni experience." (Mikey)
"I feel like with zoom now being such a big part of uni it's important to try your best not to feel intimidated by the challenges it brings. Very much easier said than done but I think it would definitely help to put yourself in a positive mindset with it from the start even if it means faking it. Also from my experience people at uni are very open minded and understanding so try not to stress." (Charlotte)
"Be open about the stammer but don't go out of the way to do so. If you block explain that you stammer. Remember, 'fluents' are a lot more concerned about meeting people and public speaking than many people with stammers realise. The stammer is only a tiny part of you." (David)
My advice to students is to talk to a friend and tell your supervisor. You have a right to be heard. If I had the chance to relive my time at uni, there'd be no stopping me!
For more information about making the most of your uni experience, see our College & University page. Read stories from our supporters about how it was for them at our Your Voice section.