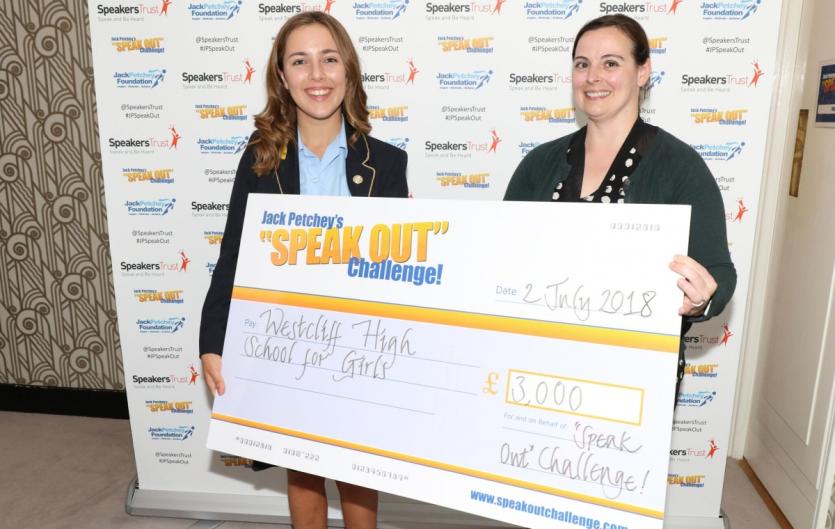 In this article from our old archive, read about (and watch) Erin Stoner's speech about stammering, which won top prize at a youth speaking competition.
15 year-old Erin Stoner from Essex wowed a packed audience at the Cambridge Theatre in London's West End on Monday 2nd July (2018), beating more than 19,000 people to be announced the winner of this year's Jack Petchey's 'Speak Out' Challenge! – the largest youth speaking competition in the world. 
Jack Petchey's 'Speak Out' Challenge! is designed and delivered by Speakers Trust and is funded and supported by the Jack Petchey Foundation to encourage 14 and 15 year-olds to develop public speaking and communication skills as well as building self-esteem and confidence.
In her winning speech, Erin talked about her experience of having a stammer. Afterwards she said, 'I'm absolutely speechless. This has been the most extraordinary experience. I want to be up here because I know that my 8 year-old self would never believe me if I told her that one day I would be speaking in front of 1,000 people, and that on that day my voice will flow like the river Nile'. Watch it below.
Trudy Kilcullen, Chief Executive of the Jack Petchey Foundation said, 'Congratulations to Erin. Every single participant gained communication skills and boosted their confidence. This is the lasting impact of Speak Out.'
The judging Panel comprised a mix of award-winning journalists, high-profile business people and celebrities, including journalist and author Yasmin Alibhai-Brown; broadcaster James O'Brien; Sky News' Faisal Islam and businesswoman and activist Gina Miller.
Erin received £2,000 for herself and £3,000 for her school, Westcliff High School for Girls, Southend and Rochford.
This article was first published on our previous website in July 2018.
Erin also wrote an opinion piece for our site - read 'A battle to be heard' here.