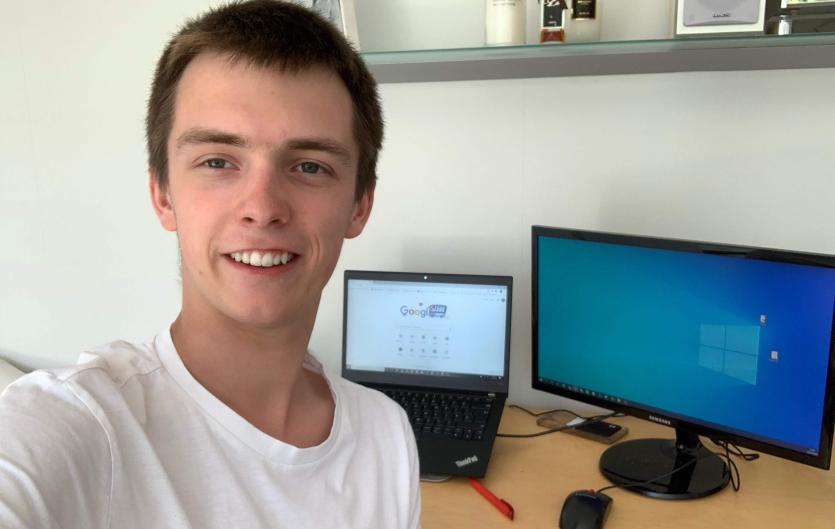 14th April 2020
Business admin apprentice William Laven tells us how social distancing is affecting his speech and how he's adapting to working from home.
Hi. Let me introduce myself. My name is William and I am currently completing a Business Admin apprenticeship at Publicis Media. I am 21 and I have had my stammer since I first started talking. However, I haven't let it stop me from doing what I want to achieve. I am now a Stambassador for Action for Stammering Children and I inspire young people who stammer going into the workplace. I am also an Influencer for my apprenticeship provider WhiteHat, and I represent them by going into different schools and events to tell people why apprenticeships are great. 
We are all going through a pretty tough time at the minute with Covid-19, but also with the social distancing side of it. It affects us all in many different ways, some you don't even think about. I have been working from home now for just over four weeks and I'm going to talk about how it has affected my stammer.
The phone
One of the things I used to hate the most about my stammer was using the phone. I find 'H's quite hard, so picking up the phone and saying "Hello" can be rather tricky and the call doesn't start smoothly. I soon realised once I started applying for jobs that I needed to look into finding options that would make me more comfortable using the phone. I am fine when I'm speaking with friends or people I know, but receiving calls from unknown numbers can throw me off and I used to panic. It would give me anxiety as you don't know what to expect on their side and how they'll react to your stammer.
Now I make calls all the time. I'm way more confident with the phone and also with video calls. I was taught a method called Camperdown, which really helped me as it basically teaches you to talk more slowly and really pronounce the letters.
Am I stammering more or less?
The first question you may ask is: are you stammering more or less since the social distancing began? I would say it has reduced in some aspects. There may be the odd word I stammer on but I would say the situation has made me work on my speech and really think about it. The team that I work with are very active and talkative (me being one of the most talkative) and it's been quite a shock as you don't really have that when you work from home. It has meant we are doing our chats over the phone or by video calls. 
The team is very supportive of me and my stammer so they know that it may happen at any time. They give me time to speak but also I shock them sometimes by asking to speak to them over the phone rather than emailing. I love a video chat, it makes me comfortable seeing people's faces or even just talking to people who I know and haven't seen for ages. 
Even though Covid-19 has meant we can't be sociable, it doesn't mean you can't communicate and still contact people.
Even though Covid-19 has meant we can't be sociable, it doesn't mean you can't communicate and still contact people. This is the only way of talking with people at the minute. I thought it would give me lots of minor anxiety attacks but it hasn't at all. It has made me more confident and I now use the time to make changes and really test myself. Last week I was on a conference call with 45 other apprentices and they asked me to speak. Normally I would have been panicking and overthinking it but no, I felt completely fine and it felt like I was in a normal team meeting.
I miss talking to people. I am a people person and I don't let my stammer hold me back from doing that. I hate to use the term that a stammer is a 'disadvantage', because it isn't. Even though the lockdown has made me stammer less, I am not being able to show this to people or spread the word. You aren't really stammering on 'different' words when you are socially distancing because you are generally talking about the same topic. 
If you have a stammer and are struggling, believe in yourself. Phone a friend for a chat instead of messaging — use this to give yourself a confidence boost, because you can do it. I have used the current situation to work on my stammer. Now is the perfect time.
For some useful tips on using the telephone, see our Everyday Tips page.
How is the social-distancing affecting you, your speech and your mental health? Share your story — email editor@stamma.org for more details.