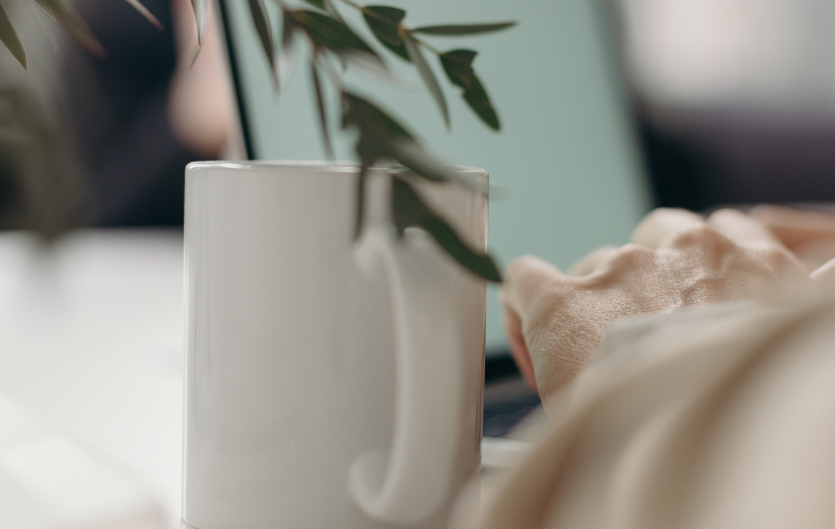 New volunteer Peter gives a humorous account of taking his first shifts on the helpline and the training involved for our brand new webchat service.
I'm Peter, I'm 62 and I've had a successful 30-year career in the Fire and Rescue Service (FRS). I am currently seven years into a three-year project to renovate our house…. I'm now fairly sure I will finish it by the time I'm 65 (oops on the three-year bit then).
I stammer; not as much as I did as a child/adolescent, but I have my moments. My overall memory of (especially secondary) school is bad, always waiting for the next comment from my peers and dreading the "Read out to class…" experiences. Fortunately, the team environment within the FRS was one where my contribution in helping others was the overriding single priority, an environment in which I flourished. However, I still had a desire to give something back.
Helpline training
Last year I contacted Stamma about volunteering on their helpline. At the time, they were planning to expand their phone and email support service and add a webchat facility. 
My first pleasant surprise was the Stamma website, which is absolutely crammed with useful information and links to a community that acknowledges stammering as a condition, NOT a defect or illness. It provides people of all ages, from all walks of life, with signposting to sources of help and support, and tools to live with their stammer in today's world.
I had a desire to give something back.
I started the helpline training process and quickly appreciated the drive and desire of all concerned to help callers. It surprised me to see that, as well as people who stammer, there are lots of speech and language therapists who take calls too. 
The training culminated in a practice scenario call. Now, I've been professionally involved in designing scenario-based training but I have to say the feedback I received to my call was… well, suffice it to say I still have the post it stuck on my wall (see below, especially the 'less is more' part) – the  feedback took 15 minutes (delivered beautifully too). Do you think I got the message?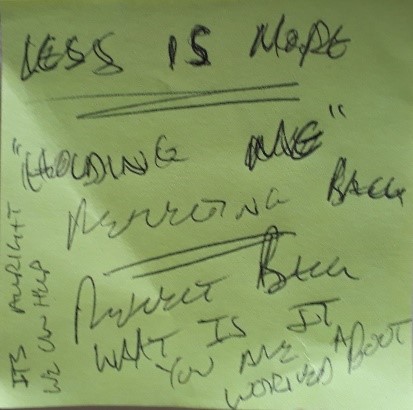 My first shifts
In April I had my first three helpline shifts but didn't get any calls – so much so that me and a couple of other volunteers gained a 'NCYC' prefix: yup, the 'No Calls Yet Club'! Waiting for this 'first call' was similar to how I felt back in May 1979 when I awaited my first 'shout' in the fire service! But then it happened and I got two! A worried parent followed by a grandparent, calling about young children who had just started to stammer and asking questions like 'What's wrong?', 'What should I be doing?' and 'How can I help?'. The rigour and relevance of our training came to the fore, so much so that I later received a lovely email thanking me for my support.
Me and a couple of other volunteers gained a 'NCYC' prefix: yup, the 'No Calls Yet Club'!
We also have monthly team meetings where activity is reviewed, issues shared and direction given – Stamma is a truly reflective and learning organisation and is determined to give the best service it can.
New webchat
I'll now be working on the new webchat service too. Here are my diary entries for the training:
20th April 2020: Webchat listening skills training
Thinking about how to have conversations on webchat. All seems OK, despite a nagging worry about typing speed and fingers and thumbs! Looking forward to our first exposure to the system next week.
27th April 2020: Webchat technical skills training
OoooooooKaaaaayyyyy, clearly designed with old 'uns like me in mind, sure I can do this. I'm paired up with a volunteer called Scott (name changed to protect the innocent), and we agree to practise and have a play about with the system.
29th April 2020: Paired practise
Got to admit the pairing idea is a good one, but yup, I am suspecting a bit of a stitch up by Kirsten (our trainer – she's no innocent). It turns out that Scott works in IT and, even worse, he's a HFM (Helpline Founder Member). So no pressure then.
In my nervousness, I nearly blurt out to Scott that I realised the reason for my first helpline shift being quiet was because I'd accidentally left my phone blocking on, so couldn't receive calls. Oops. Lesson learned. Mind you, I still somehow manage to delete my end of a webchat session before he flawlessly and calmly demonstrates the way to go. If he wasn't such a nice bloke, one could bear a grudge. Here's to more practise before we go live!
The Stamma webchat service was launched on Friday 15th May 2020, and the team took their first chat sessions that day.
I know when my turn for a shift arrives I will again be able to fall back on the excellent training I have received and will have Stamma's appreciable resources to assist me in supporting those who are reaching out, many for the first time. So please, do not hesitate to call, email or yes, chat. We're human, we understand and we're here to help.
Our webchat is open weekdays 10am-12noon and 6pm-8pm. For support or information, click here to launch webchat or click the black bar along the bottom.