Image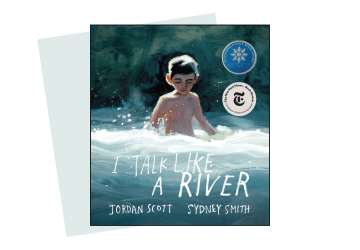 Book Review: I Talk Like A River
Wednesday 10th November 2021
5th November 2021
Sarah Moriarty, parent and founder of SLCN Stories, reviews the children's book I Talk Like A River, by Jordan Scott and Sydney Smith.
"I wake up each morning with the sounds of words all around me. And I can't say them all."
"What if words got stuck in the back of your mouth whenever you tried to speak?"
I Talk Like A River is an exquisite and powerfully moving story. Beautifully written by poet Jordan Scott who writes about a boy with a stammer, based upon his own experiences. It's for ages 4 to 10 years old. My 7-year-old was able to follow the story although it is too much language for my 5-year-old. 
As the young boy of the story moves through his day, we see him in his classroom, hoping that he doesn't have to talk. When the teacher asks him a question and his peers turn to look at him, the picture captures his sense of panic and the pressure he feels.
His isolation is a dominant theme that is sensitively explored in the story. He remains nameless as if to both compound his aloneness and also to remind us that this boy is so many others. "Stuttering makes me feel profoundly connected and profoundly alone," Jordan Scott later shares with the reader in a final note "How I speak". 
Another key theme is nature. The young boy compares his stammer to nature; the trees, the crows, the moonlight. It's important for the author to connect his stuttering to the movements of nature. He acknowledges that he feels less alone by relating to such powerful imagery. After a particularly difficult and painful day at school, the young boy's dad takes him to walk alongside a river. He compares the young boy's speech to the movement of the water; bubbling, hurling and crashing. But a river can also be calm and smooth. 
The watercolour illustrations from Sydney Smith are also magnificent. Jaw-droppingly so. Words can give no justice to the powerful emotions that are drawn out from the illustrations. It is a stunningly illustrated children's book.
This is a very special book that promotes self-acceptance for readers that stammer, and empathy and understanding from those that don't. A story about a boy moving through life, and turning his pain and isolation from stuttering into a beautiful piece of art so that somewhere out there, another child may feel less alone. 
A Note from STAMMA
Here at STAMMA, we think this is a beautiful book and one that ultimately celebrates a child's unique voice, whether it be stammered or fluent. However, we would like to promote an alternative to two elements in the book.
Think of stammering in terms of more or less
The dad in the story defines it as "just a bad speech day" but we want to highlight that stammered speech isn't bad. It might feel hard work sometimes, but describing stammered speech as 'bad' suggests that it's somehow less valued than fluent speech. Stammering isn't bad. It's just different. So if your child has a day when they're stammering more or less than usual, we suggest that you think of it in exactly those terms. It's not a bad speech day; it's a day with more stammering.
The role of speech & language therapists
If you have a copy of the book you may notice that in the afterword the author writes, "fluency, my speech therapist used to say, is the ultimate goal". Speech & language therapists in the UK would disagree with this. Confident communication and saying what you want to say when you want to say it is the goal.
I Talk Like A River is written by Jordan Scott and illustrated by Sydney Smith, and is published by Walker Books. Sarah Moriarty is the founder of SLCN Stories, a website sharing and reviewing inclusive stories aimed at raising awareness and supporting children with speech, language and communication needs.
Text Copyright © 2021 Jordan Scott
Illustrations Copyright and Cover design © 2021 Sydney Smith
From I TALK LIKE A RIVER Written by Jordan Scott & Illustrated by Sydney Smith
Published in the UK by Walker Books Ltd, London, SE11 5HJ
www.walker.co.uk