Image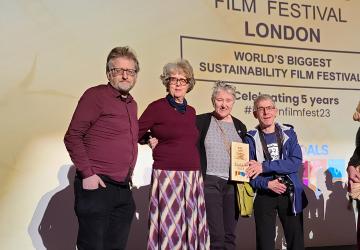 STAMMA wins charity film award
Monday 13th November 2023 - 14:42
STAMMA wins big at the Big Syn International Film Festival, meaning our campaign video will be shown at Piccadilly Circus!
Last Friday, members of the STAMMA team dressed up for the glitzy ceremony in Mayfair held by the Big Syn Institute.
On the night we were thrilled to have been awarded the Diversity, Equity and Inclusion award for our 2022 campaign video It's How We Talk. The short film featured a group of people challenging stammering myths, and two of its stars, Christine and John were there to help us accept the award. On the judging panel was the green investor and star of Dragon's Den Deborah Meaden.
Image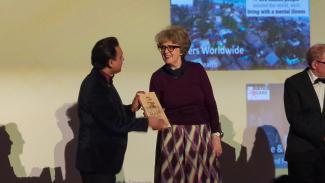 As one of the night's winners, It's How We Talk was shown on the huge advertising screens at London's world famous Piccadilly Circus on Tuesday 14th November (see below).
Image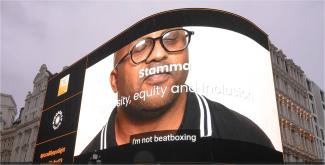 The Big Syn Institute is part of the Centre for Big Synergy, and the festival educates and inspires people to act on sustainability issues. Read more about the Big Syn Film Festival and Awards.
Read more about our achievements at Our Impact.