Image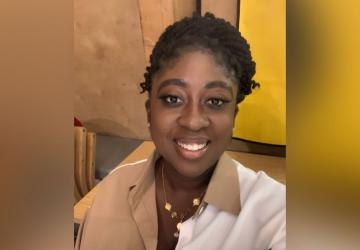 Poem: Keepin' It Real & Simple
Monday 23rd October 2023
23rd October 2023
Afua Akoto sent us this poem she composed for International Stammering Awareness Day (22nd Oct).
Keepin' It Real & Simple
by Afua Kesewa Akoto
This is just a PSA that I am ready to get out of this pickle
Of feeling betrayed by the haunted echoes of my own voice
With no joy or feelings of rejoice
My stutter taking centre stage, placing me in a cage.
Anxiety, fear, anguish — are all too familiar
To someone like me, whose speech is far from linear
But don't be fooled, I love to speak
Sometimes a bit too much, when I am comfortable and my interest is piqued!
It's long been a part of my identity and drive
Learned to throw myself out to the (big scary) world of speaking up publicly and survived
Frightening? You bet! 
But it takes a lot of grit 
To earn every bit of that merit.
Confidence comes from doing, so to celebrate International Stammering Awareness Day this October
I stand tall for anybody who's ever felt embarrassed about the way they sound
To let them know that they don't have to be
All they need to do is to trust that voice within for greatness to abound.
Sometime this year, I made a promise to myself to trust my voice and start speaking
That's when I was opened up to a new realm of possibilities, beyond what I was seeing.
Thought of composing a regular ole piece, but this poem came instead
Hopefully it will stick and sound a bell
For when you have to communicate with someone who needs more patience to be heard.
From now on I will be sharing openly about my stutter, lest I become bitter
That I was robbed of the chance to say my matter.
Do you have something you'd like to share with us? Email it to editor@stamma.org or see Submit Something For the Site.