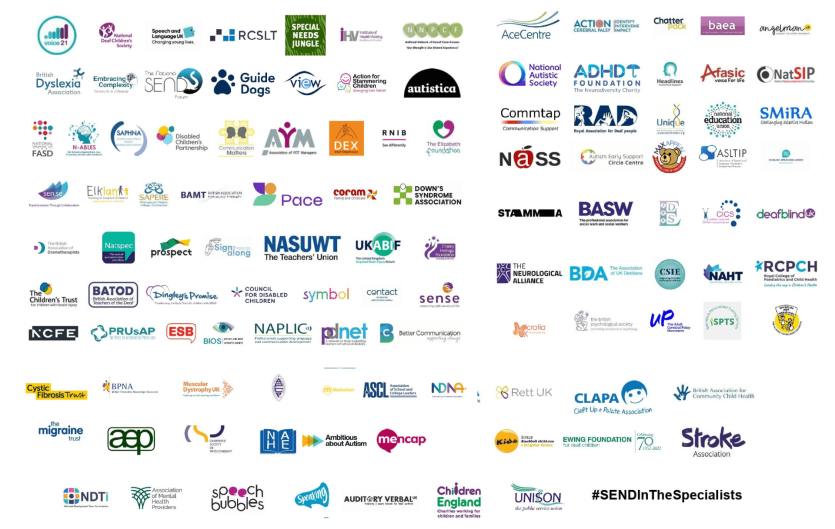 20th March 2023
Campaigning for more investment in the specialist workforce for children who stammer, and how you can get involved.
STAMMA is proud to be part of the #SENDinthespecialists coalition. Including over 120 organisations, the coalition is committed to campaigning for the Government to invest in a specialist workforce to support children and young people (see our article Letter to Government over children's support).
We know that for people who stammer, the support of Speech & Language Therapists (SLTs) can have a significant impact. However, while the need for specialists such as SLTS is increasing, there are not enough being trained to meet the increasing demand. Trusts are also finding it difficult to retain staff, and many are leaving the public sector altogether.
This coalition is calling on the Government to address these gaps in the specialist workforce to ensure that there will be sufficient professionals to help children and young people both now and in the future.
In March, the Government published the Special Educational Needs and Disabilities (SEND) and Alternative Provision (AP) Improvement Plan. This is a joint approach to support children with SEND through the Department for Education and Department of Health and Social Care. Their aim is to create a steering group in 2023 and complete this plan by 2025.  
We have written to Clare Coutinho, minister for Children, Families and Wellbeing, asking for the #SENDinthespecialists coalition to be part of this steering group. We think there are two main factors that the group needs to address:
How to define SEND and the specialist workforce. We want to ensure that all different health and care professionals who work with children and young people are represented.
Recruitment and Retention. We want to explore why people are choosing to leave the public sector (eg the NHS), why organisations are finding it difficult to recruit staff and how this can be supported.
This Wednesday 22nd March, Geraint Davies MP has secured a debate in Parliament on the Specialist workforce for children with special educational needs and disabilities. This follows a letter he wrote as chair of the All-Party Parliamentary Group on Speech and Language Difficulties. One of our patrons, Baroness Whitaker, is one of the Vice Chairs for this group.
Want to learn more about the SEND debate this week? Read the briefings below.
Get involved
You can share your own experience with Geraint Davies MP ahead of the Westminster Hall debate this Wednesday - fill in a short survey on the UK Parliament website. 
The deadline for responses is 12 noon on Tuesday 21st March.
You can fill the survey out if you are:
A person with SEND (eg stammering) or are in Alternative Provision
A parent or carer
A professional working with children and young people with SEND (eg SLTs).
This is a great opportunity for the voices of children and young people who stammer to be heard, so if you have time to fill it out please do!