Image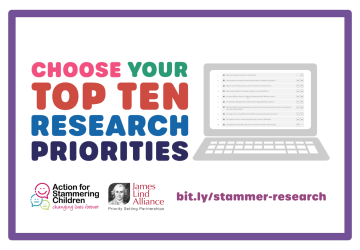 New survey to help shape research
Thursday 16th March 2023 - 10:35
16th March 2023
What's on your top ten list of stammering questions? Take part in a new survey and help to prioritise areas of research.
There's still lots we don't know about stammering, and last year a steering group set up by Action for Stammering Children and the James Lind Alliance wanted to find out which areas of research to focus on.
The steering group, which includes STAMMA, asked children and young people who stammer and their supporters what they'd like to know most about stammering that hasn't yet been answered (see our article Help shape future research into childhood stammering). 
There was a fantastic response to the online survey, with hundreds of questions being suggested. For the next stage, the group wants your help to narrow these down and create a top ten list of questions for researchers. 
Help choose the top ten
The group has created a new survey and wants children and young people who stammer to take part, as well as families, friends, colleagues and people who work with individuals who stammer. Click on the link below.
Take part in the survey to select and rank your future research top ten questions.
The findings will help guide future research into stammering. They'll ensure that the questions that matter most to people who have experience of stammering are addressed.
If you have any questions about the project, email info@stammeringchildren.org You can find information about the partnership group on the James Lind Alliance website.
If you're an adult and would like to help shape future research, come to one of our regular STAMMA Research Arena events online. See our Studies Looking for Participants page too.