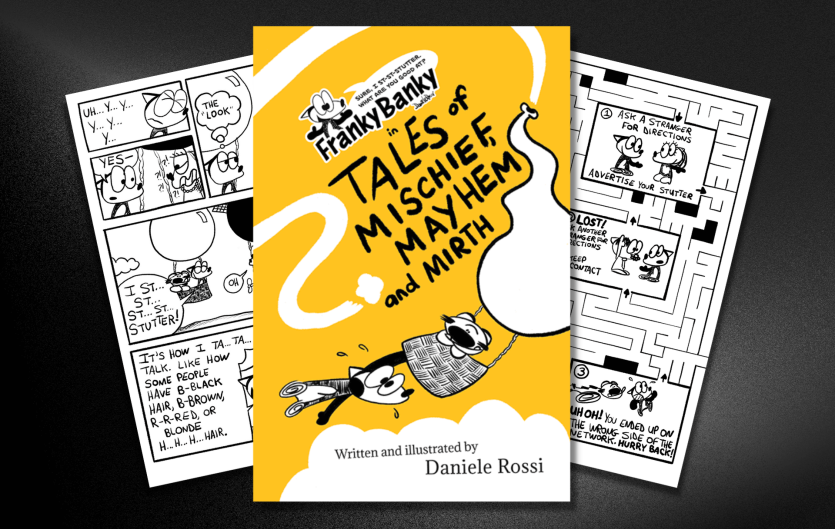 5th April 2023
We review the new book featuring Franky Banky, a fox who stammers. Plus, a chance to win a copy in our prize draw.
Franky Banky in Tales of Mischief, Mayhem and Mirth is the latest work by Canada-based Daniele Rossi. The humorous and interactive graphic novel follows the adventures of Franky Banky, a fox who happens to stammer. Daniele says, "I drew the book to offer children (and grown ups) who stutter a hero who doesn't let his stuttering stop him! Just like me. And to offer stuttering awareness to readers who don't stutter".
Read a review below. Underneath that, find out how you can win a copy of the book for you or your child. 
Review
By Katherine Brown, speech & language therapist and member of the STAMMA book review team.
Tales of Mischief, Mayhem and Mirth is a fun and interactive cartoon-style book, aimed at children in the upper end of primary school and beyond. The book takes its reader on exciting adventures with charismatic fox Franky Banky, the main character. 
Franky Banky is cheerful, enjoys socialising and has many hobbies, but there is one thing in particular that can knock his confidence — his stammer. Franky Banky's stammer is represented in the book by a tiger called Ti-Ger. Ti-Ger can be mischievous and uncontrollable, but learning how to tame and befriend his tiger helps Franky Banky to feel more positive about having a stammer.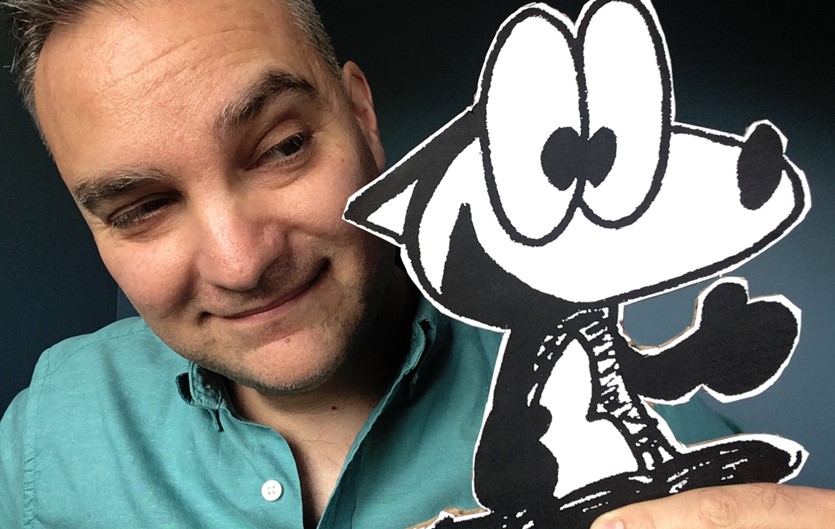 As the book progresses, so do the wild adventures, and Franky Banky's stammer is woven into the story, creating a safe space for the subject to be tackled. The situations where Franky Banky stammers are wide-ranging, and his experiences include frustration, embarrassment, meeting ignorant people and working with a speech therapist. But he feels pride and satisfaction when overcoming difficult times too, and comfort and companionship when sharing his experiences with others who stammer.
Included in the book are activities to involve the reader, and a dedicated section with facts and advice, both for people who have a stammer and those who don't. The quirky illustrations also provide a platform for helpful suggestions and inspirational quotes throughout the book, and within the story the pictures perfectly capture feelings and emotions, enabling the reader to relate to Franky Banky and the other characters.
This book is utterly and refreshingly honest; Franky Banky's stammer can make him feel fearful and defeated, and there are lengthy sequences illustrating how difficult it can be for him to speak. Still, it is hard not to be swept up in the overall optimism, and together with Franky Banky's unwavering determination and some laugh-out-loud moments, the book is balanced and still feels light. 
With his genuine belief that it is everyone's right to just be who they are, Franky Banky is a breath of fresh air to his friends, as he will be to the reader, and with its considered content and endearing pictures, this book could be an excellent resource for a child who has a stammer and their family. Moreover, seeing as "everybody has a tiger even if they don't stutter", this book could appeal to anyone wanting to read about the triumph of an unassuming hero, provided they don't mind a little mischief, mayhem and mirth along the way.
Franky Banky in Tales of Mischief, Mayhem and Mirth by Daniele Rossi is available to buy on Amazon and Etsy. Visit frankbanky.com to find out more.
Win a copy of the book
We are giving away a copy of Franky Banky in Tales of Mischief, Mayhem and Mirth to a lucky STAMMA member. You just need to answer this question:   
Q: Franky Banky is a fox who stammers. If your stammer was an animal, what animal would it be and why?
How to enter
To enter this prize draw, send us your answer to the question above. We will accept drawings too! Email your entry to editor@stamma.org or post it to STAMMA, Box 140, 43 Bedford Street, London WC2E 9HA. The closing date is Tuesday 16th May at 11:59pm.
To qualify:
Your answer must be relevant to the question above. We won't accept blank entries or those that do not answer the question. 

You must be a STAMMA member (aged 18 or over and based in the UK) to enter the draw for you or your child. If you're not already a member, you can

Become a Member

for free. If you're unsure if you're a member, email

editor@stamma.org

 
The winner will be chosen at random on Thursday 18th May and will be announced on our social media channels. We'll contact the winner to request their postal address and will send them the prize within 30 days.
If you have any questions at all, email editor@stamma.org

Good luck!