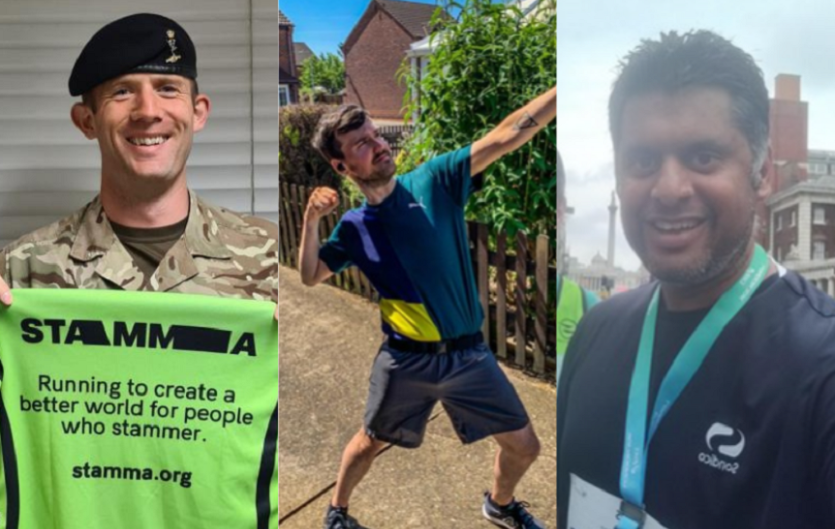 (Pictured above, left to right: Adam, Falcore and Jatin)
12th August 2021
Now lockdown and social distancing restrictions have been lifted, our incredible fundraisers can finally get back to doing what they do best: fundraising! Our Supporter Care Officer George Somers tells us what they've been getting up to.
A bake sale, a comedy night, a scrabble competition — we're open to any and every idea of how you can use your talents to help us be there for everyone in the UK who stammers, in a way that's unique and personal to you.
We'd love it if you'd like to get involved and help us fundraise. Need a little inspiration? Take a look below to find out more about our fundraisers.
ADAM'S 500-MILE FUNDRAISER
Adam has been running a half marathon every week to support our services, and will continue to do so until he runs the Alcester 10K in October. Adam said, "As a serving Soldier, I tend to spend a lot of time working on my fitness and over the last year, running has been one of the few activities permitted within the covid restrictions.
'I've spent most of my life thinking I was fighting a personal battle to get words out of my mouth. It was only until very recently I discovered that I have a stammer and I've seemingly been living under a rock all this time! Raising awareness is something I've quickly taken to heart as a result."
You can read more about Adam's experiences in his Your Voice story.
FALCORE'S HALF MARATHON
"I'm just like everyone else and I deserve all the same opportunities as anyone. My stammer does not define me and it shouldn't hold anyone back." (Falcore)
When we put the message out at the start of this year that we were looking for sponsored runners, Falcore was one of the first people to answer the call. Taking part in 5K May earlier this year and sharing videos talking about his personal experiences with stammering on Instagram, Falcore's enthusiasm and energy is infectious.
He'll be running the Robin Hood Half Marathon in September to support our services. Please show your appreciation by donating to Falcore's fundraiser!
JATIN'S THREE PEAKs CHALLENGE
Fresh from the ASICS London 10K last month, Jatin will be climbing Snowdon, Scafell Pike and Ben Nevis for the Three Peaks Challenge and he's so close to hitting his £1,000 target!
"What we need is for the general outsider to understand who we are. There is still a misconception that people who stammer suffer from nervousness, anxiety, forgetfulness. This is not the case; we are all the same and have a voice," said Jatin.
As well as the Three Peaks Challenge, Jatin is taking on climbs, 10Ks and half marathons across the country, all to help ensure that STAMMA continues to be there for everyone in the UK who stammers. You can find out more about his fundraising activities on Jatin's JustGiving page.
Are you interested in fundraising to support people who stammer? It doesn't have to be a sponsored run. It can be anything; a car boot sale, a baked bean bath, a long walk. It's up to you! Visit our Fundraise page to find out more, or drop us a line at fundraising@stamma.org.