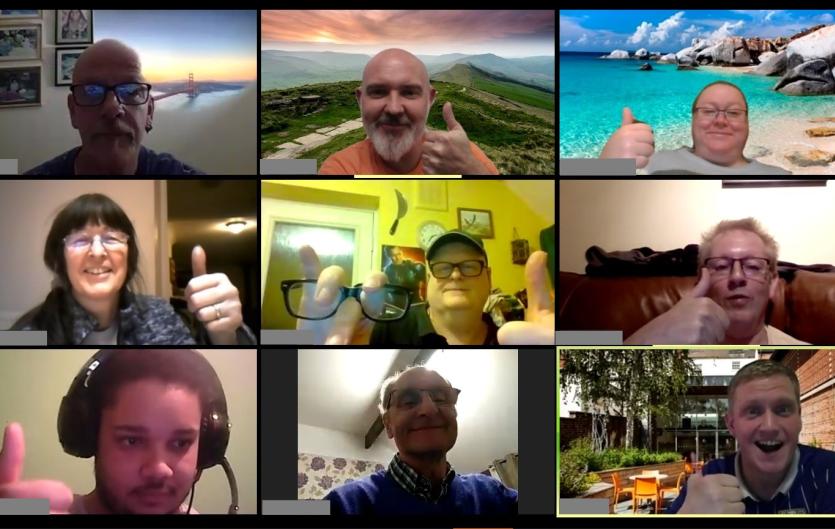 Social distancing doesn't mean we have to feel isolated. We looked at the free video chatting apps to keep us all connected in this challenging time; so move or join your local group online, practise techniques, get support, even have a house party.
Zoom
Originally created for workplace conference calls, Zoom has boomed in the last few weeks with lots of people now working from home. 
Several of the local stammering groups have started using it to replace their regular meets and have said how easy it is to use: register, schedule a meeting, send a link to others and you're away.
Click here to see which groups are now holding virtual meets.
You can chat with up to 100 people on Zoom's free package for meetings up to 40 minutes, although since the coronavirus hit they've lifted that restriction.
Some cool features include the ability to share screens and record sessions. It's a cross-platform app so you can use it on iOS (Apple iPhones & Macs), Android and PCs, and they've started doing live daily demos and video tutorials to get you started. Zoom's been criticised for its privacy policy and data harvesting but it's still one of the most popular apps for big groups. If you want casual chats with friends and family you're probably best off with other options.
Here's a link to some video tutorials on using Zoom for the first time.
*Update: Due to security issues, Zoom have introduced a new password feature. Here are some tips on keeping uninvited guests out of your meetings.
Skype
Skype's been around for ages and like Zoom, it's also good for big groups – up to 50 (although not as many as Zoom). Its on all platforms and can be downloaded to Xbox and Alexa devices.
One downside is that the desktop app isn't great.
Facebook Messenger
Messenger is Facebook's messaging and video calling app, so a big pro is that lots of people are already on it. It's easy to use and you can video group chat with up to 50 people with no time limit. You don't need to have a Facebook account to use it.
We still felt a connection within the group even though it wasn't a face-to-face meeting. Something which I thought would be totally lost. 
Wendy, the Grimsby & Cleethorpes stammering group
FaceTime
Pre-loaded onto all Apple devices, FaceTime has superior video quality, you can video group chat with up to 32 people, it's easy to use and you don't need internet connection. 
However, you're restricted to only making calls to Apple users, so if your friends have android phones, this isn't the one to use.
Google Duo/Hangouts
Google's answer to FaceTime, the voice & video call app Duo is a slim-lined, simple version of its old Google Hangouts platform (Hangouts has more functions, including texting). 
Google have just announced that they're raising the limit on video group calls from 8 to 12 people in light of the coronavirus. One nice feature is its 'Knock knock' facility, where you can get a video preview of who's calling before answering.
It's cross platform and you don't need a Google account to register. However, Duo hasn't proved very popular so it might be discontinued by Google. 
Whatsapp
This is a good option for group video calls because of its popularity (over 2bn users worldwide), but only for small groups of up to 4 people at a time. You can also use it on desktops.
Viber
One of the new kids on the block, Viber has the same features as Whatsapp but you can only hold one-to-one video chats (although you can hold group audio calls with up to 4 others). Also being new, it's not as widely used.
Houseparty
If you're looking for a more fun and laidback approach to video chatting with friends, try Houseparty. Popular with the young for a while, since lockdown it's become one of the most downloaded apps.
More casual than Zoom, this video calling app is supposed to be like going to a real party, with people chatting in different rooms. The screen splits into sections so that everyone can see each other. You can spontaneously drop in and out of different group chats (up to 8 people) and lock the door of a group so no one else can enter.
Here's the really fun thing — it has built-in games, so you can play things like Quick Draw (same as Pictionary) with friends.
It's free, available for iOS, Android, macOS, and you can use it on PCs with Google Chrome. Be sure to 'lock' your room if you want it to remain private from other contacts joining in.
*Update 31/03: There's been some online rumours of this app being susceptible to hackers, which Houseparty denies, according to this BBC report. We'll keep an eye on the news.
share streaming apps
There are even apps that let you watch TV shows and films simultaneously with friends and family. Netflix Party is the big one but it only lets you chat via text. Also, you need a Netflix account and it only works on Google Chrome. Scener is another one — it works in iOS as well as Chrome but you can also use video chat. Both of these only work with Netflix but the app Kast works with all streaming services including Amazon Prime and YouTube. 
Conclusion
Which one you go for is up to you — if you're looking to hold support group meetings or talk in big groups, then Zoom and Skype are the best options. If you want to practise your speech techniques or get support from friends or family, then WhatsApp, Facebook Messenger & Google Duo are good (so is FaceTime if you're just chatting with Apple users).
If you're looking for something fun on a Friday night, then try HouseParty — its built-in games should keep you entertained and make this lockdown more bearable.
Tell us how you're getting on whilst social distancing. If you're meeting up with a stammering group online or are using video chatting to practise your speech, why not write something for our Your Voice section? Click here to find out how.