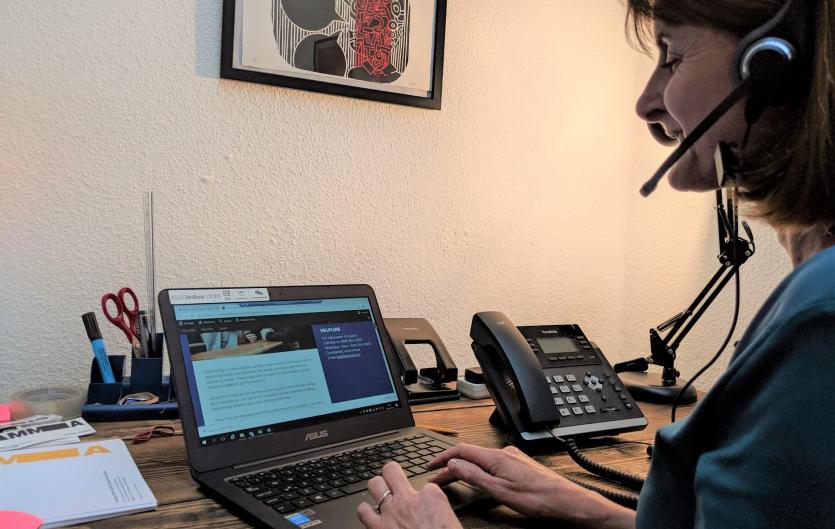 We'd love your support. A one-off or regular donation, whatever you can afford. Help us make sure that anyone in the UK who stammers can the find help and support they need. 
Why donate?
We're very proud of our helpline, staffed by volunteers who either stammer themselves or who have worked or live with someone who stammers. 
Volunteers also help us answer the thousands of emails we get every year, run our library and help us get the word out about what we do. 
But we want to do more.
We know many people who stammer would prefer to use webchat to access support rather than a phoneline - help us get a dedicated webchat service off the ground.
We also want to run more open days and family days, where parents of children who stammer can meet other parents and, just as importantly, children who stammer can meet others like them. We also want to start a mentoring programme for young people starting in work.
Please consider making a donation and help us achieve all this.
Ways to donate
You can donate online using the form at the bottom of the page under 'Support Stamma'.
You can send a cheque to us made payable to 'British Stammering Association' to: BSA, 15 Old Ford Road, London E2 9PJ.
You can leave us a legacy in your will. Drop us a line at mail@stamma.org or call 020 8983 1003. See the government's guidance on leaving a gift in your will.
Consider the BSA in birthday fundraisers on social media sites.
If you use Amazon, you can nominate the BSA as your chosen charity through Amazon Smile. You can also use Smilematic, a free extension that turns your Amazon purchases into donations.
Do your online shopping through services such as Easy Fundraising or Give As You Live. Easy Fundraising will make a £5 donation to the BSA every time you refer a new supporter to their site (more details here).
Collect and donate your old stamps - Simply cut or carefully rip the postage stamp from the envelope, being careful that you don't damage the stamp. Once you have a collection, pop them in an envelope, making sure you have the correct postage, and send them to: The British Stammering Association, PO Box 16992, Sutton Coldfield, B73 9YA.
Some workplaces offer donation matching or schemes where employees can suggest charities that are important to them for a one-off donation. We'd be honoured if you put us forward. 
If you need a Gift Aid Declaration, download the pdf below. Otherwise use the form below to make a one-off or regular donation. If you have any difficulties or questions get in touch - email us at fundraising@stamma.org
Thank you for thinking of us.
(Difficulty using the form on your mobile? Click here.)