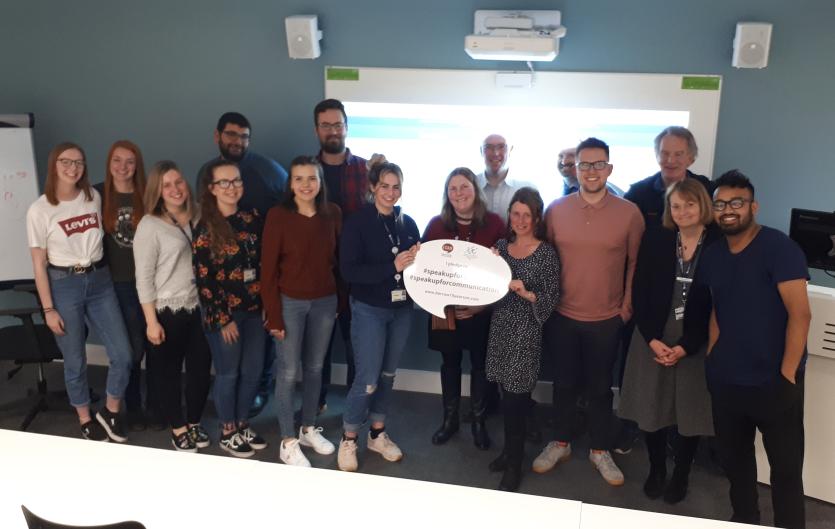 To mark the upcoming International Stammering Awareness Day (ISAD) on 22nd October, the Birmingham Stammering Network are putting on a special event.
Date and Times: 22nd October, 6pm-8pm
Venue: Birmingham City University, City South Campus, B15 3TN (click here for directions)
Gillian Rudd, one of the organisers, said, "We are delighted to invite you to this event where we will be showcasing the work and stories of people who stammer to mark International Stammering Awareness Day (ISAD).
'The evening will feature a series of short talks from invited speakers, with conversations continuing in the on-site 'Social Kitchen' (the Student Union bar) until 10pm for anyone who would like to join us."
Speakers include: 
Namrah Chaudhry, a Student Services Manager at a sixth form. Her passion for supporting vulnerable young people didn't allow her stammer to get in the way of what she believes in. From a covert stammerer to acceptance. You can find Namrah on Twitter: @Namrah_c
Oliver Cheadle, a person who stammers and a speech and language therapist. 

He knows firsthand how much difference the right therapy can make and is particularly interested in new technologies to help people who stammer.

Falcore, 

a vlogger and digital content creator. He's a professionally-trained filmmaker, but turned to YouTube as a creative outlet where he could speak freely without the anxiety of his stammer. Find Falcore on Twitter: @falcoretweets and on YouTube: www.youtube.com/falcore 

Jamal Francis: An introverted stammer from the age of 3. Mechanical engineer by trade. Part-time student of law and languages. Find Jamal on Instagram @franisian

Jordan Halkier: 22-year-old Jordan has been stammering since he was 8 and his story was featured on BBC's Lifeline Appeal for the BSA last year. Find Jordan on Twitter: @JordanHalkier

Mandy Taylor, Vice Chair of the British Stammering Association and a happy stammerer. She promotes positive stammering and enjoys meeting stammerers of all ages to engage in raising awareness and self-fulfillment. Find Mandy on Twitter: @mandytaylor72
Everyone is welcome but booking is essential. To register your place, visit the Eventbrite page here. 
For more info, find them on twitter: @BhamStammering
Event hashtags: #ISADinBham #ISAD2019
If you're interested in attending the Birmingham Stammering Network and going along to their regular group meetings, see their information on our local groups page by clicking here.
(Picture: the Birmingham Stammering Network at one of their meetings)