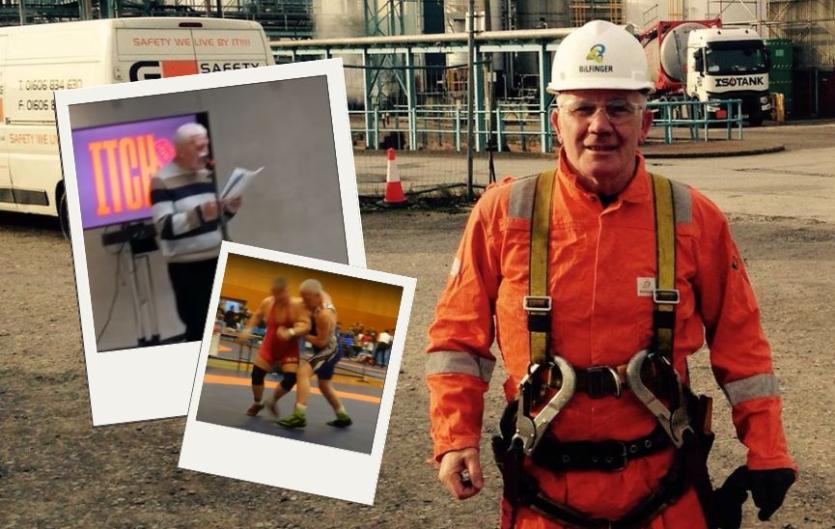 31st January 2023
Tony Collins tells us what it was like to share his journey with stammering to a live audience.
I'm Tony, I am 69 and I have stammered for most of my life. But I'm not your normal 69-year-old. I have trained and practised in freestyle and Greco-Roman wrestling for 45 years, competing all over the world. However, I wasn't able to go to the World Championships for the last few years because of man's two greatest enemies: pestilence and war. My last competition was in Japan before covid, where I won the Japanese Masters and received my gold medal on the podium and a certificate of commendation signed by no less than the Emperor of Japan himself.
I work at the Shakespeare North Playhouse in Prescot, Merseyside, a recently-opened theatre costing many millions of pounds to build. At the end of last year I spoke to someone who runs an open mic session at the theatre. This is where people can go on stage and recite poems and perform verses from Shakespeare plays to an audience. I asked if I could go on and talk about my life and my stammer to the audience, and this was accepted.
I had such dread in my thoughts but when I began to talk about the problems and fears people who stammer can have, I began to speak freely.
After much worry leading up to the night of the open mic, I finally made it to the stage. It was like walking down a long dark corridor to the microphone; I had such dread in my thoughts but when I began to talk about the problems and fears people who stammer can have, I began to speak freely. It began with my first recollections of realising I had a stammer, which was around the time my dad died when I was 8. Moving on, I told the audience about being at school where I could not stand up in class and read my book aloud; the teacher would lose patience and tell me to "Sit, Collins, stupid boy". But I wasn't stupid — at the age of 8 I was reading Homer's The Iliad and the Odyssey; I knew that the earth was 93 million miles away, and that lights travels 186 thousand miles a second. 
I stood on stage and told further stories about what has happened in my life. To end my speech I said, "I was not able to read out in class and here I am now 63 years later, on the stage of one of the most iconic theatres in the world, giving a speech to an audience". With that I ended. 
The reaction was brilliant — the audience were used to poets and political speakers talking fluently and the next thing they knew a person comes on to the stage who stammers. They were a little shocked, I think, but once I got onto a roll it was OK and they all gave me a round of applause. Some of the ladies were a little emotional and the organiser said he was overcome. 
I did it again too, just before Christmas — for my next speech at the Playhouse I read aloud from The Iliad, my favourite book. Afterwards the theatre director Charlie told me he was amazed at how many people I have inspired to speak at the open mic session.
Read more Your Voice stories. Would you like to write something to encourage and inspire others? Tell us about your experiences or share any opinions or stammering-related art, poems or music. To find out how, email editor@stamma.org or see our Share Your Story page.