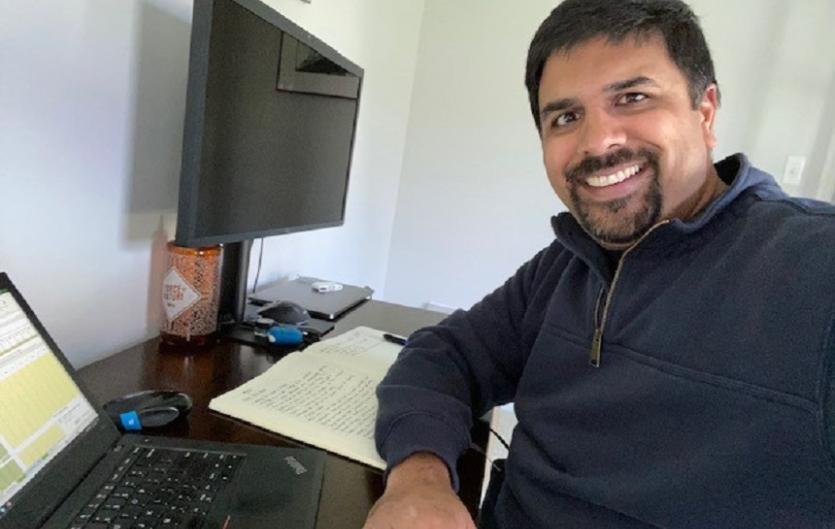 5th May 2020
Corporate engineer Rehan Nasir explains how self-advertising his stammer helped him grow in confidence when using the phone — something which has come in useful now he's spending all day in conference call meetings.
When I started working at my company two years ago, I knew it would offer some stability since we make food and everybody needs to eat. That means even more now that I am fortunate enough to stay home and work while the plant, or factory, keeps running.
I work as a corporate engineer and before the quarantine started here in Pennsylvania, I only had to cover three plants. Since then I was promoted and now have four more. The good thing is that there's no expectation of travel right now to those sites, but the bad thing is that now I have to get to know everybody via conference calls.
Self-advertising
I've been stammering since I was six, and I only came to accept it at around the age of 35. I'm 40 now. I noticed it takes me about a year to get comfortable in a new job. When I began this job I self-advertised to a room of 20 people, telling them that I'm a person who stammers. Since then I've had mostly good days, with the occasional block.

After being promoted, my boss asked me to make some introductory calls. Deep down that triggered a negative reaction. But I've made a lot of progress in the past few years, realising that I can still get my message across, people aren't bothered by my stammer, and I'm good at what I do. So they want to hear what I'm saying.
I've realised I can still get my message across, people aren't bothered by my stammer, and I'm good at what I do. 
The first call I made was to a director. Several plant managers report to him. I told him upfront that I stammered and he wasn't bothered at all by it. That gave me a lot more confidence. I've found that self-advertising helps me considerably since I had been a covert stammerer for so many decades. After that call I made two more to corporate people I'd never met — and advertised both times successfully.
Advertising was very difficult for me at first. I would always let a conversation go for a while, thinking yes, I'll tell them soon. But then part of me would point out that my speech was fine, and well, we're ten minutes in, and wouldn't that seem weird to bring it up now? The last few times I've managed to fit it in within the first two minutes of speaking to someone. I usually just say, "So before we get into this call, I wanted to let you know that I'm a person who stutters. So if things don't sound smooth, that's what's going on." I leave it at that. There's usually a pause and an acknowledgement. Then I turn to my notebook to start working through discussion topics.
Lockdown
As an engineer I've always felt better about seeing things: plants or factories, equipment, layouts, problems. It's so much more difficult on the phone to imagine what plants look like. You can look at a photo, but that doesn't give you any idea of context. Fortunately, everybody at the plants who I speak to understands the world we're now in. And how I need a little more time for an explanation of the event. 
Generally on calls, what I've been able to do is focus on breathing. There's nobody to see my body language, so I can lean back, take in a deep breath or two, and formulate a response. With the exception of one small call that my boss hosts, we don't do video calls, so I don't have to worry about people looking at me. I can take notes and plan what I need to cover next, content-wise. That gets my mind off stammering and blocking and back to contributing.
I have more control over my environment...I can sit there and breathe slowly.
These days I'm on the phone nearly all day in meetings. It's hard on my speech for sure. Ironically what's also made it better is being at home. I have more control over my environment. With one grocery run a week and no school activities for the kids, I can focus on getting ready for calls without distractions.
I'm also able to take breaks that are sharp and short — like sitting outside in the back enjoying the weather — away from the phone and computer for a few minutes. I can sit there and breathe slowly to focus on the positives. I also just moved into a new home, so I can completely switch off from work and get boxes unpacked, which helps me mentally as well.
I don't keep track of how many times I've stammered on calls, but I know it's not enough to bother me at all. In the past few years I have been trying to focus more and more on the positives and small wins to help me through my days. Now with everything going on outside, I've found that mindset to be even more beneficial with managing stress.
How has the lockdown affected your speech and mental health? Leave a comment below or write an article for our site — click here to find out how.