Image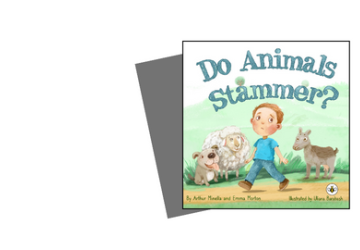 Book Review: Do Animals Stammer?
Tuesday 14th November 2023
Sarah Moriarty from our volunteer book review team reviews 'Do Animals Stammer?', a new book for young children by 7 year-old Arthur Minella.
Do Animals Stammer? is a brand new book that came about after Arthur Minella wrote a poem to enter into a writing competition. Read all about it in STAMMA's article '7 year-old Arthur gets book published'.  
I was really impressed by Arthur's book, which he co wrote with his mum Emma. Perfect for young children, it follows a little boy who meets a snake, a lion, a fish and other animals who stammer, just like him. It is sensitively written and truly captures the worries a young child may have about stammering and how self-conscious he feels when he speaks.
The young boy also shares tips about how to support him with talking and it ends with some very important affirmations about stammering. The illustrations throughout by Uliana Barabash are charming and expressive and add to the appealing tone of the book. Overall, this is a thoroughly impressive children's book from Arthur, and he should be very proud of what he has achieved.
Do Animals Stammer? by Arthur Minella and Emma Morton, published by Olympia Publishers, is out now to buy from all major bookshops. Sarah Moriarty runs the website SLCN Stories, which reviews inclusive stories aimed at raising awareness and supporting children with speech, language and communication needs.
Book cover image courtesy of Olympia Publishers.