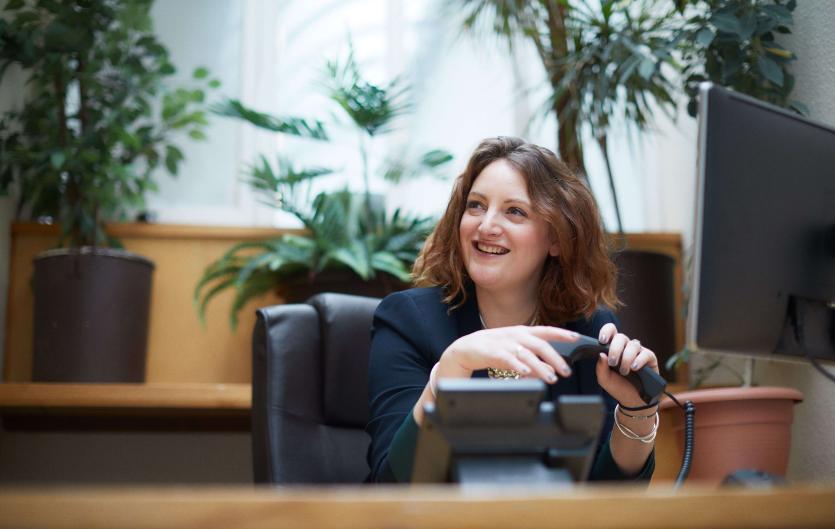 If you've just hired someone who stammers, or if one of your team members has a stammer, here's how you can get the best out of them and support them in the workplace.
Best practice for supporting someone who stammers at work includes:
Focusing on what they are saying, not on their stammer.
Introducing them to colleagues and managers on their first day to break the ice and avoid them having to approach people cold. It's common for a person who stammers to have difficulty saying their own name or when providing personal details (see our Life With a Stammer page).
Broaching the Subject
Talk to the person sensitively to see what adjustments you can make. Having a stammer may be something that they find difficult to raise, so show them that you are open to discussing adjustments which might be helpful (see 'The Law' below). Some people might be happy to talk openly about their stammer. Others might be more reserved about the subject. Even if they have disclosed their stammer, this doesn't make it an open water-cooler discussion topic.
If it's appropriate, ask them how best to respond when they stammer. Discuss whether they'd be comfortable with you making the team aware of how they can be supported.
Ask them if it would be helpful at the start of group meetings to introduce themselves first or second (and prevent anxiety building while they wait for their turn). Or, if you are the Chair, introducing everybody yourself might help. 
Encourage training and work opportunities in areas in which they may have excellent skills but may have previously avoided.
The way to help someone fulfil their potential is to show them that you want to help them be their best. When the person feels confident about being open, stammering can become much less of a concern.
We have created a guide you can share with teams: Working With Someone Who Stammers (pdf).
The Law
If you know, or could reasonably be expected to know, that an employee has a disability within the Equality Act 2010, you may have a legal duty to make 'reasonable adjustments' in the job (See our Reasonable Adjustments page). Your duty around reasonable adjustments is not limited to where a person has disclosed their disability, nor to where the person has requested adjustments. It can apply for example if you know of the stammer, or suspect there may be one, and you have reason to think it may cause difficulty for the person. 
When considering adjustments, discuss them with the person and ask what changes could help them in their role. See our list of example adjustments. There may be some simple changes which can be made that will make a huge difference to how your employee performs in their role and how they feel about you as an employer.
Performance Reviews
A performance review is an ideal opportunity to review existing adjustments or consider whether any are required. You can use it to find out more about how a person's stammer impacts their work and behaviour. You may think you know a person well, but don't assume you know what the struggle is. So ask them. Stammering, and the effort not to stammer, can be exhausting.
Face-to-face performance reviews can be challenging for someone who stammers. Give them time to say what they want and don't be surprised if they stammer more than usual. 
People who stammer can often be self-critical and judge themselves based on how fluent they are due to the pressure to 'fit in' with society. Let them know that you are focused on what they communicate, not how they say it. Your feedback on their communication is about content, timing, channels and insight rather than speed of delivery.
Bullying At Work
People who stammer face daily, casual discrimination at work. The normal recruitment process with interviews works against them and they often do not achieve their potential. 
Making fun of stammering is all too often seen as OK or passed off as jokingly putting someone at ease. That may be reflected in jibes and mimicry by managers, colleagues or others. "It's just banter, a bit of fun", "It's meant well" and "We love her/him really". These are NOT acceptable excuses.
Deal with issues promptly. Talk to the employee about it before deciding with them what action to take, for them and all the staff. Read our guidance on Bullying At Work. Discriminating against or harassing a person in relation to a stammer may be unlawful. Find out about discrimination and the Equality Act on our page The Law.
Video calls
With more of us working from home as a result of Covid, video calls have been an added challenge for a lot of people who stammer. A 2021 study by The Underwood Trust found that using Zoom or Teams tends to be more challenging than face-to face interaction when you stammer. The time lags, the buffering, not quite knowing when others are going to speak and then speaking at the same time, and being forced to see yourself stammer, can lead to reduced participation in meetings, their findings showed. Below are some things you can think about to make video calls easier for employees who stammer.
Making introductions
As we've mentioned, introducing yourself can be difficult. In Zoom, users can amend their on-screen name very easily so you could encourage everyone to update it with their name and job title. This will reduce the need for verbal introductions. If you use Teams, however, this isn't as easy to do. You could use the chat function so people can enter their names there. Or you could have a single person making all of the introductions. If you stick with asking everyone for verbal introductions, think about going to the person who stammers first to avoid them having to wait anxiously for their turn.
Turn-taking
It can be tricky for people who stammer to 'jump in' with pin-point timing when they have something to contribute verbally in a meeting. Think about the way you manage turn-taking in online meetings. For example, you can ask participants to use the hands-up function and manage the order of turns to ensure that people who stammer are able to contribute more easily.
Valuing contributions in the chat
Offer participants the flexibility to contribute verbally or in the chat. This needs careful managing to ensure that all participants can also read or hear what's in the chat.
Other video call tips
Keep an eye on the screen of the person who stammers for signs that they might be having a speech block. This is when they try to speak but can't get any sound out. In this instance, when somebody else has finished speaking ask the person if they have anything they'd like to add. If the person is being quiet generally, invite them to contribute and give them the opportunity to speak. 
EXTERNAL SUPPORT
Stammering is literally just how some people talk. Like being tall, blonde or good at running. Some people seek support while others don't see it as an issue at all. If they do want support, our Get Support section has a range of options in stammering therapy. Meeting other people who stammer, and sharing experiences, can be invaluable. We have a list of Local Groups they can join. Some people might want to develop their public speaking skills and confidence speaking in front of others. Speakers clubs and Toastmasters clubs are great for this.
We support companies and organisations in providing stammer-friendly environments and processes for their customers and staff. If you would like us to help you, contact us at help@stamma.org or call our helpline free on 0808 802 0002 (weekdays 10am-12noon) and ask to be referred to our employment support service.
Videos
Watch our video seminars for employers, managers and colleagues below about how to create an inclusive environment for people who stammer:
Working with, teaching and employing people who stammer
Stammering, diversity and inclusion
USEFUL LINK
Visit the website stammeringlaw.org.uk for a wealth of information on stammering and UK disability discrimination law.