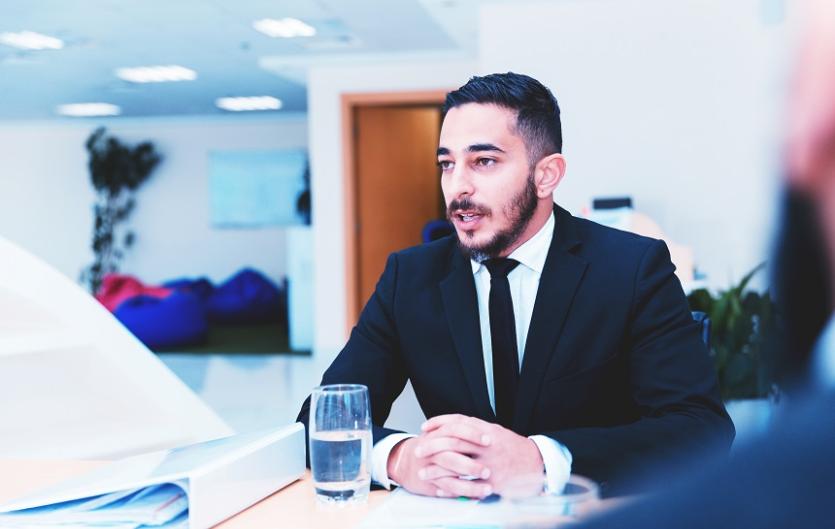 Looking to interview or hire someone who stammers? You've come to the right place. 
Forget any outdated misconceptions you may have about people who stammer. It doesn't mean they can't be effective communicators and it has nothing to do with intellect. Up to 2% of UK adults say that they stammer, contributing a wealth of talent to organisations — in all professions and at all levels.
Indeed, stammering can bring some real advantages. Some people who stammer are brilliant, memorable presenters or conversationalists; some have extensive vocabularies; some find that others confide in them easily; others are great and active listeners. Many of us weigh our words because we appreciate their value.
Your concern is to find the best person for the job. To ensure this, create an inclusive recruitment process and be prepared to make reasonable adjustments for candidates who stammer.
Writing the Job Ad & Person Spec
It can often feel like the recruitment process is designed to filter us out and make it near impossible to get the role.
Read Vicky's article 'Towards inclusive hiring'
Think before putting 'excellent communication skills' in the job advert. This risks missing out on great employees who'll think you're looking for someone with fluent speech. Effective communication is about so much more than that. It includes the ability to: 
use the right words via the right channel to the right audience at the right time.
analyse and summarise.
read situations. 
moderate tone and message according to the situation.
read body language. 
show empathy and understanding.
listen.
write well.
In this context, how important is the ability to speak fluently and fast? Put down what you need from the list above and consider how best to assess candidates on those.
Interviews
Stammering in interviews
Oral interviews can be discriminatory for someone who stammers because of the pressure to perform well verbally and to communicate everything through speech.
Effects of a stammer will often be greater under the stress of a recruitment or assessment process than in the job. Some may struggle simply to get words out. Others may not be heard to stammer yet may end up scrambling their words as they try and avoid stammering.
What you may not know is that some people are able to hide their stammer, which means it won't be noticeable to you (see our page Life With A Stammer). But it may dominate what they say, as they focus on trying not to stammer. Or you may hear some stammering, but you may not realise how much the person is struggling to sound fluent. This can make someone who stammers:
give answers which are too short or lack depth in an interview, even if extra time is allowed, as they try and reduce the chances of them stammering. 
look away while trying to get words out.
pause for some time before answering. 
start somewhere different and scramble to try and find words they can say more easily.
give an overly elaborate or convoluted answer.
Such responses can be misconstrued. The candidates may have been trying to physically say a word or swap one for another word they can say. This behaviour may be misread as evidence that they were unsure of an answer, avoided answering, were nervous, reluctant, or they meandered because they didn't know what they wanted to say.
What matters is how the person will perform at work, not in the job interview. Focus on the content of what they're saying. 
Reasonable adjustments
Stammering can be classed as a disability under the Equality Act 2010. If you know a candidate has a stammer, or could be expected to know, you may legally be required to make reasonable adjustments in your recruitment process. If you fail to make reasonable adjustments this may amount to discrimination and you would be liable to an Employment Tribunal claim.
Examples of reasonable adjustments include:
Extra time in interviews.
More informal interviews.
Face-to-face interviews rather than phone interviews. People who stammer are likely to stammer more on the phone and the lack of visual interaction can put them at a disadvantage. If face-to-face interviews aren't practical, video calls — with appropriate adjustments — would normally be the next best thing. Ask what the candidate would prefer. 
Written answers rather than an oral interview, with follow-up questions asked face-to-face or by video.  
Ask follow-up questions if spoken answers are short or lack depth.
Consider the person's oral answers and written information from their application, giving the latter no less weight.
Allow them to prepare a presentation beforehand and use the interview to ask questions about it (see 'Oral Assessments' below).
Invite them to provide evidence of their skills from a previous job or set up a work trial.
Give them the opportunity to write up anything they were unable to say after the interview. 
Provide written questions in advance.
Making reasonable adjustments will let a candidate know you want to support them in showing their talents. It will also help you better understand their skills, meaning you won't miss out on talent. The key term is 'reasonable'. See our page The Law for more detail and examples of reasonable adjustments.
Adjustments are not just about giving someone extra time. If a person doesn't stammer that much in the interview, you still need to take their stammer into consideration.
Oral Assessments
Particular oral skills and the ability to cope in some situations, say a class full of children, may be important for the job. If so, assess candidates in mock scenarios. Make sure those scenarios match the job scenario as closely as possible.
If the job involves presenting to one or two people, don't ask a candidate to present to a large group in the assessment. 
Don't require a client pitch if that's not an important part of the job. 
Don't use a group interview to assess how someone performs in meetings. Simulate a real meeting with typical topics. 
If you're setting up a group scenario where it would be reasonable to have a Chair, ask someone to chair. Ask them to ensure the candidate has a chance to contribute and to discuss this with the candidate beforehand.
Even if scenarios resemble the job, how much a person stammers during recruitment doesn't necessarily reflect what they'll be like in the job (see 'Stammering in interviews' above).
If a presentation is part of the interview but oral presentations are not part of the job, don't assess their oral presentation skills. Focus on the content.
If giving presentations is part of the job, how important is it that they be oral? Can people email a presentation to the meeting participants beforehand, and use the meeting to take questions? If so, allow candidates to do a written presentation followed by oral questions.
A stammer can make someone's presentation style interesting, memorable and encourage an audience to pay close attention. Good communication does not equal fluency.
Discussing adjustments
When inviting an applicant to an interview, ask them if they would like any reasonable adjustments.
If an applicant has disclosed their stammer in advance or has asked to make you aware of it, talk to them. Outline the interview format, including any presentations or oral assessments. Ask them how stammering might affect them and their speech in the process, and what adjustments would help. Discuss adjustments with them early so you have time to put them in place. You risk legal claims if you don't consult and find out what adjustments would suit them.
Other Considerations 
If it is a physical interview, think through the whole process from entry-phones to reception staff. You don't want a great candidate being put off by a member of staff thoughtlessly laughing at them, which may itself breach the Equality Act. For many people who stammer, saying their name is hard, so pre-warn reception staff so they open with 'Hello, are you Sam Jones?' (at the intercom and at reception), rather than waiting for a likely Sam Jones to introduce themselves.  
Without the non-verbal cues, telephone calls can be particularly difficult. If you must hold a telephone interview, try to avoid negative impressions of a person based on the way they sound. 
Useful link
Visit the website stammeringlaw.org.uk for a wealth of information on stammering and UK disability discrimination law.
We support companies and organisations in providing stammer-friendly environments and processes for their customers and staff. If you would like us to help you, contact us at help@stamma.org or call our helpline free on 0808 802 0002 (weekdays 10am-12noon) and ask to be referred to our employment support service.
If you've just hired someone who stammers, or if one of your team member's has a stammer, see our Supporting An Employee Who Stammers page.