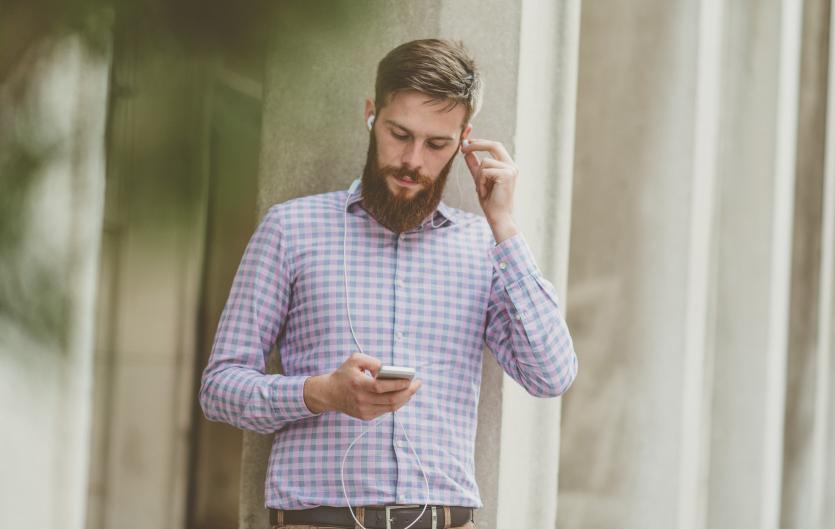 A range of apps and electronic fluency devices are available to help with fluency.
Apps are relatively cheap and easy to use. Electronic fluency devices can be very expensive – it's best to try an app out first and get advice from a Speech and Language Therapist before spending a lot of money.
Most apps and devices use a technology called Altered Auditory Feedback (AAF) – as you speak you hear your voice played back to you, a bit like an echo on a phoneline.
AAF is based on the 'choral effect', a phenomenon well known to many people who stammer, who find that they can produce fluent speech when they talk in unison with other people.
The app or device also plays your speech back to you with a slight time delay (Delayed Auditory Feedback, or DAF) and/or with a slight change in pitch (Frequency-shifted Auditory Feedback, or FAF).
Do they help?
Some people find AAF helpful, others don't. Each person is likely to respond differently, depending on their degree of stammering. There's limited research on its effectiveness and results are mixed. You may decide to use AAF mainly for more challenging situations, such as giving a speech. You can also use it as part of speech therapy – for example, to practise techniques.
Some apps and devices can also produce music, a hiss or buzz, turned on to mask your voice and increase fluency. Use of background music benefited King George VI in the film The King's Speech, and Musharaf in the programme Educating Yorkshire.
Read LeeAnn's article 'Using a fluency app helped with my confidence' to see what using one is like.
Also, read Dave's article 'Getting through my Father of the Bride speech' to see how a device helped him.
Apps
These apps can be used on a smartphone, tablet or computer and are generally free.
Apps installed on a smartphone may or may not work on calls using the phone. You can look at the app description and reviews, but ultimately will need to test it on your phone. They usually work with a Bluetooth headset but this might add a further delay to the feedback.
Here's a list of apps (with links to their websites) which use altered auditory feedback (AAF). They play back your voice as you're speaking. The list isn't comprehensive and the fact we've included them doesn't mean we endorse them.
Speech4good (aimed at Speech and Language Therapists as well as people who stammer).
Some apps are designed to teach you speech techniques which you practise every day for a period of time.  Here's an example:
Devices
Before laying out the cash for an electronic fluency device, try using an app and get advice from a Speech and Language Therapist first.
There are two main types of device:
A Single-component device which fits in or around the ear, like a hearing aid.
A Multi-component device, consisting of a box carried in the pocket, plus an earphone. The link from the box to the earset may be wireless, or through a wire. A wireless link makes the device less visible, more like a single component device.
Here are some examples of devices available to buy:
Speak for Less: In-ear devices with a money back guarantee option. 
SpeechEasy: In-ear devices. The most established product on the market. Email SpeechEasy at info@speecheasy.com for more information. Listen to these podcasts from StutterTalk to learn more about this particular type of device. 
VoiceAmp: The VA601i Fluency Enhancer is available in the UK. Wired and wireless options are available.
Casa Futura Technologies: A website about stammering which includes a catalogue of DAF and FAF devices.
Paying for a device
Electroncic fluency devices are expensive. Below is some information on how you can get some help with the cost.
NHS
NHS funding for such devices is not generally available.
Disabled Students' Allowances
If you're a student you may be eligible to apply for a Disabled Student Allowance.
Access to Work grants
If you are working, or wanting to start work, you may be able to obtain funding though the Access to Work scheme. You or your employer may need to pay part of the cost. In addition to the usual Access to Work eligibility criteria,  you'll need to have an assessment by a speech and language therapist, and to have used a fluency device for a trial period.
Employers
Alternatively, if you are in work and a device would make a big difference to the way you do your job, it may be worth asking your employer if they could provide financial support.
If you have difficulty getting funding from any of the above sources, please let the BSA know.