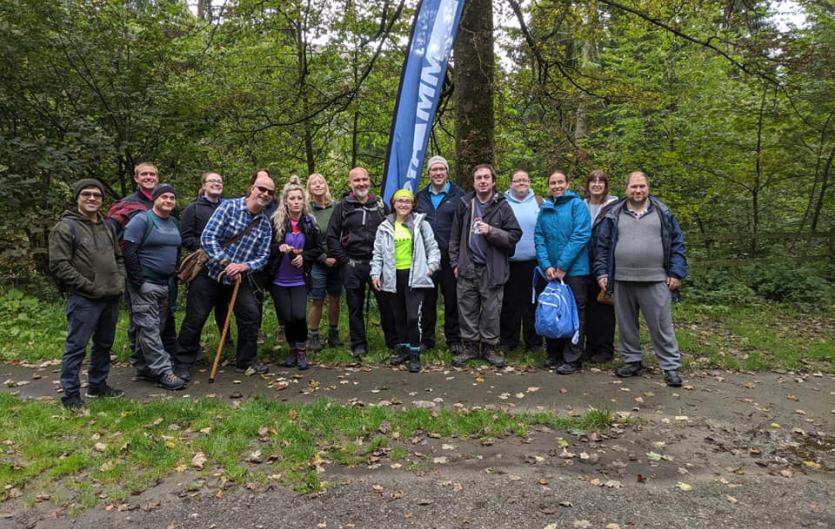 STAMMA Striders is a unique support group in the North of England for people who enjoy walking, the outdoors and who happen to stammer…sometimes…now and again…maybe.
The group was set up in 2019 after an open day in Manchester, where, over a cuppa, ideas for different support groups were kicked around, and based on the successful Walk 'n' Talk model run by the Scottish Stammering Network, 'Striders' was born.
Dean Ridge, co-founder of STAMMA Striders explains, "We decided to create a monthly walking group to bring together those who stammer and use it as a way of meeting new people or catching up with friends. There's no agenda, simply come along and enjoy yourself. We see it as complementing STAMMA's local support group model by providing an alternative way of meeting up".
Fellow founder Paul Roberts says, "We go at the pace of the slowest walker; no one is left behind. As with all good walks, we'll stop off halfway for a picnic and sometimes go for a bite to eat and a drink afterwards". 
STAMMA Striders is predominately open to people who stammer but friends and family are more than welcome to come along too. You can even bring your dog!
WHEN AND WHERE?
STAMMA Striders meet monthly around the North of England and arrange a mix of hilly, flat, short and long walks to suit all abilities. 
CONTACT 
Get in touch by emailing stammastriders@gmail.com
Or join their STAMMA Striders Facebook Group
PLEASE NOTE
If you would like to join in, you will need to:
bring appropriate footwear, as paths can be slippery and rough
bring a mobile phone and save the group leader's phone number in case you get separated from the group
bring enough water and munchies (home baking to share is encouraged!)
be a good sport and enjoy walking!