STAMMA Defence, previously known as the Defence Stammering Network, supports, inspires and champions people working in the UK Armed Forces and Defence Civil Service who stammer.
STAMMA Defence, which we believe to be the first such network in the world, provides its members with support in the workplace, through online channels and with professional employment advice. It raises stammering awareness through publicity and communications across UK Defence, wider government and other UK employers. 
The network is fully supported by the Defence Board as part of the Ministry of Defence (MOD)'s Defence Diversity and Inclusion Programme. It also works in close partnership with STAMMA, the British Stammering Association (BSA).
HISTORY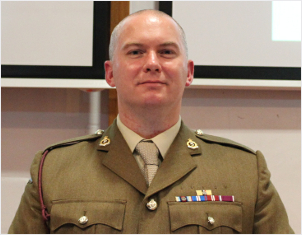 The Network started off as the Defence Stammering Network (DSN) and was established in 2014 by Corporal Emmanuel Ottih, Captain Jimmy Lang MBE and MOD civil servant Walter Scott. Walter said, "I met Jimmy and Emmanuel through the BSA and we very quickly realised that we were all pulling in the same direction, having all just gone through speech therapy. We wanted to start tackling attitudes and raising awareness in the Armed Forces. So we set up the DSN". 
The network was officially launched at a reception at the House of Lords on 14th July 2015 hosted by Baroness Whitaker, a STAMMA patron, and attended by top MOD figures.
STAMMA Defence, as it is now called, has gone from strength to strength and through its activities and campaigning, stammering is now officially recognised in UK defence policy. It has also been the subject of two documentaries on Forces TV: 'My War With Words' and 'Stammering — the unspeakable truth'. 
ENLIST HERE 
If you work in the UK Armed Forces or Defence Civil Service and you stammer, STAMMA Defence would love to hear from you. 
Email defence@stamma.org or follow them on Twitter, using @UKDSN, and Facebook.
Read more about STAMMA Defence in Walter's article on Forces.net 'My fight to remove the "stammer stigma" in the armed forces'.