Image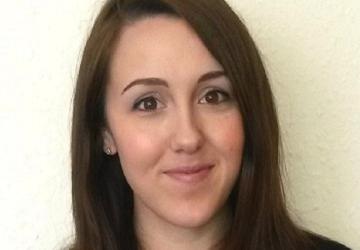 Working with teenagers who stammer
Thursday 13th June 2019
13th June 2019
Speech & Language Therapy Assistant Megan David talks about her challenging yet rewarding role.
It was December 2014 and I had been working in my role as a Speech and Language Therapy Assistant (SLTA) for six months. To say I was enjoying my job was an understatement and I was yet to discover one of the most rewarding parts. 
One of the Speech and Language Therapists in our team asked if I was able to take over from her in running a fluency group at a local secondary school. My initial response was to say yes but with a hint of apprehension – having worked solely with young children up until then, what could I possibly offer to support teenagers who stammered?
I attended my first session with the therapist, who introduced me to the two students in the group and showed me some of the activities she had done with them, as well as what I should be encouraging them to do. The students were already familiar with strategies that helped them; they now required support to implement them and use them with confidence.
Having worked solely with young children up until then, what could I possibly offer to support teenagers who stammered?
From then on I saw the students on a half-termly basis, overseen by the therapist. I read about and talked with colleagues about activities that would be helpful for dysfluent students who are achieving-well academically, but who needed their conversational ability testing. As a group we worked on activities including interrupting, debating, providing a verbal narrative and explanations. What was most pleasing to see was the enjoyment the students were having from not feeling self-conscious and appearing relaxed with myself and each other. I soon got the impression that these students weren't aiming to be clear, perfectly fluent conversationalists, but wanted to be confident and content in what they had to say.
Two years into the group and my half-termly visits had become termly, due to both caseload demands and the level of competency that these students had achieved. The therapist then made me aware of two more students who had joined the school, both of whom had stammers. She encouraged them to attend our group to meet fellow students who experienced what they did.
The impact that these new younger students had on the original members of the group was significant. The original members suddenly took on a mentoring role, one which encouraged them to test out their own fluency strategies with new people.   
With the new members we've been able to carry out a variety of activities within the group sessions – working on preferred fluency strategies, watching videos from the Action for Stammering Children initiative 'Stambassadors', roleplaying, sharing experiences, Q&As with the older students, turn taking games, the list goes on; basically any activity that involves talking, and talking with confidence!
Where the group has taken me
The opportunity I was given to run this group and support the students has evolved into becoming a real passion of mine within our service – I have been lucky enough to attend The Fluency Trust's two-day course to learn about their Fluency Packs, as well as attend an International Stammering Awareness Day 2018 event in Birmingham (watch the talks here on Facebook) to meet individuals who stammer and hear about their experiences.
The opportunity I was given has evolved into becoming a real passion of mine. 
Most amazingly, one of the original students who I have been working with for over four years, now helps me to co-deliver the group. The experiences he has had, the highs and the lows, means that he can now tailor activities and ideas that will have a meaningful impact on the other students. To hear what they want to achieve in life and to think that this group may have gone some way to help - I am beyond grateful to have been a part of that.
Going forward as a service, we are hoping to set up groups targeting different age ranges across the county to provide support and awareness to hopefully dispel the fear around dysfluency that I'm sure many young people out there experience. For this particular high school, well, I would really like to be able to support some of the Learning Support Assistants in how to run a fluency group. If I was able to support staff members who are around these young people on a regular basis, then what better ongoing support can there be?
In summary, I would encourage as many young adults who have a stammer to support those younger students who stammer too. To know others that are going through the same thing as you in the same school, can be hugely motivational and confidence boosting. As sad as it sounds (and it's not, I'm over the moon that I got to do what I do!), my role as an SLTA with this group has almost come to the point where I'm purely a facilitator for the sessions – two incredible years down the line, the younger students seek the most advice and support from those that have been in their shoes.