Image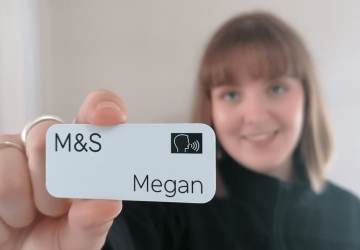 My M&S badge for raising awareness
Tuesday 13th September 2022
13th September 2022
Megan Tomkies made the news recently after her employers at Marks & Spencer loved her idea of adding a symbol to name badges for staff who stammer. Here she tells us all about it.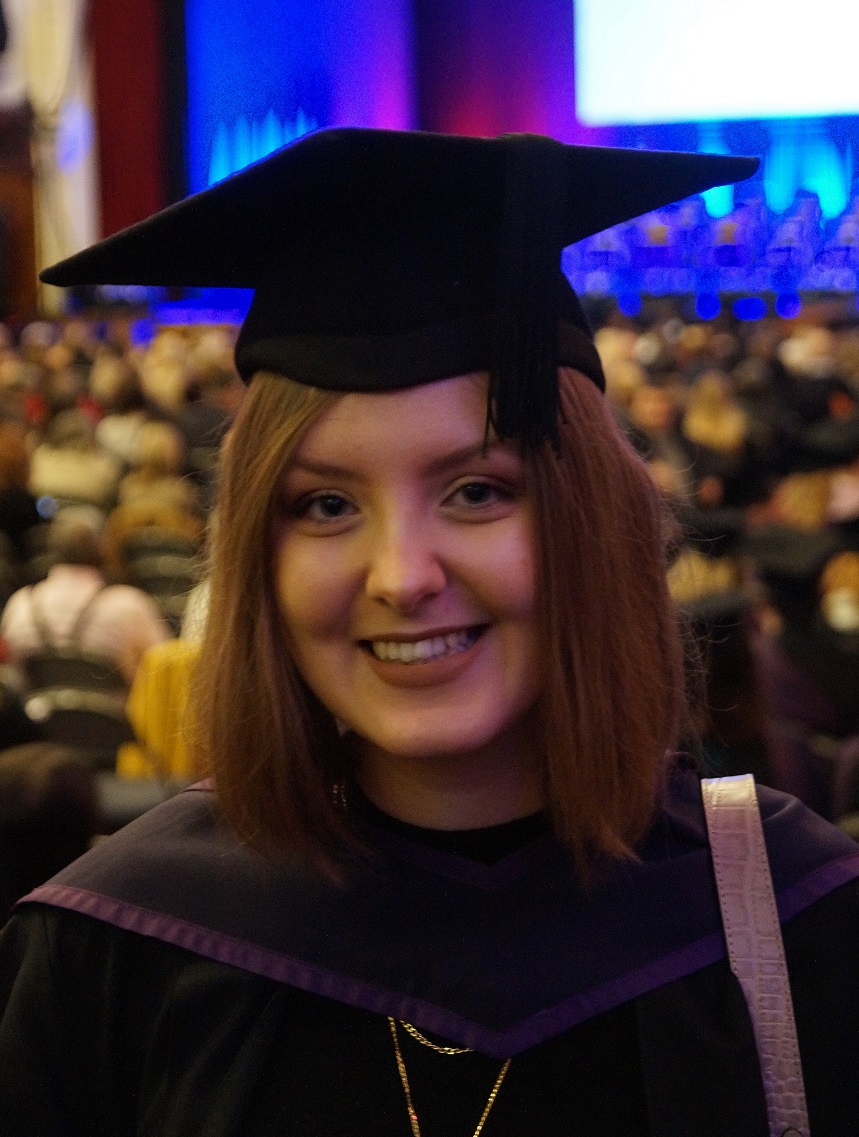 Hello, my name is Megan and I have had a stammer since the age of 5. It affects my everyday life in different ways but the way I view my stammer has definitely changed. I used to see my stammer as a negative and I hated it, it was always getting in the way of what I wanted to say.
Whilst growing up, my parents had to fight for me to have the speech therapy I needed, as I didn't 'grow out of it', as many children do. I started to have weekly therapy sessions from the age of 9, however these seemed to be aimed at 2 to 5 year-olds, which wasn't appropriate for me and didn't cater for my speech therapy needs whatsoever. 
I now see my stammer as part of me and a positive.
We then came across The Michael Palin Centre in London, a specialist speech therapy centre for children and young adults. I attended a two-week intensive course with my Mum in 2013. I began the course having to write what I wanted to say on a piece of paper because I was very disfluent. I finished it delivering a speech to all of the fellow children and parents on the course, which was a huge achievement for me. Since then I have learnt to control my stammer in a way that works for me. It isn't always easy as everyday is different with a stammer. I have days where I am completely fluent and others when I really struggle to get my words out.
I now see my stammer as part of me and a positive. It allows me to understand the importance of being listened to and being patient. Without my stammer, I wouldn't be me. I have achieved so much, including graduating in 2021 with a First Class BA Honours degree in Fine Art at Solent University. Having a stammer should never stop you from doing what you want to do. 
Pitching my idea
I have worked for Marks & Spencer for four years and I am a colleague representative for my store, something I take immense pride in. Within M&S, all colleagues are given the opportunity to suggest ideas to the CEO that will benefit colleagues and customers alike. I decided to submit the idea of creating the world's first stammer symbol for colleague name badges, as there is no universally known symbol for people who stammer to indicate that we need more time and patience when speaking (see the picture at the top of the page). Once I submitted the idea, I was inundated with support from so many people and the CEO said yes to my idea within a couple of weeks, making it the first UK employer to offer special name badges for people who stammer. Since then, I have been in my local newspaper, I've been featured on the BBC news website and I was interviewed on BBC South Today News on TV to discuss the process and my achievement, something I never thought I would say.
I hope my symbol can become globally recognised one day, much like the hearing-impaired symbol for example, so that people know to give us the time and patience we need.
I wanted to create this symbol because I feel that it will make such a difference as there is simply not enough awareness of stammering, therefore people don't always know how to react when they meet someone with a stammer. When I was in school, teachers weren't aware of how to support me with my speech until my parents and the Michael Palin Centre came into assist.
I am lucky enough to have such supportive colleagues and M&S is an incredibly supportive company to work for. However, this may not be the case for others who stammer. That is why I hope my symbol for stammering can become globally recognised one day, much like the hearing-impaired symbol for example, so that people know to give us the time and patience we need. Although M&S had to adapt my initial design in order to fit on the name badge itself, I hope to see my original symbol being used in as many businesses as possible.
I want to make a difference for people like me who stammer as there is simply not enough awareness nor support available to us. I feel like I have already made a big step but I can't wait to do more for people who stammer.
Read more stories from people about stammering at work. Would you like to write an article and tell us how you're getting on in the workplace? See our Share Your Story page or email editor@stamma.org for more details.
The Michael Palin Centre for Stammering is one of a number of options for children and young adults who stammer. See the full list of Therapies & Courses.