Image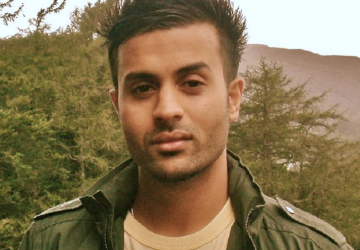 If you meet me you won't even know that I stammer
Wednesday 5th February 2020
Sabir Ahmed describes the challenges of having a covert stammer and talks about being part of the Civil Service Stammering Network.
I have never thought of stammering as a particularly dignified affliction. From my experience it rarely inspires anything but pity or sarcasm. No one likes to stammer. It has no kudos and only encourages an extensive vocabulary. And I'm OK with that. 
For years I have been a covert stammerer and I stammer under stressful situations. Having stammered since childhood, I was told this was because I was of ethnic origin and bilingual in language. But such a theory has never been proved by science. 
I quickly learned to avoid the various words and situations that I began to find difficult to pronounce or circumvent myself in.
I quickly learned to avoid the various words and situations that I began to find difficult to pronounce or circumvent myself in. If asked to identify the one thing that has caused me the most irritation in my life, I would have to point not to a debilitating illness, but to the consonant that follows ABC, and putting my life on hold on certain things I couldn't take part in, but which I wanted to.  
School, uni and work
So, I stopped talking in school. I only talked when it was completely necessary. My friends would come up to me asking what I sounded like because they had not heard me talk in a while. It was always hard not being able to talk because I had so much to say to my friends. I felt like a complete outsider and wanted to be like everyone else. I never knew how they were able to just talk normally and I couldn't. My friends never understood why I talked weird or why sometimes my speech slurred, or why I banged my hands on the desk trying to read literacy books in English class. 
My inability to speak fluently led me to express my frustration and thoughts through the medium of art, to the extent that my artwork became a moot point amongst teachers and my art teacher told me I was playing with fire! But this was the only way I could express myself.
I went to university and when I left I went on to join a Civil Service organisation that has worked in conjunction with the Foreign and Commonwealth Office on a project to tackle forced marriages of dual nationals in Bangladesh. I also helped secure funds for charities to help children off the streets as well as victims of trafficking and abuse. 
My stammer now 
But after 38 years living on a place we call planet Earth, I learned that my speech all depends on if my anxiety is high or low, or if a certain situation triggers it. If it's a stressful day, then I stammer; if it's not stressful, then you can hear me. When I can't get words out I develop what is called a block. It is like the words get stuck in my throat and they will not come out. 

If you meet me you won't even know that I have a speech impediment. Yes, I will stammer but you will think it's just a normal stumble that everyone has on occasions. It's like an iceberg that no one sees coming, but when you get to know me you will definitely start to see it.
I guess what I am saying is, a speech impediment is no deterrence on someone's ability to perform their day-to-day activities whether that is in work or at home, but it can be a hindrance to that person dependent on the situation they are in.  
Diversity is only personified through education.
Approximately 1% of the UK adult population stammers (Editor's note: we currently estimate this as 3% now - see here for more details). That translates to more than 4,000 people across the Civil Service who have difficulties speaking fluently or who feel the need to hide their stammer. Stammering is a debilitating life-long condition that can affect a person linguistically, emotionally, psychologically and physically. But there's help out there and support is most valuable.
The Civil Service Stammering Network
The Civil Service Stammering Network was established by a group of civil servants who stammer to create a safe space for employees of all grades and from all departments to share experiences and campaign for awareness and support. In my view the Civil Service still has a lot to learn in terms of understanding stammering and the symptoms that a person who stammers experiences.
The group is open to people who stammer in the Civil Service, those who have family members who stammer and those who want to be allies and support their colleagues. If you work in the Civil Service and stammer or know of a colleague who stammers and would like to get help, get in touch with the Network through their website ukcssn.com. It's free and confidential.  
Alternatively, if you are a manager and would like to understand the gravity of the condition, get in touch with the British Stammering Association, who support all adults and children who stammer.
Diversity is only personified through education.
Read more about the Civil Service Stammering Network here.
If you'd like to share your story and write something for our website, click here to find out how.