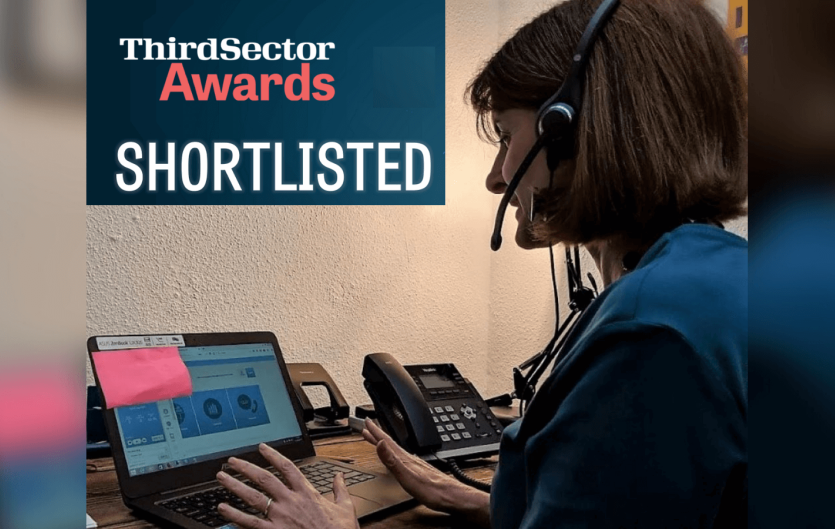 16th August 2021
One of our fantastic helpline & webchat volunteers reflects on being nominated for Volunteer Team of the Year award at the Third Sector Awards 2021.
(Note: We have omitted the author's name for helpline confidentiality reasons. The picture above features our previous helpline manager.)
As a member of STAMMA's helpline team, I was asked what being nominated and shortlisted for an award means to me. 
It was 5:32am when I learnt we were nominated, so I found myself asking, bleary-eyed: what? Who?? A little later I went onto the Third Sector Awards website and lifted this:
"The Third Sector Awards provide an opportunity for voluntary organisations of all sizes, and the people who work for them, to celebrate their work and the real difference they make to society. After the extraordinary events of the Covid-19 pandemic, this has never been so important."
Become a STAMMA member for free to get the latest news and events sent to your inbox.
So, who are the charities and organisations shortlisted for the Volunteer Team of the Year? They include:
TurnAround Mentors: Helping troubled young people to turn their lives around. 
The Bread and Butter Thing: Ensuring surplus food goes to the people who need it most.
SafeLives Pioneers: Transforming the lives of domestic abuse victims. 
Sal's Shoes Volunteers: Finding new feet for unwanted shoes. 
The STAMMA Helpline Team: Providing the first point of contact for people who stammer.
Now what do I think? WOW! Reading and understanding who's in the shortlisted group and seeing our team as part of that is truly humbling and cause for celebration itself.
Why I volunteer
I volunteer because I needed to give something back. I have been very, very fortunate in my life but as far as my consciousness goes, my time, especially as a child, consisted of dealing with the outside world through my stammer. My parents and family were great; infant school was OK, but my secondary school years were simply the worst of my life (OK, OK, but I'm illustrating a point!), with support back then not being what it is now. Anything I can do to help others understand the condition that is stammering, I'm up for it.
Reading and understanding who's in the shortlisted group and seeing our team as part of that is truly humbling and cause for celebration itself.
When I found STAMMA I knew I just had to volunteer. Here was a group of people from all walks of life; people who have lived with stammering their whole lives and who are all focused upon supporting others to lead a full and rewarding life and experience it as it should be experienced. Applying to be a volunteer was very straightforward.
My typical shift on the Helpline or Webchat service sees me in my little STAMMA cocoon with my PC, telephone (now with a swanky new hands-free headset), multiple post-its of useful info stuck on two walls and my Volunteer Handbook open at the ready, waiting for the next call or chat. Why all this? Because I know my next call or chat will be from someone who needs information or who is looking for help in understanding what it is to stammer, for themselves or someone they know, and I want to give them the very best help I can. For some, I can help by being a 'listening ear' — someone who fundamentally understands the situation and can empathise. 
There are also the suggestions and further information we give and this is the product of the training, advice and guidance we get from the wider STAMMA team.
Rewarding
What about outcomes, what do we as volunteers get from this? Well, sometimes this is instant — that 'thank you' is a great confirmation that we've helped. Sometimes it comes later through feedback from our management team who have seen or received feedback from callers or chatters.
This time it's being shortlisted for the Third Sector award and seeing who we've been shortlisted with. It's realising WOW, we're a part of that group?!
I'm proud to be a member of this team. Thank you to every other member and thank you to all those of you who support STAMMA in delivering our role – we're doing good! 
And of course, thank you to volunteers everywhere.
The winner of the Volunteer Team of the Year will be announced at the Third Sector Awards 2021 ceremony on 17th September.