Image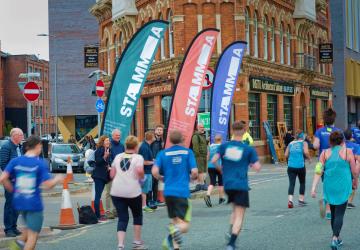 Thursday 13th June 2019 - 08:21
13th June 2019
The STAMMA campaign kicks off our new five-year strategic plan, aimed at changing the world for people who stammer.
We are, at heart, a membership organisation. Here for those who stammer and those around them.  
We believe that just 2% of the population know we exist. If we are to have an impact and truly change people's perceptions and responses to those who stammer, then we need to reach more people, shout louder, and build momentum, and that's why STAMMA was developed.
STAMMA is a brand, a campaign and logo which visually stammers. Within the branding, STAMMA provides a window through which those who stammer can reach those who don't; sharing what they want the rest of the world to know about what it is really like to have a stammer. The STAMMA campaign and brand is bold, the colours clash and reverberate. The lettering can be hard to read. Deliberately so - we are trying to communicate some of the difficulties in speaking and attract attention.
With STAMMA, we will reach out to those who stammer in the UK. We'll use our branding and our campaigns to give voice to those who stammer, and reach those affected by stammering, with information and support.
Over the next five years we'll deliver campaigns aimed at educating the public, undermining the stereotypes around stammering, tackling discrimination, and creating a better environment for people who stammer.  
We want to build a movement, of those who stammer and those who don't, and create a more patient and tolerant world.  
We hope you'll join us. Click here to become a member.