Image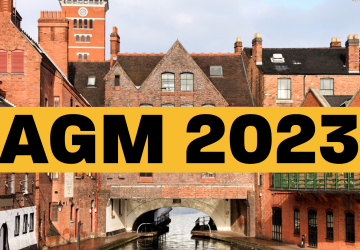 Wednesday 11th October 2023 - 13:55
11th October 2023
We are delighted to invite all members, and supporters, to our Annual General Meeting (AGM) on Saturday 25th November 2023, 2pm-4:30pm.
We are holding it at the Priory Rooms, Quaker Meeting House in Bull Street, Birmingham (click to open a map). Ideally located in the heart of Birmingham City Centre, the venue is easily accessed from three mainline railway stations, tram and by car.
Come and meet other STAMMA members, staff, trustees and volunteers. After the formal part of the meeting we'll talk about plans for the future and have a bit of a social with a quiz and 'stuff', and there will be plenty of time to socialise afterwards. We may even land our hands on some tea and biscuits. Oooh, AND we'll bring some merchandise along with us, so you can buy lovely things like water bottles and postcards and stickers and posters and NOT have to pay postage! Totally worth the travel.
AGENDA
| | | |
| --- | --- | --- |
| Welcome & apologies | 2:00pm | 2:05pm |
| Minutes of the last meeting | 2:05pm | 2:15pm |
| Accounts & appointment of auditors | 2:15pm | 2:30pm |
| Election results | 2:30pm | 2:40pm |
| AOB and end of the AGM | 2:40pm | 2:45pm |
| The next 3 years | 2:45pm | 3:15pm |
| Quiz | 3:15pm | 3:45pm |
| Networking and socialising time | 3:45pm | 4:30pm |
ATTENDANCE
ONLINE: Register for the AGM on Zoom, which will run from from 2-3pm, and will only last for the duration of just the AGM, ie not the quiz.
IN PERSON: Please RSVP - email hello@stamma.org and let us know in advance if you have any access requirements or allergies.  
If you can't come, and you'd like someone to attend and vote in your place, please download and return the Proxy Vote below.
PAPERS
You can download the Proxy Vote form and the Minutes for last year's AGM below. You can also read our 2022 Annual Report & Accounts.
Downloads