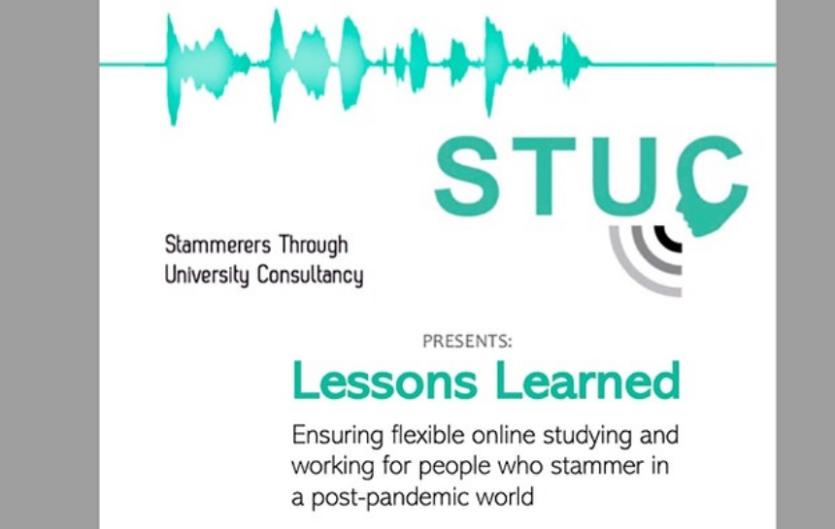 12th July 2021
The second Stammerers Through University Consultancy (STUC) Conference took place online in June. Here, Beatrix Livesey-Stephens, one of the speakers, gives us a flavour of what happened.
The Stammerers Through University Consultancy (STUC) Conference 2021 was an event I was counting down the days to ever since founder Claire Norman held a workshop for my university in February. If you didn't know about it, STUC is the network supporting students and staff in higher education, and the theme for their second conference was 'Lessons learned'. Speakers talked about their lockdown experiences and shared insights and learnings for people who stammer at university in a post-lockdown world.
I'd always felt that the difficulty of stammering wasn't as acknowledged as it could be, and when the opportunity presented itself to speak at the STUC conference, I jumped at the chance. It proved to be a wide-ranging day that gave me tons to think about as a student, as someone who stammers, and a supporter of other stammerers.
It proved to be a wide-ranging day that gave me tons to think about as a student, as someone who stammers, and a supporter of other stammerers.
I really enjoyed hearing about stammering from the perspective of adults in academia. Stuttering is so often framed either as a weakness or as a childhood disorder, so seeing lecturers talk openly about teaching with a stammer was huge for me. 
I was particularly inspired by Dr Claire Tupling's talk about stammering made material on lecture capture. She referred to "cripping the chronopolitics of the Academy". The way I see it, it's about using a lens of disability to start deconstructing the idea that speed equals efficiency, and slowness equals incompetence in academia. I absolutely fell in love with the phrase, and plan to do some more thinking about it in conjunction with my Linguistics degree.
I was overjoyed to hear about the development of a guide for academic advisors and disability professionals in supporting people who stammer, which was available to view on the day of the conference (see our article 'Supporting students who stammer in higher education', 23rd June 2021). I'm sure that this document will have a profound impact on the lives of stammering students. The three-tiered approach to student support was especially interesting in terms of providing Disabled Students Allowance (DSA). 
Gareth Walkom did a presentation about a virtual reality (VR) app he's developing to provide a "safe place to speak" for those who stammer who want to practise presenting in various virtual environments. Many in the audience recommended that Gareth look into making the software available to students through the DSA. I have since contacted Gareth about getting involved in his work and becoming a beta-tester, and I can't wait to start.
The wide range of perspectives and topics around 'lessons learned' as a stammerer this year was really valuable. I hope to one day become a stammering academic who shares their experiences and helps stammering students. 
I was really proud to be the only student speaker at the conference, and it was really liberating to share a mix of academic and internal experiences. My presentation 'Frantic Typing and the centre of Self-Worth' looked at the importance of text options in meetings, and the deconstruction of a linguistic hierarchy where speech is the default. Two years ago, when I was waiting for a medical appointment, I saw a STAMMA poster that read 'My words are worth waiting for'. My immediate reaction at the time was "Are they though?" Now I can say that they are, and they don't have to be amazing words to be worthy of respect.
If you missed the conference, which was held in collaboration with the University of Hertfordshire, you can visit the event's Eventbrite page to purchase a video file of the event for £5, the price of an entry ticket.