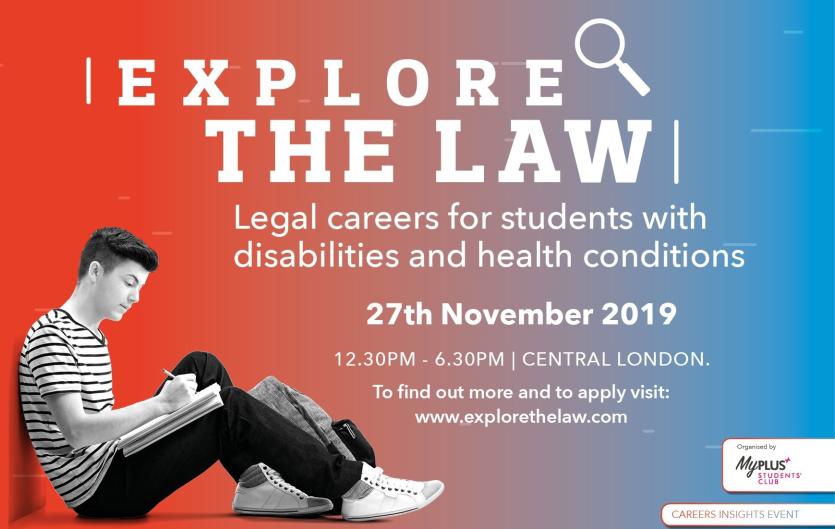 An day of interactive skills sessions in London for undergraduates with a disability or long term health condition wanting to pursue a career in law.
Explore the Law
Date: 27th November 2019
Location: London (you'll be given details of the venue when you apply for a place)
Price: Free, with travel expenses up to £60 being reimbursed
Organisers MyPlus Students' Club say, "If you are a high performing undergraduate with a disability or long term health condition, including stammering, who wants to pursue a fast paced, exciting career in law, come along to Explore the Law.
'Meet international law firms including, but not limited to, Baker McKenzie, DLA Piper, Hogan Lovells, Linklaters and Slaughter and May and gain a real insight into commercial law careers. You will also have the opportunity to participate in interactive skills sessions led by recruiters on topics such as interview skills, managing a disability in the workplace and requesting support in the recruitment process. You will also learn first-hand from our panelists what it is like to work with a disability in a leading City law firm."
The event is free to attend and travel costs up to £60 will be reimbursed.
To find out more, and to apply for tickets, visit: www.explorethelaw.com
The deadline for applications is Friday 18th November.
MyPlus Students' Club is an organisation that provides disabled students with the advice and support they need to navigate the recruitment process and achieve their career potential. Visit their website here.