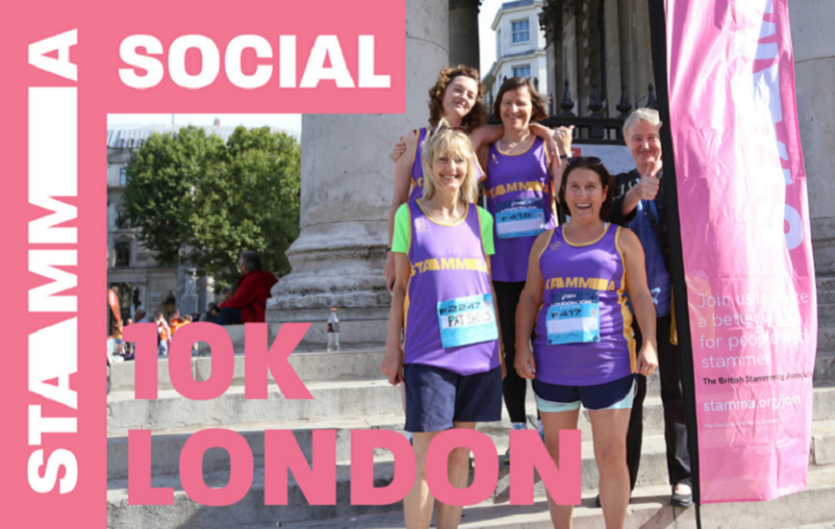 After a year of being unable to meet our supporters, we're delighted that we can finally host an in-person event!
On Sunday 25th July 2021, four runners will be fundraising for STAMMA at the ASICS London 10k, and we need your help to cheer them on. You can sponsor them below, or join us on the day as we show our support, cheering from the sidelines, before grabbing a bite to eat afterwards.
We'll be meeting outside Charing Cross Station at 8:30am, however you're welcome to arrive at any point between 08:30am and 10am, as our runners will still be preparing at the start line until then.
Once the race finishes at 12pm, we'll be heading to St. James' Park for a picnic. If you have picnic blankets, chairs or you'd like to prepare any baked goods, it would be very much appreciated. There are also cafés and kiosks throughout St. James' Park if you want to buy yourself a sandwich or a hot drink. If you just want to come along for the picnic, that's fine.
If you'd like to come along to cheer our runners on, please drop us an email at fundraising@stamma.org so we can get an idea of numbers and update you if arrangements change.
Please support some of our incredible runners by donating to their fundraisers. Together, we can make the world a better place for everyone who stammers:
If you'd like to represent STAMMA in the 10k itself, we've still got places available. Drop us an email at fundraising@stamma.org, and we'd be delighted to get you registered in time for the big day.
If you're unable to join us, but you'd like to cheer our runners on at different events across the country, you can sign up to our STAMMA Street Teams.
Due to arrangements surrounding social distancing, ASICS may revise their timings, and therefore we may have to do the same. If anything changes, we'll be sure to let you know!