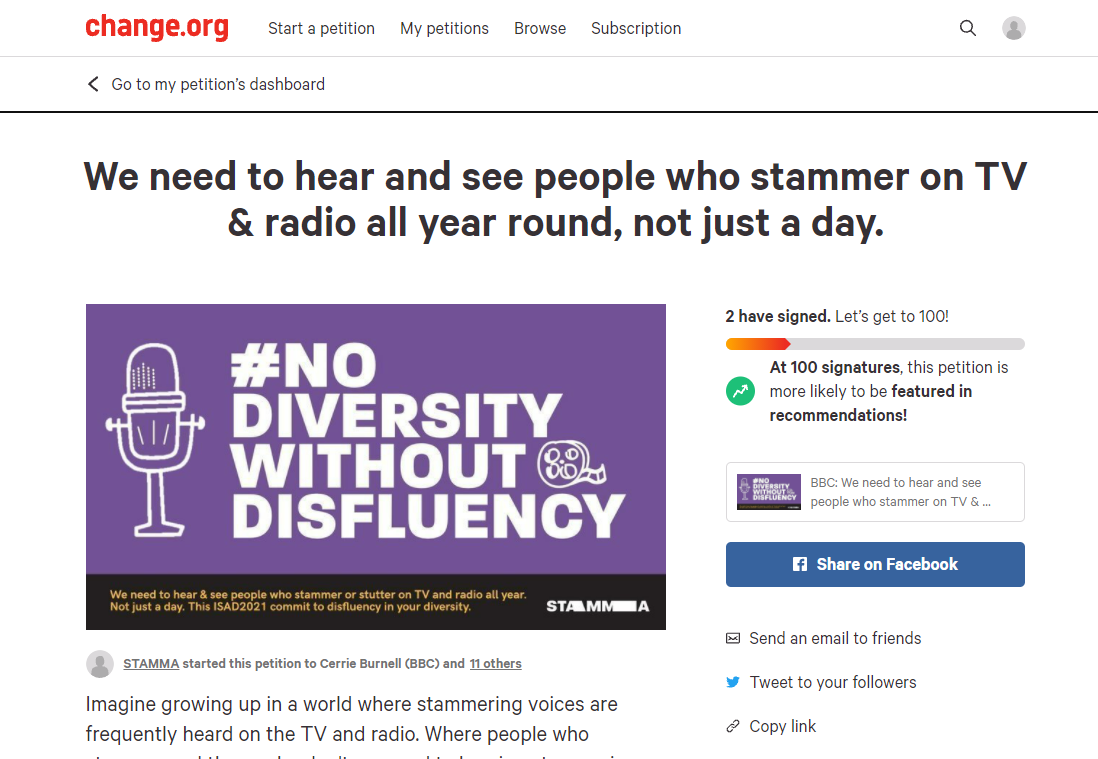 International Stammering Awareness Day 2021 Campaign.
Imagine growing up in a world where stammering voices are frequently heard on the TV and radio. Where people who stammer and those who don't are used to hearing stammering voices and aren't surprised by it. Where the only examples of stammering on TV aren't just The King's Speech, Open All Hours and A Fish Called Wanda. 
This International Stammering Awareness Day (ISAD), we are pushing to see and hear more stammering voices on TV, radio and in films. While it's great to hear people talking about how their stammer affects them, we want to see people who stammer presenting, acting, interviewing celebrities, reading the news and weather, commentating and doing stand-up comedy all year round.
The expectation that people shouldn't stammer is profoundly damaging. Diversity must include disfluency. It is time to end the zero visibility of stammering. Until we hear and see people who stammer in the media, society will continue to respond inappropriately when they hear stammering.   
ISAD itself falls on 22nd October, but we want a proper run at it, so we are launching 10 days in advance to get the message out. 
We've put some links here (to the side if viewing on a laptop or underneath if you're using your phone) with more detail on getting involved on social media and getting your company involved.   
TAKE ACTION
Share our petition on Twitter with #ISAD2021 #NoDiversityWithoutDisfluency #IStammerToo @stammer. Include a visual in your tweets, as they get a 30-60% better engagement rate. Keep tweets short by linking to information.   
This petition won't end on 22nd October. Over the next year we'll track how the media will include disfluent voices in their programming and what efforts they take to ensure that stammering is accounted for in all their recruitment and HR policies. 
2. Contribute to our Fighting Fund to support our campaigns and services. 
3. Get ISAD-ready! We've got new wristbands, stickers, postcards and leaflets in our shop. 
4. Book your place at our ISAD panel discussion, 'Stammering in the Media', hosted by Scroobius Pip.
5. Get involved in ISAD on Social. 
6. Go to ISAD 2021 For Employers, HR & The Media page.
social media Response