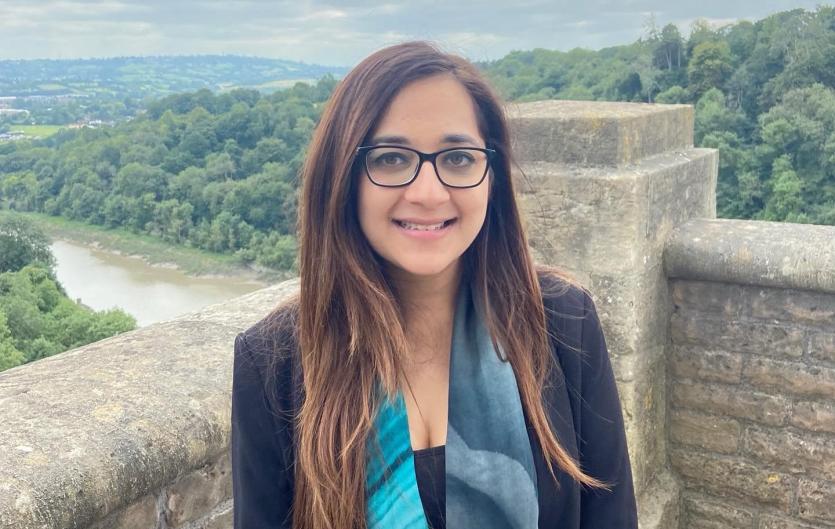 27th April 2022
Saadhika Chhabra tells us how psychological approaches to therapy helped her to deal with a difficult time in her life.
Hi, my name is Saadhika and I wanted to write about mental health and psychological approaches for anyone who may be struggling with distressing emotions or anxiety of any sort. The inspiration stemmed from my own experience of undergoing speech and language therapy as a child and more recently Cognitive Behavioural Therapy to deal with anxiety. 
I remember being 8 years old and feeling frustrated and embarrassed by the reaction of bullies who noticed that I had trouble pronouncing words. Fortunately, my parents enrolled me onto a speech therapy programme which turned my life around. Although it helped me with fluency and articulation it hadn't resolved the trauma of being bullied for my speech, which led to a fear of public speaking during my high school years, later translating into severe stage fright. 
CBT helped me hear myself from an unbiased lens and recognise what may be unhelpful thoughts and behaviour, and then explore different perspectives.
My main battle with stage fright was won with consistent attempts and motivation to win over my fears. However, the first step to recovery is acceptance of the feelings that go through our mind. In my journey that step was accepting the embarrassment I felt when I wasn't able to speak out publicly. While I have been able to overcome those fears and have significantly healed from the traumas from my childhood, I have only recently realised the power of therapy from a mental health perspective.
Realising I required therapy
I relocated to Cumbria amid the strict lockdown in February 2021, wherein I found myself struggling to stay happy and find a job. The rejection emails felt rather personal and my motivation decreased with each passing day. This led me to experience a dark space where I struggled to even get out of bed on most days. 
I realised I required therapy and began looking for help. I think in today's day and age, with the ongoing complexities of life, relationships and the environment around us, we could all benefit from seeing a therapist; an objective, unbiased sounding board. Be it to deal with speech-related impairments or just a basic lack of enthusiasm for life, therapy has the ability to add colour in the most amazing ways.
I look at therapy as a means to begin rediscovering oneself. It helped remind me of who I was before negative emotions overtook my mind. It helped me introspect and identify the root causes of my fears and insecurities. It taught me to cut myself some slack and helps me find solutions to problems through the simple means of conversation. The real work begins when we accept the need for assistance and then allow ourselves to unlearn old patterns and learn new behaviours. 
Addressing emotions
I think therapy can be so important for children with speech disfluencies. The social and emotional issues associated with any perceived 'deficit' in speech can include low self-esteem, confidence, anxiety and depression, affecting interpersonal relationships. If these symptoms and emotions continue unaddressed, the stronger they grow and disrupt day-to-day functioning, which may lead to significant distress. If only I was introduced to the world of therapy at a younger age I feel I would've overcome challenges significantly quicker.
The main goal of speech and language therapy should be to ensure that stammering isn't affecting someone's quality of life negatively. Certain therapies are extremely useful in dealing with emotions linked to speech-related difficulties. Cognitive Behaviour Therapy (CBT), Acceptance and Commitment Therapy (ACT), Solution Focused Brief Therapy (SFBT) and Neurolinguistic Programming (NLP), for example — some of which are increasingly offered by speech & language therapists — take a psychological approach, working with thoughts and emotions to provide practical skills that help people speak more confidently. These approaches may also help an individual explore various beliefs that they may have about themselves or about stammering that might be holding them back. 
I hope this article encourages you to own your vulnerabilities, as owning them often helps us grow. Seeking therapy is one of the biggest gifts you can give yourself.
I have personally undergone CBT to deal with emotional distress and anxiety. Its use in therapy for stammering has been shown to reduce speech-related social anxiety in adults who stammer (see the Related Articles below). What I love about CBT is the ease of the approach; it helped me hear myself from an unbiased lens and recognise what may be unhelpful thoughts and behaviour, and then explore different perspectives. It helped me recognise the negative patterns that my subconscious mind makes me follow and provides me with tools to break free from these cycles. 
Psychological approaches to therapy emphasise the importance of becoming more aware of our thoughts. I think we should seek help if we experience negative emotions or if any type of self-depreciative patterns begin to develop. It helps us to focus on our goals and be happier, leading a fulfilling life no longer bogged down by negative emotions or distress which may be stammering-related.
Job interview
My most recent interview was for a role I truly connected with and felt I would sync in perfectly with. The rejections in the past had demotivated me greatly. However, prior to the interview, during a session with my therapist, I discussed my anxieties related to rejection which helped me look past previous interviews and see that something good will come along. This, and with acceptance of the worst case scenario, helped me remain calm and to my heart's delight the interview resulted in a job offer!
I hope this article encourages you to own your vulnerabilities, as owning them often helps us grow. Seeking therapy is one of the biggest gifts you can give yourself. It's not only a tool to help heal but it's also a wonderful first step to self-care and self-love. Be it dealing with school bullies or the isolation of a new life and finding your professional footing; therapy is for everyone, in my opinion. Its beauty lies in how wonderfully it can be contextualised to individual needs. What worked for me may or may not work for you, but mastering the courage to seek help is the main step I'd encourage everyone to take — not because you have a stammer — but because loving and caring for yourself is our first and foremost responsibility before we can don any other hats or roles in our professional or personal lives!
Read our Guide to Therapy Options page to find out about all the different types of stammering therapy. Our Therapy & Courses page has details on how you access these options.
Related articles
Saadhika has suggested the following articles for a bit of background reading:
Management of stuttering using cognitive behaviour therapy and mindfulness meditation (Industrial Psychiatry Journal).
Below the surface: treating the emotional aspects of stuttering (Minnesota State University website).
Psychosocial impact of living with a stuttering disorder: knowing is not enough (National Library of Medicine).