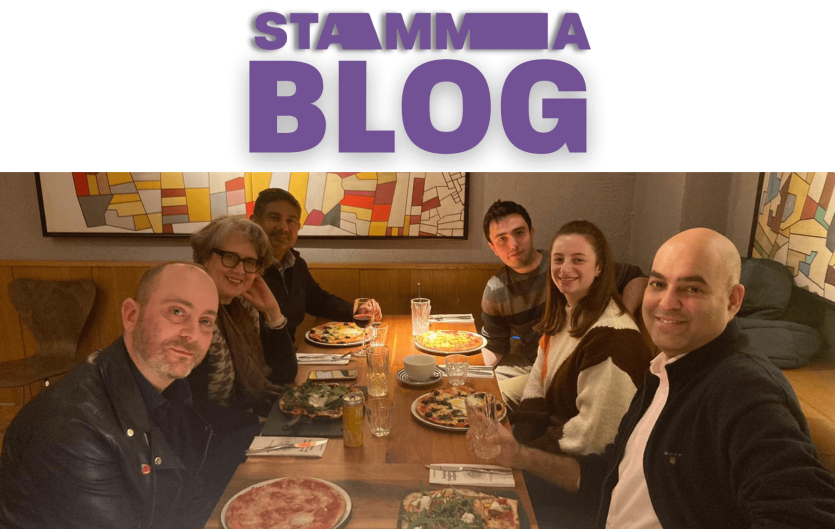 29th March 2023
Ever thought about setting up a stammering support group but have been put off by how much work is involved? It doesn't actually need a lot of effort, says Vee, STAMMA's Networks & Campaigns Lead.  
Setting up a support community or group for people who stammer can seem like a scary prospect. You might fear that it will require a lot of time and effort to organise, or that it will be difficult to attract members.
However, these are misconceptions and the reality is very different. With just a little bit of effort, setting up a support community can be a hugely positive and rewarding experience, both for the organiser and for the members who join.
Misconception #1: Lots of organisation
One of the most common misconceptions about setting up a support group is that it will be a lot of work. You might think you need to spend ages finding a venue which you have to pay to use. However, this is not necessarily the case. Take our successful central London group, for example, which was set up by Lynda. Lynda doesn't organise her meetings in an overly formal way, but just meets in a pub every month, providing a relaxed and welcoming atmosphere where people can connect and share their experiences in a more casual setting.
It doesn't take much organising to keep things running smoothly. It can be just keeping a mailing list and responding to people who are interested, or starting a WhatsApp group, posting messages and seeing who's free to meet.
I recently attended one of Lynda's meetings and everyone was encouraged to share whatever they felt comfortable sharing, with no pressure to speak. Her group is fairly new, but people felt friendly with one another. It was a great evening!
Misconception #2: It needs expertise & training
Another common misconception is that setting up a support group requires a lot of expertise or training. Again, this is not necessarily true. While it can be helpful to have some experience in organising events or working with people who stammer, it's not a requirement. All that's needed is a willingness to connect with others and create a safe and supportive space for people to share their experiences and learn from one another.
Misconception #3: Difficulty attracting members
This is a mixed bag. It's certainly easier to get some momentum going when you live in a big city like London. However, we have many groups in smaller towns that run successfully. 
I can reach out on your behalf to our STAMMA membership and advertise for you on our social media, and you could put an up advert on noticeboards at a couple of supermarkets or in your local library. There are lots of options.
Benefits
One of the key benefits of setting up a support group is the opportunity to make a positive difference in the lives of others. By creating a welcoming and inclusive community, you can help people who stammer to feel less isolated and more empowered to deal with any issues they have with stammering. This can be incredibly rewarding, both personally and professionally.
In addition to benefitting others, setting up a support group can also be a valuable experience for you, the organiser. It's an opportunity to develop leadership skills and network in the community.
Of course, it's important to remember that setting up a support group is not without its challenges. It can take time to attract members and build momentum, and there may be logistical issues to overcome. However, we're here to support you every step of the way in helping you to create a thriving community.
If you're considering setting up a support group for people who stammer, I encourage you to take the first step and reach out to me. Email Vee at communities@stamma.org 
No need to be afraid to take the leap — the benefits are waiting for you.
To see the list of support and social groups you can join, see our Stammering Groups page.
(Image: the North London Stammer Support Group, another example of a group that meets casually)