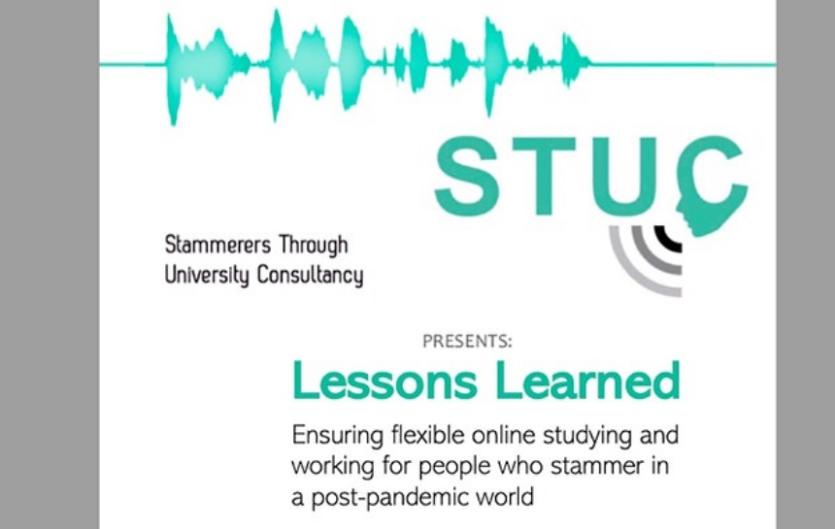 An online event on learning in a post-Covid world, for students and staff in higher education.
The Stammerers Through University Consultancy (STUC) invites you to their second Conference, 'Lessons Learned', in collaboration with the University of Hertfordshire.
At the online event, speakers from the worlds of education and stammering will be talking about their lockdown experiences. They'll also be sharing insights and learnings on ensuring flexible online studying and working for people who stammer in a post-pandemic world. It follows the success of their first Conference, 'Silence on Campus' in 2019.
Date & times: Friday 18th June, 10am-5pm
Price: £5 (free for University of Hertfordshire students & staff)
 
STUC founder Claire Norman says, "The Coronavirus pandemic changed the world. With most businesses and educational establishments moving online, everyone's had to practise extreme flexibility and perseverance. The reliance on technology like Zoom or Teams has been a blessing for some, but for others it's been a burden. We hope everyone who attends the Conference will learn how to ensure at their own university that staff and students can work and study to the best of their ability, no matter what the post-pandemic world has in store." 
Sessions
Confirmed sessions will be held on:
Challenges and reacting to remote delivery
Stammering made material on 'Lecture capture'
Teaching and learning in the era of Covid: Reflections of a lecturer who stammers
Developing a guide for academic advisors and disability professionals
Virtual reality: It's OK to adapt
How to support your students who stammer while teaching remotely
Frantic typing and the centre of self-worth
Virtual meeting platforms as allies for people who stammer.
Register for tickets at the Lessons Learned Eventbrite page.
Visit the Stammerers Through University Consultancy website for more information.
Read Claire's article 'Why I set up the Stammerers Through University Consultancy'