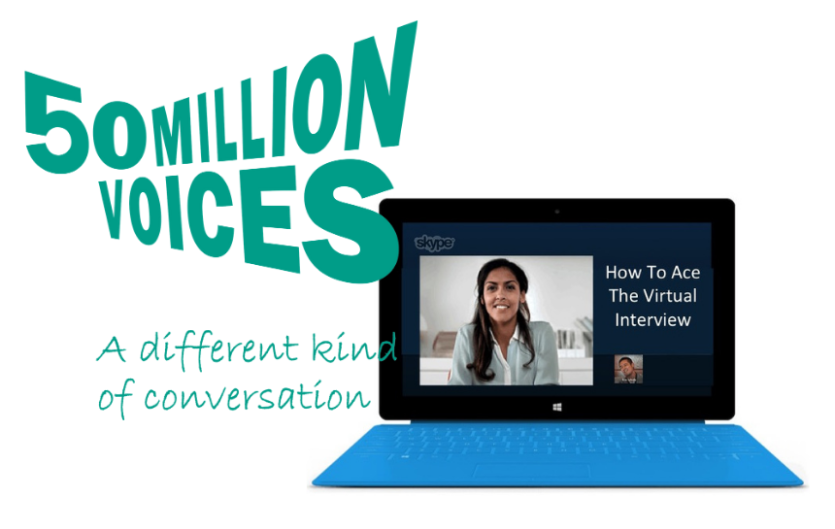 Free online interview practice for people who stammer, from 50 Million Voices.
Dates: 21st-22nd April 2021
Cost: Free
Job interviews are a particularly difficult and stressful workplace hurdle that everyone has to face. Especially so if you stammer.  
To help with this, 50 Million Voices, backed by TSB Bank, are providing free support and interview practice for people who stammer — as well as for those who interview us.
Iain Wilkie from 50 Million Voices says, "This is a great opportunity to practice an interview for a new job, promotion, appraisal or any other work situation where you might be expected to answer or ask questions. You'll get to:
practice in a judgment-free workplace environment
improve interview skills and confidence — leading to enhanced job and career prospects
learn from the feedback of people who really want you to succeed."
Interviews & Interviewing practice
You can get involved whether you stammer or not. If you stammer, you can take part as an interviewee or an interviewer, or both.
If you don't stammer and work in HR, recruitment or as a manager and have some experience of interviewing people, you are welcome to take part as an interviewer. 
Organisers welcome interviewees who stammer from age 18 upwards and interviewers from age 25 upwards.
How will it work?
The practice interviews will take place online using Zoom, Skype, Microsoft Teams or whatever you prefer. 
You'll be required to attend a briefing session on Wednesday 21st April. This will be led by Pamela Mertz, who has led similar events for employees at several leading Wall Street banks, and Sam Simpson, a UK speech & language therapist with extensive experience of working with adults who stammer in the workplace.
You will then arrange a one-to-one practice interview on either 21st or 22nd April. Each interview will last an hour (40 minutes for the interview and 20 minutes feedback).
How to register
Get more information and fill out the Eventbrite application forms using the links below. You can complete one or both.
Register if you would like to practice being interviewed.
Register if you would like to practice interviewing someone who stammers.
After reading the event description in the link, click the 'Register' button to take you to the relevant application forms.  
Places might be limited so they cannot guarantee that everyone who fills in the form will be accommodated. 
For further information, email interviews@50millionvoices.org
Find out more about 50 Million Voices, the initiative aiming to transform the world of work for people who stammer.