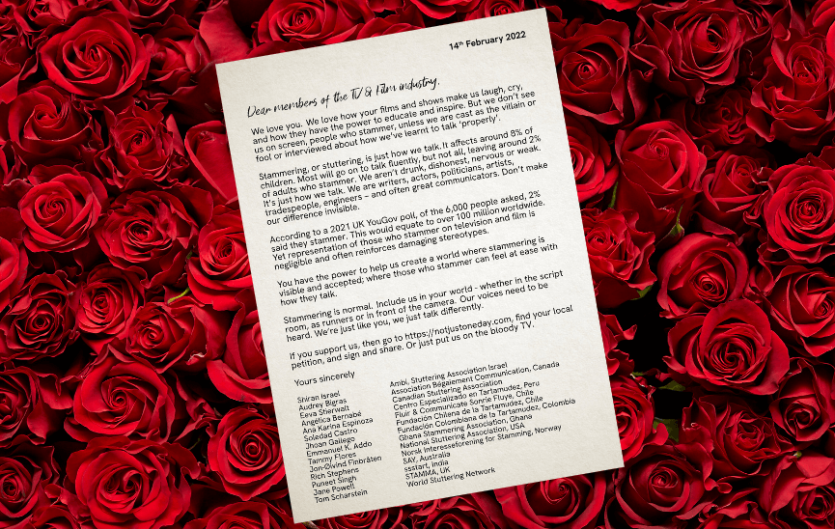 On Valentine's Day 2022, STAMMA joined forces with organisations around the world to send out a love letter to the TV and film industry promoting petitions calling for better representation on TV and film. 
Organisations in the USA, Canada, Australia, Chile, Peru, Columbia, Ghana, India, Israel and Finland all set up petitions which link to our No Diversity Without Disfluency petition, calling on the media to include those who stammer.
1 MILLION SIGNATURES
We hope to collectively reach a million signatures on these petitions by 22nd October and asked the community to help us get there. It isn't just us in the UK pushing this message, it's people and organisations around the world too.
THE LETTER
The letter started "We love you. We love how your films and shows make us laugh, cry, and how they have the power to educate and inspire. But we don't see us on screen, people who stammer…". Read our love letter in full below.
This was an extension of our No Diversity Without Disfluency campaign, launched on October 22nd 2021, International Stammering Awareness Day. 
We asked our supporters to join us in urging broadcasters like Netflix, Amazon Prime, Apple TV and the BBC to include people who stammer in front of and behind the camera. So that stammering is normalised and fluent speakers learn how to respond.
getting people involved
On Valentine's Day, 14th February 2022, we asked people to send a message of love on social media to the TV, streaming and film industry asking them to include stammering and promote the petition. The template was:

'Dear @BBC (eg), I love you. I binge-watched Line Of Duty. But I don't see people who stammer on your shows. People like me. I love you. Love us too.'
Here's a selection of people's posts. Scroll to the bottom to see more in the social media feed.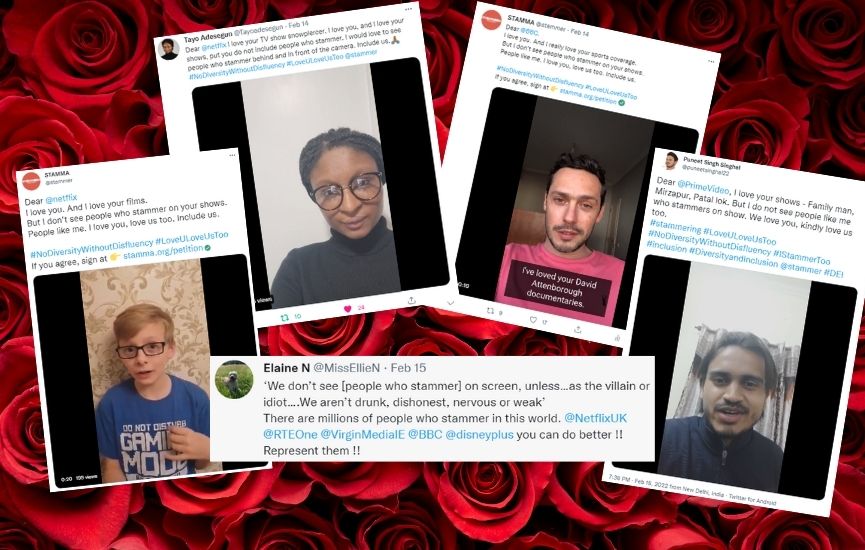 IMPACT
Social Media & Website
On Valentine's Day, engagements on our Twitter feed went up 900% and a whopping 1,967 on Instagram! Traffic to our website was up 30% on the previous year too.
Our hashtag #LoveULoveUsToo reached 379.8K people and was shared 1.8K times.
Feedback
"Absolutely amazing to see @stammer Valentine's Day campaign! 🙏🏽" (Tayo, Twitter)
"As someone who wants to work within the TV industry, it's important to me as a fellowstutter/ stammer that we are featured on TV shows/ Behind The Scenes which sadly is rare.I hope by sharing this, people will reach out to us and ask how they can achieve this we'll see change" (Kellie, Twitter)
Our love letter