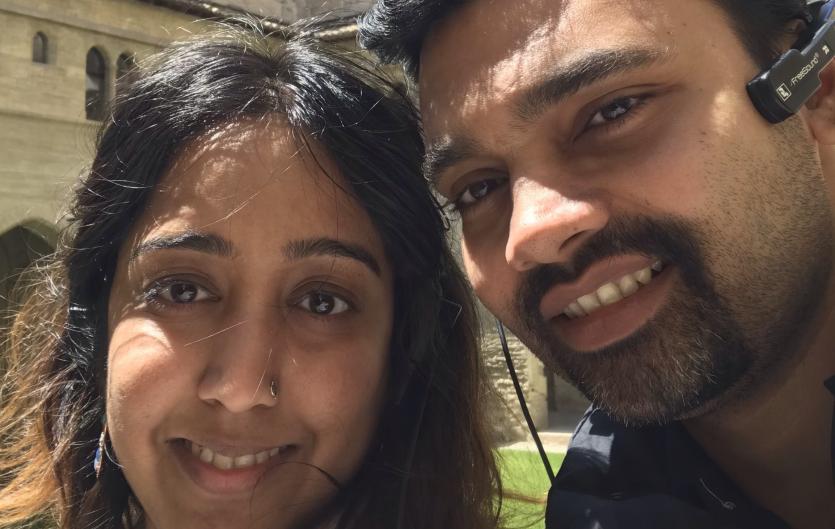 When the time came to think about marriage and settling down, Vidya Lalgudi Jaishankar discussed joining a matrimonial website with her parents. But would her covert stammer affect her chances of finding the perfect match?
I am an Indian woman born and brought up in Chennai, and I'm currently residing in London. I have been stammering since the age of 4. I have stammered openly and have also hid my speech dysfluency as a covert stammer on many occasions. 
When the time came to think about marriage and settling down, I was at the far end of a break up. Age was advancing and my parents were suggesting looking at online matrimonial websites to find a suitable groom. I was extremely sceptical towards it, but went along with the idea as I knew that it was purely my choice and I had control over the entire procedure. I also knew that I had the liberty to stop it whenever I felt it was not right. 
First meet
There are many matrimonial sites in India which are more detailed than usual dating apps, but basically work in the same manner. Hence, I initially sent an interest, or request to connect, to one person through the site whom I felt would be able to understand me. He accepted the request, we exchanged some formal emails and eventually fixed a time to speak over the phone. Being covert with my stammer, I was generally good at telephone phone calls. Therefore, the person did not know about it. At the end of the conversation, though, I told him that I stammer. His immediate response was, "Thank you for telling me about this now. I will contact you later." 
Unfortunately, he did not call me back. Reasons might be anything from a lack of awareness about stammering to a mindset of not willing to know a person more, or anything else which I will never know. 
After a break…
After sending a few more failed requests through the site, I was losing hope. I took a break for a month and then went back to it to browse through the requests that I had received over this time. 
That's when I saw a request from someone — it was more simple and straightforward than others I had received. I reluctantly accepted it and then the mailing saga repeated itself. Finally, we thought of speaking over the phone. I again deployed my concealment strategies to hide my stammer, but this time I decided not to mention that I stammer. I felt bad. But I knew I am more than my stammer and people should be given an opportunity to know me as person, not just as someone who stammers. We had a good conversation and he did not realise that I stammer. After this, we spoke multiple times on the phone and finally decided to meet, along with our parents — remember, this is an arranged marriage; a weird concept here, but not so much in India. 
I knew I am more than my stammer and people should be given an opportunity to know me as person, not just as someone who stammers.
After a few weeks of waiting, finally the day of the meeting came. What followed next was a series of cringey moments. I was in my room, waiting to meet him and his family. He arrived with his parents and his brother. I entered the room they were in. I saw him and he immediately beamed a smile at me. I was so relieved that he was not a grumpy man. This put me at ease. His mother started to converse with me. I struggled a bit while responding but I was thinking that I was doing well in concealing my stammer. 

Later, we all went to a restaurant for lunch and he and I were given a separate table far away from the rest of the family members. That was when I told him that I stammer. He did not react and was very nonchalant with the information. I was not able to understand whether he was OK or not OK with it. The conversation after that was very normal and we spoke about our lives. We then finished our food, bid goodbye to each other and left to our respective homes. 
What happened next?
I came home and after thinking about the conversation, decided to go further, if he was also interested. Within a day I got a response from him saying that he liked me and that he would like to go further with the proposal. We got engaged in about a month. We had 6 months between engagement and marriage and formed a good friendship by that time. 
I am extremely happy to have found a person who can see beyond my speech dysfluency. Many months after our wedding, when I talked about our first meeting and how I had brilliantly concealed my stammer, he told me that he knew about it from the very moment that I had first spoken. So, in a way, he was genuinely trying to see me beyond my stammer the whole time :)
Would you like share your experiences about dating and relationships when you stammer? Click here to find out how.