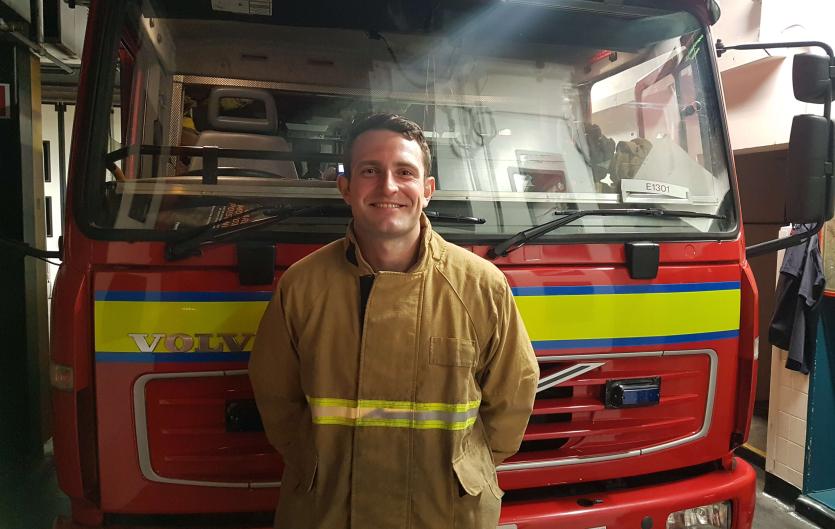 29th August 2019
Firefighter Peter Bradley writes about going for his dream job and finding his voice in a high-pressured environment.
Once upon a time I wanted to trade in my Northern Irish tongue for a Stephen Hawking-type computerised voice box implantation to communicate for me; it looked easy for him. 
As a stammerer I have had a lot of negative experiences in my quest for fluency. As a young fella I was scolded and told to "hurry up" and "spit it out" by a rude bus driver, and I accepted defeat. For a while after that, every time I needed a bus ticket I would hand over a piece of paper with the name of my destination to the driver to avoid being any more of a nuisance. 
A blazing introduction
I wince when someone asks me, "is it a nervous thing?". Working as a firefighter there is no time for being nervous — my ability to communicate calmly and clearly under high pressure is necessary for my survival and the safety of my colleagues and the general public. 
On my first day of fire service training, just over six years ago, I had to stand up in front of my 25 new classmates and teachers, state my name loudly and clearly, and explain why I wanted to become a firefighter. Of course I was the last one in the class to go, which was an absolute nightmare.
The thought of going into a school and talking about fire safety became much more daunting than running into a house that was engulfed in flames.
The other lads and ladies were nailing the introductions and I was sweating profusely as the voices grew closer and louder; I felt doomed. I blocked for about 45 seconds on my name. The course director then ordered me rather bluntly to sit down. All my work getting to this point and my dream job was hanging in front of me like a trapeze bar that looked unreachable. I decided to stay standing and after some time I managed to say, "No, I'm going to finish. Everyone else got a chance." I surprised myself. It took me a while but I finished on this one-liner: "I heard being a fireman was a good chat-up line with the ladies," which gained some generous laughter from my new colleagues.
'Big Pete'
Training as a firefighter was intense and required me to shout loudly when communicating in the drill yard. Orders had to be given and we all had to lead on many different occasions. Luckily for me, when I shout I do not stammer. I learned this technique when my older brother got me a job as a bartender in a busy nightclub which played thumping music. This is where I developed my alter ego and for years I was 'Big Pete' the confident happy barman, and I loved it. 
One night I was asked to go downstairs to the old man's pub and work there instead. I didn't last too long. The quiet background music highlighted my speech impediment and it proved impossible for me to complete the same job that I had been excelling at just minutes before. I was ordered back upstairs; I went back and took refuge in the loud beats. The same phenomenon was occurring in the drill yard: I could roar fluently at my colleagues and successfully communicate amongst all the noise.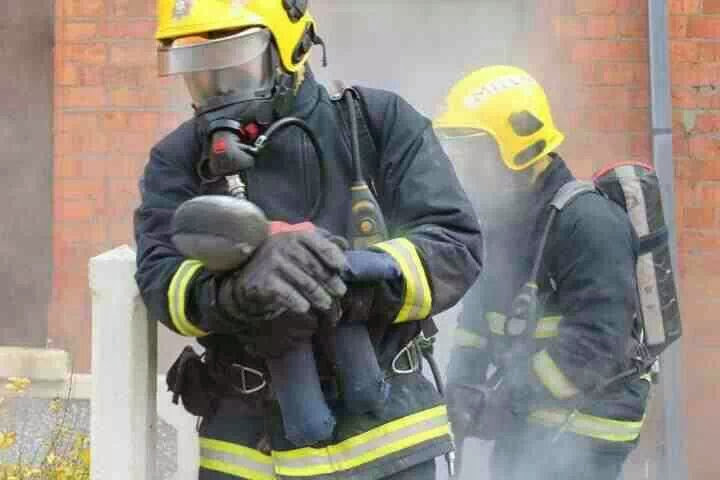 An important part of my training involved wearing breathing apparatus (BA). This system connects a cylinder of air to a gas mask, allowing the wearer to breathe in irrespirable environments. The gas mask has an amplified speaker in it  which allows someone to talk and be heard amongst all the chaos, noise and darkness that ensues when working inside a house fire. I discovered that when the BA speaker was activated the volume of my breathing became enhanced. This was a great distraction and allowed me to speak easily. Operationally, I was of average standard being able to shout orders and communicate when I needed to. 
School talks
I soon found out there is much more to being a firefighter than just fighting fires. The thought of going into a school and talking in front of a class of cheering kids about fire safety became much more daunting to me than running into a house that was engulfed in flames. I retreated from this obligation for a while. 
That all changed when my friend recommended The Starfish Project and my employers very kindly agreed to fund my attendance on one of their courses. It changed my life for the better. I now lead school talks and get great enjoyment and fulfilment from volunteering to speak to groups, sending radio messages to our control centre and answering the phone in the fire station. 
I now feel empowered and able to do something confidently that once kept me up at night. My stammer has rewarded me with 'bounceback' ability, a high level of empathy and a drive to help others. 
My advice is this: stand-up, be heard.
Watch Peter talking about his story on BBC News Northern Ireland.
The Starfish Project is one of a number of courses for people who stammer. Read more about the range of options on our Therapy & Courses section. For help and information about coping in the workplace, see At Work. 
If you'd like to write about your own experiences, see our Share Your Story page.