STAMMAFest Global 2022: Pictures & Video
Tuesday 13th September 2022
16th September 2022
Thank you to all who came our conference STAMMAFest Global this August. See our video and photo album, and read all about it.
Photo album
by canva. Video by Bel Rickard. Photos by Jason Roberts & Bel Rickard
Thank you to everyone who came to STAMMAFest Global 2022, our conference in Liverpool in August, and for making it so memorable. Combining the World Congress for People Who Stutter, people came from all over the world to attend the 5-day event.
Take a look at our photo album slides above. Click on the image to scroll through.
"Oh my days! Where do you start with the incredible adventure that was STAMMAFest Global 2022?"
(Mikey Tose. Read more about Mikey's STAMMAFest experience.)
It kicked off on the evening of Wednesday 24th August with a welcome reception at the atmospheric Lutyen's Crypt, with a chance to mingle, meet new people and catch up with familiar faces.
Plenaries
Each morning started with thought-provoking plenaries, with Hanan Hurwitz's rousing 'Our Stammering Tribe' being the perfect opener. On Friday the 'Is there beauty in stammering?' panel discussion, led by Scroobius Pip, encouraged us all to think differently about stammering. On Saturday, Prasan Modasia led the 'We Work' plenary, introducing us to the idea of setting up workplace support networks, and on Sunday, 'How can we create a better world for people who stammer?', led by Douglas Scott from the International Stuttering Association, was really productive.
"I didn't know what to expect from STAMMAFest Global — it being my first stammering conference — and I was bowled over by the care, bravery and compassion that went into the event… It has given me inspiration to embrace the whole of my voice… I am sure the impact of STAMMAFest 2022 into the wider community will be felt for years to come."
(Abi Mann-Daraz. Read more about Abi's STAMMAFest experience.)
Workshops, talks & Family Day
Workshops, presentations and talks filled the days, with topics including acceptance, speaking circles, eliminating stigma, demystifying the mechanics of speech, reducing isolation, what do we want from speech & language therapy and even expanding comfort zones with virtual reality. There was a Family Day, where children and teenagers got the chance to meet others like them and build confidence, and parents and guardians could learn more about supporting not just their children but themselves too.
We got our creative juices flowing too, with sessions on singing, performance art and expressing ourselves through painting with the 'Stammering Rocks' workshop, which was a hit with the children.
"I was immersed in the rhythmical sounds of the individually beautiful speech patterns of a group of human beings that have collectively offered a lifeline to recover lost parts of myself."
(Jayne Devlin)
Socials
It wasn't all classroom-based and we had plenty of time to let our hair down. The pub quiz on Friday night, ably hosted by Paul & Dean, mixed things up a bit with everyone forming teams with strangers — daunting at first but a brill way to meet new people.
Earlier that day we had a break from workshops to go on a bus tour taking in the Liverpool sights, including all the Beatles landmarks. On Saturday night there was a festival vibe, with street food and a band — the closing cover of 500 Miles from the Proclaimers brought the house down. And yes, there was a conga line.
"STAMMAFest Global exceeded my hopes and expectations. At STAMMAFest I felt better than I had for years."
(Hanan Hurwitz. Read more about Hanan's STAMMAFest experience.)
Open mics
The highlight of any of our conferences is the open mic session, and this time we gave people not one but three chances to stand up and say a few words in front of others (voluntarily of course) — some doing it for the very first time. Such a supportive, inspiring and emotional event.
Closing
The five days really whizzed by and we were sad it all had to end. We'd like to say a huge thank you to the organising committee, the amazing volunteer team who helped it all run smoothly, and to everyone who came from far and wide to celebrate us as people who stammer and all our allies.
See you at the next one!
Get a notifications of our events — become a STAMMA member, or a subscriber if you're not based in the UK.
Related Links
Image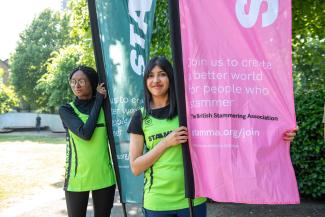 Image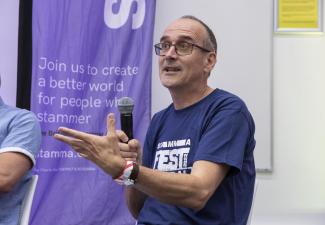 Become a member
It's free
Join the movement to change how people understand and react to stammering.
Campaign. Fundraise. Connect. Meet. Vote. Talk.